Campaign of the Week
Contagious I/O
/
7 July 2020
BMW turns show homes into showrooms to find wealthy buyers 
/
Car manufacturer displays its vehicles in open homes to target prospective buyers
This article was first published on Contagious I/O, our online intelligence tool. To find out more click here.
Last year, when BMW Canada discovered that 33% of people seeking to buy a luxury car are also looking to buy a luxury home, the auto brand combined the two customer journeys in an activation called Stage Your Driveway.
In partnership with Toronto-based real estate company Heaps Estrin and agency FCB Toronto, BMW digitally superimposed three of its 'most elite' models (the X7, the i8 Roadster and the M5) onto real estate listings in upscale Toronto neighbourhoods, so that they appeared to be parked in the driveways. When prospective buyers visited the listings in person, real BMWs were parked out front, 'turning driveways into showrooms'.
On the basis that nearby homes would attract similar clientele and were therefore high-value leads, BMW geofenced the areas surrounding each listing and ran targeted media featuring both the property and one of its elite vehicles. BMW then replicated the technique across other high-value lookalike listings.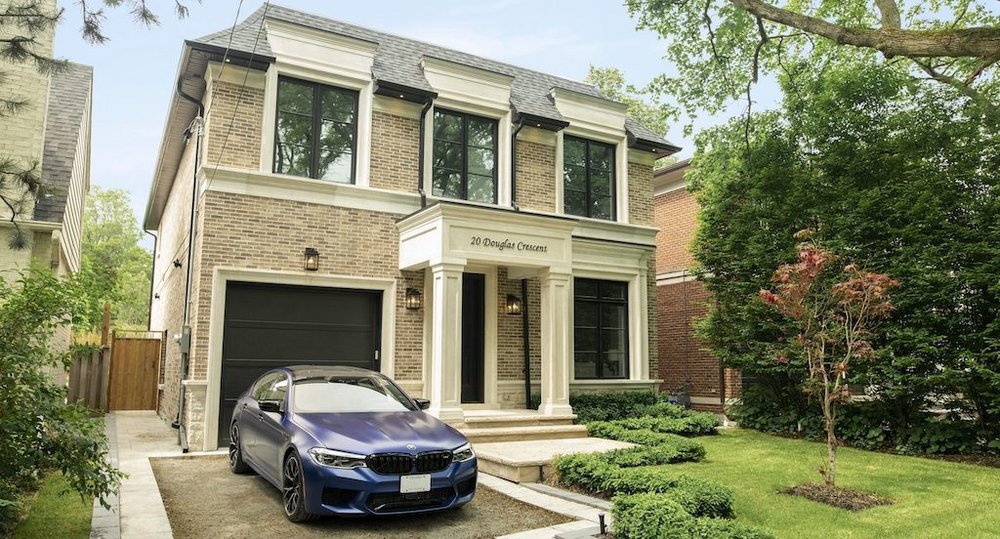 Results / The Stage Your Driveway campaign ran from April-July 2019 and brought BMW's cost per lead down by 56% and generated 37,000 new high-value prospects.
Contagious Insight 
/
Driving purchases / BMW Canada's finding that 33% of new car buyers are in the market for a new home reflects Richard Shotton (The Choice Factory: 25 behavioural biases that influence what we buy) and Jenny Riddell's findings in 2016 and 2018 that key life events prompt consumers to try a new brand or switch brands. According to the 2018 study, on average, people were about 2.5 times more likely to have tried a new brand if they had undergone a life event such as starting a new job or university, getting married or divorced or retiring. Among those who hadn't experienced a life change, 8% had switched brands, while among those who had, the number was 21%.
By targeting not only prospective homeowners, but those seeking high-end properties in Toronto's pricier neighbourhoods, the auto brand taps into both customer journeys and targets a specific audience that, as the agency puts it, is 'actively avoiding new vehicle marketing' and 'more elusive than ever'. According to FCB Toronto, BMW's 'high-end audience is the audience least likely to respond to one-to-one communications, and the quickest to make a purchase decision', so it was essential that this campaign targeted them in locations they were already visiting online and in-person.
Premium content / This campaign feels in keeping with BMW's claim that 'BMW Group is the only automobile and motorcycle manufacturer worldwide to focus all its brands on the premium segment'. While not specific enough to BMW to feel like a brand building exercise (in that other premium car brands could feasibly pull off a similar stunt), Stage Your Driveway cements BMW as an elite car choice in the minds of its target audience of elite homeowners. It's a limited activation in that it was confined to a few neighbourhoods in Toronto, but the campaign is small and specific by design: BMW Canada wanted to target people who were in the market for a multi-million-dollar home, and acted upon the information that a third of Canadian luxury vehicle purchases are triggered by a new home purchase.
Although the campaign does little to create brand affinity, by parking its vehicles in homes that its audience had demonstrable interest in, BMW nudged potential buyers to imagine themselves owning one of its cars. As nudge theory suggests, small suggestions like these can influence consumer behaviour – whether it's taking up the barista's suggestion of a pastry with your coffee, or spending tens of thousands on a BMW. The Stage Your Driveway campaign incorporates the concept of 'choice architecture', a component of nudge theory outlined in Richard Thaler and Cass Sunstein's book, Nudge: Improving Decisions about Health, Wealth, and Happiness. Just as placing healthy food options at eye level in a canteen can encourage healthier choices, placing a BMW in the context of a potential new home may nudge BMW's audience – who are supposedly also in the market for a new, expensive car – to purchase it. Nudging or not, BMW gave its audience a seamless and spontaneous free trial rather than a hard sell.
This article was first published on Contagious I/O, our online intelligence tool. To find out more click here.
Want more Contagious thinking? 
/
Subscribe to the Contagious newsletter to receive a weekly dispatch of campaigns, opinions and research, curated for strategists, creatives and marketers.
Contagious thinking delivered to your inbox 
/
Subscribe to the Contagious weekly newsletter and stay up to date with creative news, marketing trends and cutting-edge research.