Campaign of the Week
Contagious I/O
/
12 May 2020
Burger King offers Whoppers for Zoom backdrop plugs 
/
Fast food chain offers rewards to people who turn its billboards into conference call backgrounds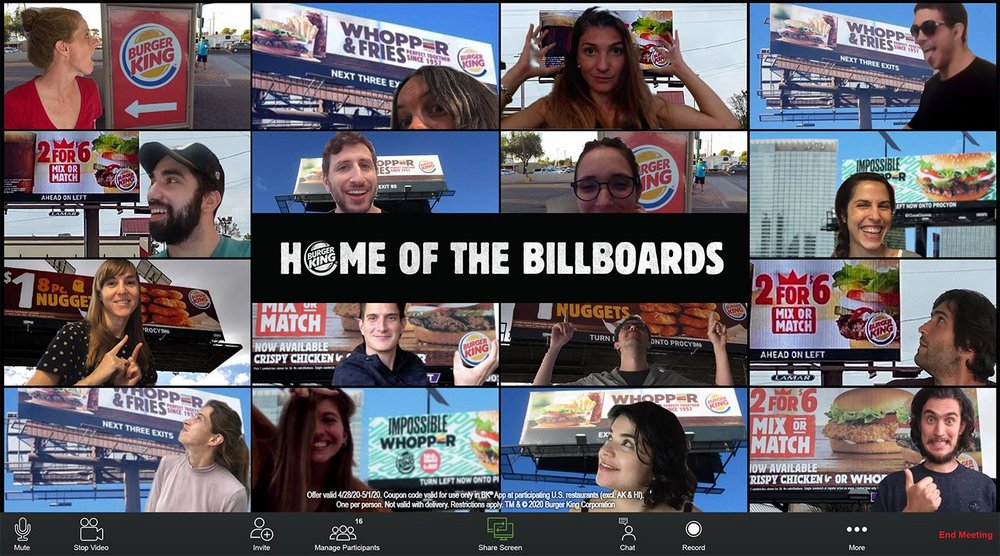 This article was first published on Contagious I/O, our online intelligence tool. To find out more click here.
Burger King has run a promotion in the US offering buy-one-get-one-free Whopper vouchers to people when they shared photos of the brand's billboards used as Zoom backgrounds.
To claim the voucher, people had to download an image of a billboard from Burger King's Twitter account. After using it as a background during a conference call on the video communications platform Zoom, they had to upload a screenshot to Twitter, tagging the brand and using the hashtag #BillboardOfTheWhopper. Burger King then privately messaged the person's account with a buy-one-get-one-free Whopper voucher code that could be redeemed via the Burger King app.
Billboard of the Whopper was created by David Buenos Aires and was valid from 28 April to 1 May for pick-up only from US restaurants, excluding Alaska and Hawaii.
Contagious Insight 
/
Ongoing strategy / Billboard of the Whopper may seem like a one-off and opportunistic reaction capitalising on the popularity of Zoom during the lockdown, but it continues in the same vein as a slew of recent promotions designed to increase the fast food chain's app users. When we talked to Gabriel Schmitt, executive creative director at FCB New York, about 2018's Whopper Detour campaign, he told us that 'There was one main business objective: app downloads'. (Read our Insight & Strategy on the campaign here). Burger King, Schmitt said, recognised that it 'needed to reboot its mobile presence to boost convenience for its customers and keep up with mobile ordering, which is set to be a $38bn industry by 2020'. Billboard of the Whopper may not be of the same order of magnitude as Whopper Detour, but it is a lightweight and playful spin on the same idea – getting people's attention on Twitter, garnering media coverage, and challenging people to do something in return for a free Whopper – which they can only redeem by downloading the app.
Burger King has three distinct components to its brand (Have it Your Way, Flame-Grilled and Whopper Love), each of which doubles as a marketing brief (as we explain in our Brand Spotlight). Every campaign the brand executes has to speak to at least one of these three. Here, this is clearly an example of 'Whopper Love', getting fans to show the lengths they would go to in the name of their favourite burger. Having these ongoing and consistent open briefs allows Burger King to be reactive and agile, while always staying rooted in the brand.
Hijacking media / As a challenger brand, Burger King has a fraction of the advertising budget of its biggest rival McDonald's. As Fernando Machado, CMO of Burger King, told Contagious in 2018 during a Brand Spotlight interview: 'I cannot rely on my media dollars to do all the heavy lifting.' Instead, the brand uses creative ways to drive buzz or hijack other larger brands' media to get attention. Whopper Detour was based on the fact that McDonald's has twice the number of stores as Burger King in the US, so the idea was to use that larger footprint to promote Burger King. We have also reported on Burger King's Burn that Ad, a campaign in Brazil that hijacked McDonald's widespread out-of-home ads to get people to download BK's app for a free Whopper.
Furthermore, by making sharing the screenshot of the billboard on Twitter a pre-requisite to redeeming the offer, Burger King is turning its audience into media as well and using them as a marketing tool (see our trend on weaponising your audience, where brands put assets into the hands of their consumers to spread its message on its behalf).
Out-of-home for lockdown / The incentive to download and share the background images in order to redeem the offer are relatively small. The coupon was only valid from 28 April to 1 May and the voucher doesn't apply to delivery, so the customer still had to go to a Burger King to pick up their free Whopper (doubly off-putting during a pandemic). But this is still a resourceful way of repurposing the brand's own outdoor media assets during the lockdown when there are fewer people outside seeing them in person. We've seen other brands think outside the box with out-of-home during the Covid-19 lockdown, including campaigns from Outsmart and Emily. Billboard of the Whopper is a knowing and playful reminder that the best of outdoor has a life and resonance beyond the physical billboard.
Virtual value / Zoom's popularity has soared in the past months during lockdown making it a common service in a lot of households. According to Zoom, the video-conferencing service is garnering 300 million daily participants. We've seen other brands using Zoom's functions to provide greater value to customers. Behr Paint, for example, created virtual living space backgrounds to use during conference calls, promoting its products and providing a service to customers (arguably a more appealing prospect than decorating your living space with billboards).
However, this initiative is characteristically tongue-in-cheek from Burger King and takes a gentle swipe at the other brands jumping on the Zoom backgrounds trend. It may not generate huge sales or bring a lot of value in itself to customers, but Billboard of the Whopper is bang-on-brand and a fitting way for Burger King to join the popular video-conference conversation, by doing something fun and shareable.
​​​​​​​This article was first published on Contagious I/O, our online intelligence tool. To find out more click here.
Contagious thinking delivered to your inbox 
/
Subscribe to the Contagious weekly newsletter and stay up to date with creative news, marketing trends and cutting-edge research.