Campaign of the Week
6 September 2022
Black Diamond trades cheestring for...attention 
/
Cheese maker's playful OOH stunt generates 213 million earned media impressions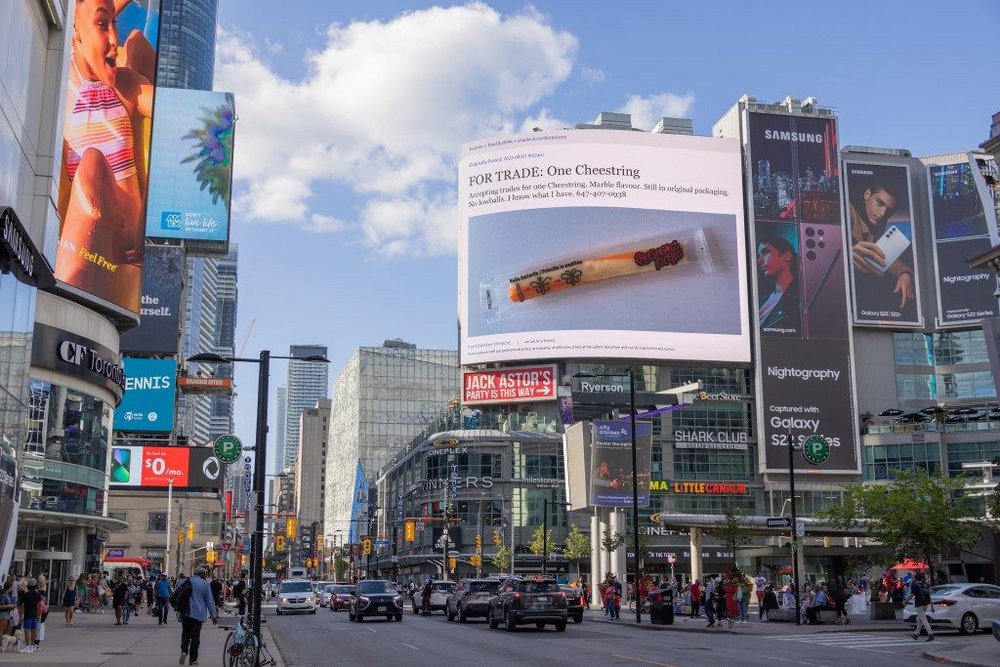 On 2 August in Canada, a mysterious billboard appeared in Toronto's Yonge-Dundas Square with just a phone number (647-407-0938) and an offer: For Trade: One Cheestring.
Unbeknownst to passersby, this was a OOH viral marketing campaign from cheese brand Black Diamond and agency Broken Heart Love Affair, Toronto. The stunt ties into Black Diamond's new above-the-line campaign Keep It Cheesy and plays on the idea of lunchtime snack trades in schools.
Although the billboard was live for just three days, anyone who called the number across the nine-day stunt would speak to 'Angel Domingo', a 47-year-old professional trader with a thick New Yorker accent (voiced by actor Joey Harlem). If Domingo didn't answer the phone to negotiate in person, people were encouraged to leave a voicemail with their offer.
It wasn't until 11 August that the stunt was revealed, but not before various weird and wonderful things had been offered in exchange for the Cheestring, including a golden gorilla statue, Shaquille O'Neal Rookie cards, a broken lawnmower, baby hamsters and even two Cheestrings.
The campaign generated interest from news and radio shows, some of which rang the number live on air to speak with the seller and offer their own trades. Some of the answer machine messages and calls were posted to Black Diamond's social channels, including SnapChat and TikTok, and will run from 18 August 18 until 11 November.
Results / According to the brand, the campaign received over 1,000 trade offers for the Cheestring and also generated 213 million earned media impressions, including from the likes of Narcity, CityTV, the New York Post, Breakfast Television, Global News and HuffPost.
Contagious Insight 
/
String along / Black Diamond shared with Contagious that Cheestrings is the number one snack cheese brand in Canada in terms of consumption, tonnage and dollars. But the category is also not short on competitors, with the brand's biggest competitor Bel Group (known for Babybel) and own-brand supermarket labels vying for a slice of the snack cheese aisle. One of the most distinctive assets of string cheese products is the fun and playful nature of how it is consumed, with people often pulling strips off the main block to eat it bit by bit. Speaking to Contagious about the campaign, agency Broken Heart Love Affair said: 'It is rooted in a very interesting insight that we no longer give ourselves permission to play and that we take life too seriously. Black Diamond Cheestrings is all about fun, and our message is to invite play – every peel of a Cheestring brings out the kid in everyone.'
By knowing and understanding that consumers likely choose these snack items for this enjoyment factor, it makes sense to reach these consumers through a campaign that reflects the playfulness of the product but also appeals to the fun-loving child inside the average string cheese consumer.
One of the key themes identified by Contagious at the Cannes International Festival of Creativity this year was a return to more mischievous comms post-Covid by brands. You can book our one-hour session that breaks down and unpacks this trend with examples and the three other main themes in our Cannes Deconstructed briefing here.
Media hijacking / Recently Contagious interviewed Samsung New Zealand about its Media Gold Lion at Cannes for the iTest, a web-app that enabled Apple iPhone users trial the Android interface and features through the comfort of their existing handset. Mike Felix, creative director at agency DDB Tribal Aotearoa, Auckland, shared with Contagious that the reason why the campaign was such a success is because 'it gave people something rewarding to share'.
So too here, Black Diamond's campaign has proven to be a cost-effective and media savvy activation – achieving 213 million earned media impressions from just one OOH billboard and a series of social posts. By designing the stunt to be fun, mysterious and participative, it provided media outlets like morning TV, chat shows, light news and radio broadcasts something with which to engage.
Contagious thinking delivered to your inbox 
/
Subscribe to the Contagious weekly newsletter and stay up to date with creative news, marketing trends and cutting-edge research.