Campaign of the Week
Contagious I/O
/
10 November 2020
Coop supermarket creates carbon-footprint tracker for shoppers 
/
Supermarket chain allows customers to check the climate impact of their grocery shop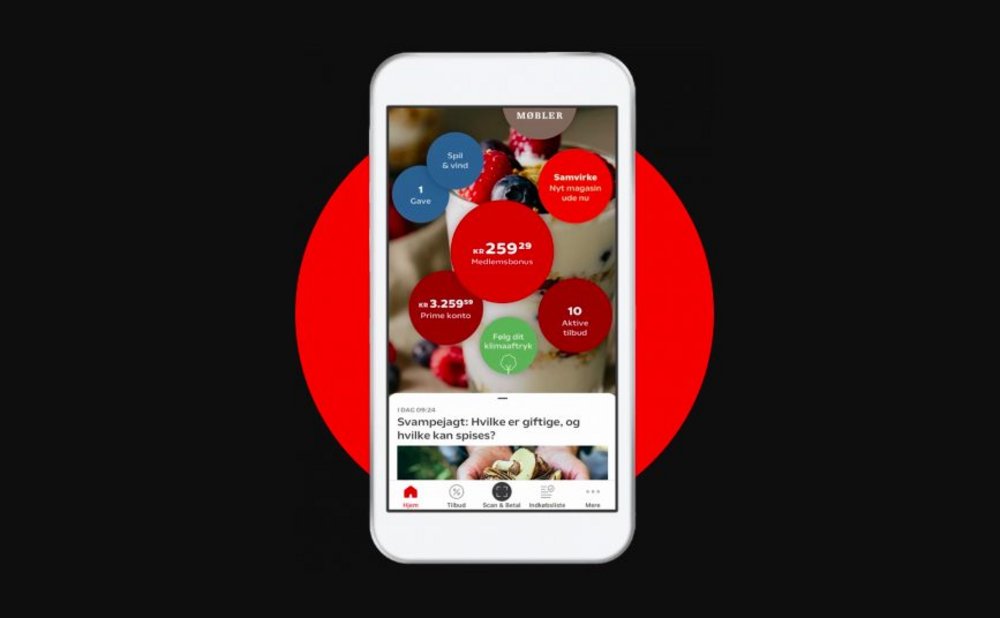 Danish supermarket group Coop DK has launched a new feature on its app that enables customers to check the climate impact of individual goods.
The tool, which took a year to develop and was rolled out in June, allows customers to track the footprint of their purchases, according to items' production, processing and transport to the store, as well as any food waste on the way to the store. It also allows shoppers to compare their footprint with the average customer's.
To access the feature, Coop app users can press the green button labelled 'følg dit klimaaftryk' ('track your climate footprint'); by using their membership card when they shop, each purchase is registered on the app.
As well as seeing the climate impact of their Coop purchases, shoppers can find out which items leave the biggest imprint. The app also offers inspiration and suggestions for new, more climate-friendly habits, like meat-free days, or avoiding food waste, according to a press release.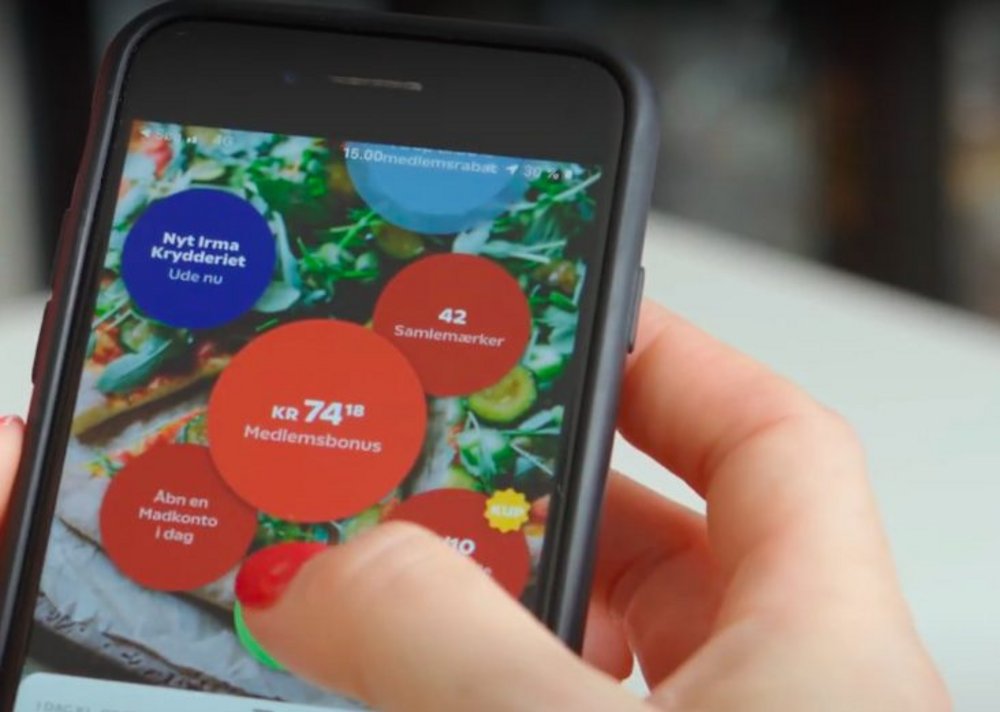 Additionally, each time a shopper activates a new climate-friendly habit, they can plant a small virtual tree as a reward. As their forest grows, their climate footprint decreases. The estimates are rough, and won't tell consumers which brand of rice is more efficient than another, for example. But Thomas Roland, who heads up Coop DK's CSR department, said: 'The difference between different rice is so small,' 'What is important is that potatoes have a four times lower climate impact than rice.'
According to the brand, 21% of the chain's 1.2 million app users have checked their carbon footprint. The cooperative, which accounts for a third of Denmark's grocery market has made the tool available to use in stores run by its five supermarket chains (Kvickly, SuperBrugsen, Dagli'Brugsen, Fakta and Irma), and has made its calculation methodology free for other supermarket chains to replicate. 'The climate challenge is so great that we have to work the same across old boundaries. I hope that the other grocery chains will be on this journey,' said Roland.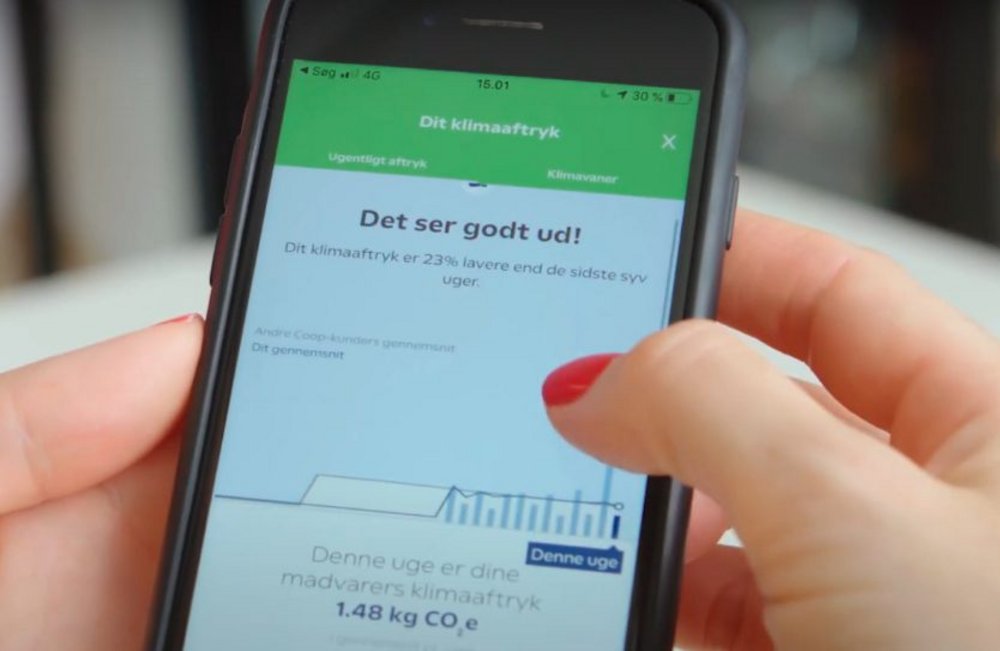 Contagious Insight 
/
Tap into the transparency trend / Individual carbon footprint calculations are relatively new – this year Swedish fintech Doconomy launched the 2030 Calculator, a tool that calculates the carbon footprint of a product in minutes, while Unilever announced it would carbon label all of its products – and reflect a growing demand for supply chain transparency.
Coop DK's initiative responds to consumer concerns around sustainability, positions the retailer as an innovator and environmentally conscious company, and encourages better consumption through awareness; the ability to track the impact, per item, of a grocery shop, will make consumers more conscious of their choices and the consequences they have on the environment. Initiatives and services like these, particularly from mainstream brands and supermarket chains, demystify sustainability and show people what tangible, everyday improvements they can make.
This is an approach embraced by mobile app Yuka, which Contagious covered earlier this year. The app analyses the impact that the ingredients in food or cosmetic products have on your health with a four-tier colour code that ranges from green (healthy) to red (unhealthy). To get a breakdown of all of the ingredients and their health ratings, users can simply download the free app and scan the barcodes of food and personal care products with their smartphones. 'Unless you're a nutritionist or have a degree in biochemistry it's almost impossible to entirely decipher labels,' Yuka co-founder Julie Chapon told Contagious.
In-store (mobile) browsing / Last year, research from the University of Bath put any retailers' concerns about in-store mobile phone usage to rest when it revealed that shoppers added up to 58% more items to their basket while using a phone. While the research suggested that these extra purchases were the result of shoppers being distracted and shopping in 'autopilot' mode, there is also evidence that customers are using their mobile devices to seek out deals and compare products.
A September 2018 survey from HRC Retail Advisory (HRC), reports eMarketer, found that 59% of US smartphone shoppers used their device in-store to compare costs or search for deals and coupons, while a November 2018 survey from TD Bank found that six in 10 shoppers used digital tools to compare product prices while shopping in-store. In 2017, Retail Dive reported that nearly 60% of shoppers look up product information and prices while using their mobile phones in stores. Since mobile devices are evidently part of the shopping experience, Coop DK's app appears to align with consumer behaviour.
Like this article? Share with your network:
Want more Contagious thinking? 
/
Subscribe to the Contagious newsletter to receive a weekly dispatch of campaigns, opinions and research, curated for strategists, creatives and marketers.
Get our weekly newsletter 
/
Subscribe to the Contagious newsletter and stay up to date with creative news, marketing trends and cutting-edge research.