Campaign of the Week
Contagious I/O
/
28 July 2020
Country Time bails out lemonade stands with stimulus checks 
/
Drinks brand launches relief fund to support entrepreneurial children during a socially distanced summer
This article was first published on Contagious I/O, our online intelligence tool. To find out more click here.
As the Covid-19 pandemic has developed, the health crisis has evolved increasingly into an economic crisis. In response, governments around the globe have launched relief programmes to support businesses.
Country Time, the Kraft Heinz-owned drinks company most well-known for its lemon-flavoured drink mix, identified that one particular type of business in the US was suffering but not catered for by government schemes: children's lemonade stands.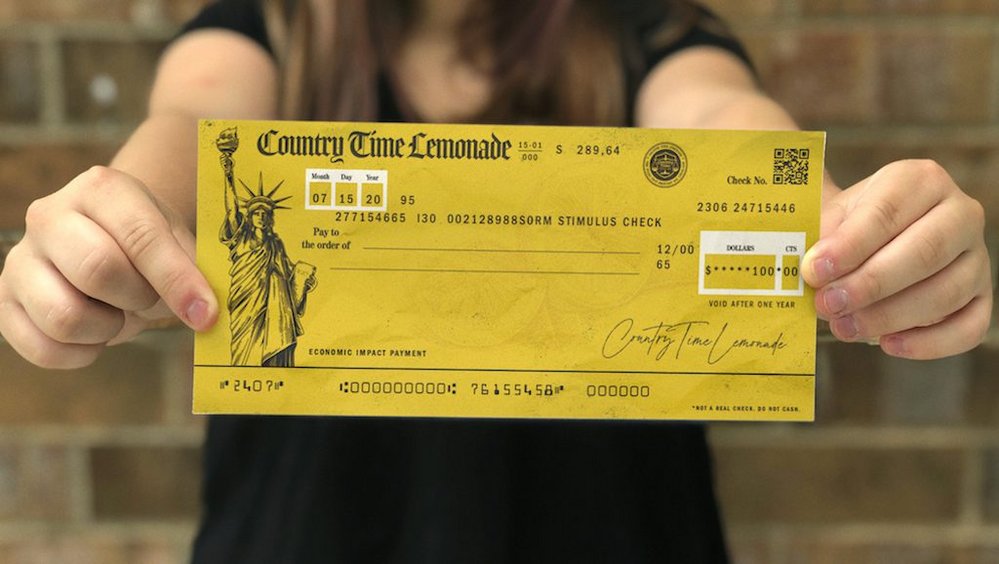 So, the brand launched The Littlest Bailout, a tongue-in-cheek follow-up to the award winning 2018 Legal-Ade campaign. Created with Leo Burnett, Chicago, this initiative centres on a relief fund for kids who haven't been able to generate pocket money by running their curb side businesses this year.
According to the microsite, The Littlest Bailout will provide 'stimulus checks to help kids preserve the values of lemonade stands, honest work, and entrepreneurship, while putting a little juice back into the economy'.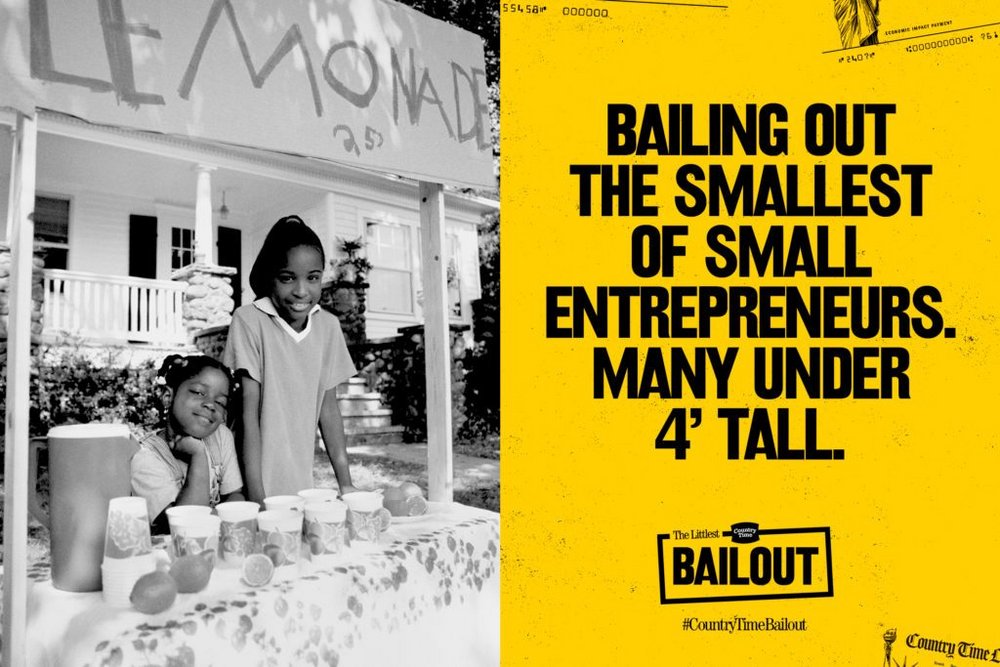 The 'stimulus checks' will be awarded to 1,000 children as prepaid cards worth $100 each. Parents of children aged 14 and under can apply by visiting the microsite, filling in their details, answering the question 'How would your child use their stimulus che[que] to juice the economy?' and submitting a photo of the lemonade stand sign their child was going to use but can't due to social distancing guidelines.
Winners will be randomly selected and will receive a commemorative check and a prepaid Visa card.
Results / According the agency, the campaign generated over 1.4 billion impressions and achieved 80% positive sentiment on social media, in particular a 22% click-through rate on Snapchat. In total, 33,950 entries were made into the bailout and the campaign website received 325,000 unique visits.
Contagious Insight 
/
Build and adapt / Country Time's 2018 campaign, Legal-Ade, generated huge success for the brand. According to the agency, the brand paid $150,000 for media coverage but earned the equivalent of $10m in media, leading to 1 billion media impressions with 97% positive sentiment on social channels. It also reversed a declining market share and led to the first big spike in seven years.
This year's campaign builds on this foundation. While the 2018 campaign came to the defence of children whose lemonade stands were shut down by arcane permit laws, this year the brand is adapting to defend against the current economic environment.
When we spoke with Leo Burnett's strategy director Pushpa Gopalan last year, she told us one of the key factors for the 2018 campaign's success was that they identified a particular tension. She said: 'It's such a universal enemy. When people are messing with cute little kids, that's something that everyone can get behind. It was the nature of this tension that worked for us and resonated with our client. It's a wholesome brand and the idea fits with its brand values.'
Once again, Country Time is up against a universal enemy. By maintaining its creative platform while also evolving it to meet the needs of the current situation, the brand has again found that sweet spot of a campaign (and cause) that is relevant to the brand and its audience.
Summer slump / Lemonade sales are heavily affected by seasonality and summer is peak lemonade stand season. As Gopalan revealed in our 2019 interview, Country Time's product 'has a specific role to play which is as a summertime refreshment'.
But a socially distanced summer spelled trouble for the lemonade brand and its key customers.
Though this campaign can't solve the issue of fewer lemonade stands in neighbourhoods, it can still defend against a sales slump by driving conversation around the brand. This campaign relies on driving talkability around the brand (what Binet and Field would call 'fame') to generate a positive sales uplift.
Gopalan stated that the Lemon-Ade brief was 'to find an idea that would create a little bit of instant fame around the brand so that it would stand out from its competitors in the summer season […] and drive in store sales'. While the brief feels broad, it is clear on what it wants the campaign to achieve and we see similar thinking applied to The Little Bailout. The brief's adaptability to changing circumstances invites creative solutions and gives it an evergreen quality that could help the brand fight against future, unpredictable summer slumps.
This article was first published on Contagious I/O, our online intelligence tool. To find out more click here.
Contagious thinking delivered to your inbox 
/
Subscribe to the Contagious weekly newsletter and stay up to date with creative news, marketing trends and cutting-edge research.