Campaign of the Week
Contagious I/O
/
29 September 2020
Graphic New Zealand campaign shows how seatbelts save lives 
/
Transport agency transforms car crash survivors into advocates for seatbelts
This article was first published on Contagious I/O, our online intelligence tool. To find out more click here.
Early last year, the Waka Kotahi NZ Transport Agency, which exists to promote safe and functional transport in New Zealand, wanted to reduce the amount of avoidable road fatalities. According to the agency, around 100 New Zealanders die in car crashes each year, and 30% could survive if they were wearing a seatbelt.
Since young men from rural areas make up the majority of these fatalities, the NZ Transport Agency set out to transform the seatbelt from a sign of weakness into a symbol of survival. Working with Clemenger BBDO Wellington, the agency partnered with media company VICE to create an alternative to standard road safety PSAs: Belted Survivors.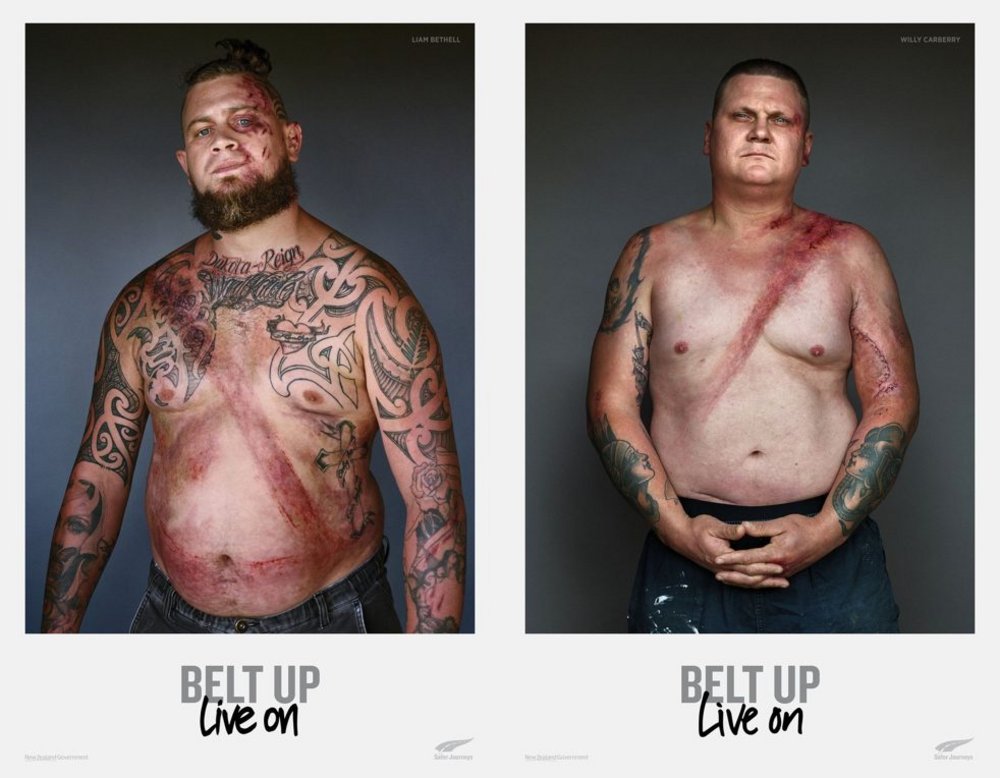 Based on an insight that its target audience liked to share hardcore images of injuries and scars, the campaign gathered hundreds of real stories from people who had survived road accidents thanks to their seatbelts. The agency chose 10 survivors, whose injuries and seatbelt marks were recreated from post-crash photographs by special effects makeup company PROFX.
These survivors were photographed in their homes, and shared the images on their social channels. The images were also displayed as large-scale OOH near car parks of bars and pubs in the survivors' hometowns, and at events popular with the campaign's target audience of young men. Each survivor's story lives on a dedicated website, where people can watch videos of the injuries being recreated and submit their own seatbelt survivor stories.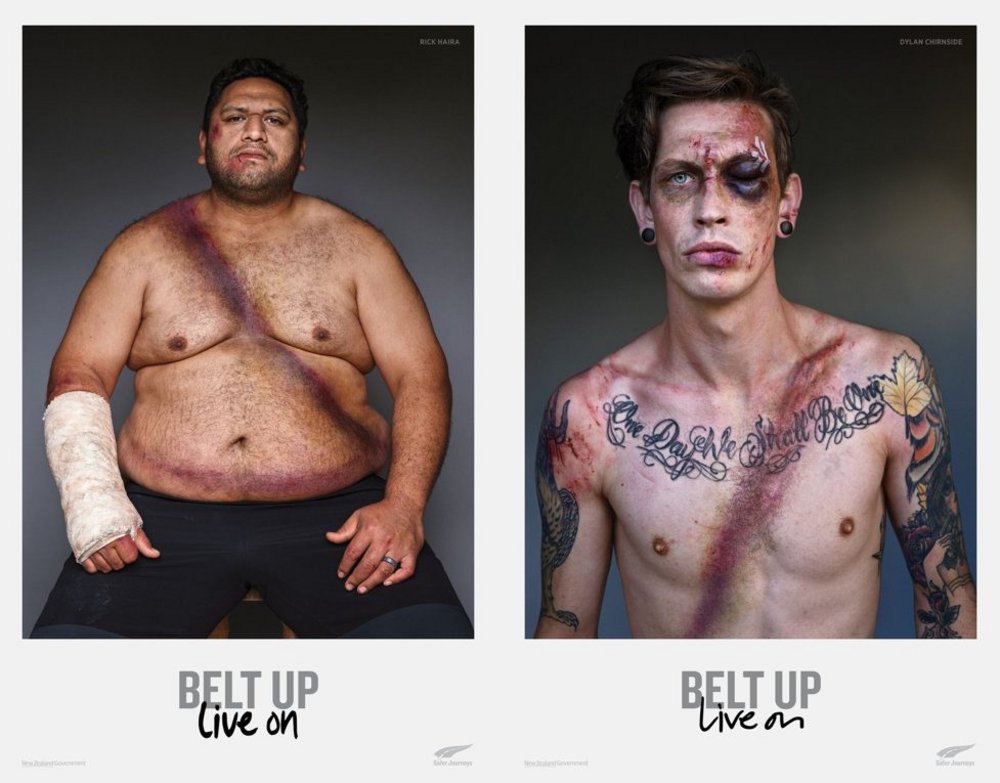 As the campaign progressed, the 10 survivors became advocates for making 'the right call' to wear a seatbelt, encouraging other young men to do the same. The stories were picked up by national and later global media, and led to a long-term initiative with the New Zealand Police, with survivors participating in workshops focused on seatbelt safety.
Results / Belted Survivors resulted in half a billion impressions worldwide, a 540% increase in audience engagement (compared to NZ Government standards for social marketing to this audience) and a 74% perception shift for its target audience. The campaign had a recall almost three times higher among young males than the general population, and nearly four times higher than previous seatbelt campaign recall.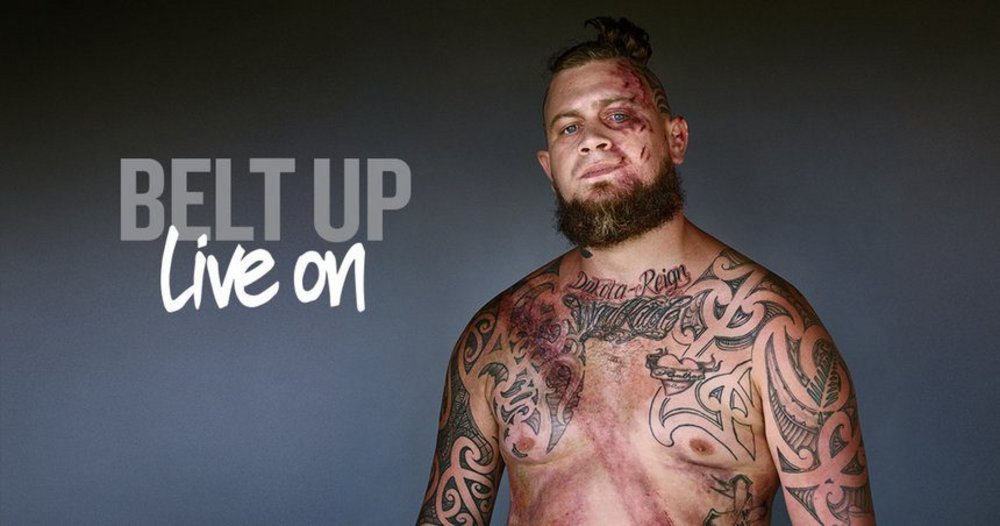 Contagious Insight 
/
The power of a symbol / Plenty of PSA campaigns use graphic imagery to shock viewers into receiving and remembering their messages, but Belted Survivors goes a step further. Recognising that the seatbelt was regarded by young males as a symbol of weakness, NZ Transport Agency carefully selected survivors with heavy seatbelt marks to show that a seatbelt will save you, but it will also leave its mark on you. The dark bruising in each of the survivors' portraits conveys just how hard a seatbelt works to save a life, reframing it as a symbol of strength, rather than weakness.
A cast of young, macho, tattooed men, proves that even the most physically fit and imposing people are saved by seatbelts, and that wearing one is not just for kids or the elderly. Furthermore, the choice to feature real people and stories lends legitimacy to NZ Transport Agency's cause – when we are used to seeing injuries recreated in PSA campaigns, TV and film, it's easy to become desensitised. Basing the campaign imagery in reality and pairing the photos with the stories of ordinary people makes this campaign more impactful.
Mirror your audience / By recruiting survivors who fit the demographic of its target audience, the campaign forces young men to confront their decision to not wear seatbelts and reflect on their own safety. The stories of each man featured in the campaign are all too relatable – 'Dan had just turned 21. He was heading home after working a late shift [...] when he was hit by a drunk driver', 'Sunstrike obscured James' vision along a road he drove every day. It sent him headlong into the path of an 18-wheeler' – and they serve as a reminder of how these life-altering accidents could happen to any of us.
By contrasting these shocking images of injuries with the quotidian, almost banal circumstances in which the accidents took place, Belted Survivors emphasises that road accidents can be beyond the driver's control but choosing to wear a seatbelt is one thing you can control – and it could be the difference between life or death.
Want more Contagious thinking? 
/
Subscribe to the Contagious newsletter to receive a weekly dispatch of campaigns, opinions and research, curated for strategists, creatives and marketers.
Contagious thinking delivered to your inbox 
/
Subscribe to the Contagious weekly newsletter and stay up to date with creative news, marketing trends and cutting-edge research.