Campaign of the Week
Contagious I/O
/
8 September 2020
Reddit's first brand campaign compares upvotes and elections 
/
Social discussion website's out-of-home campaign encourages people to exercise their right to vote in the upcoming US presidential election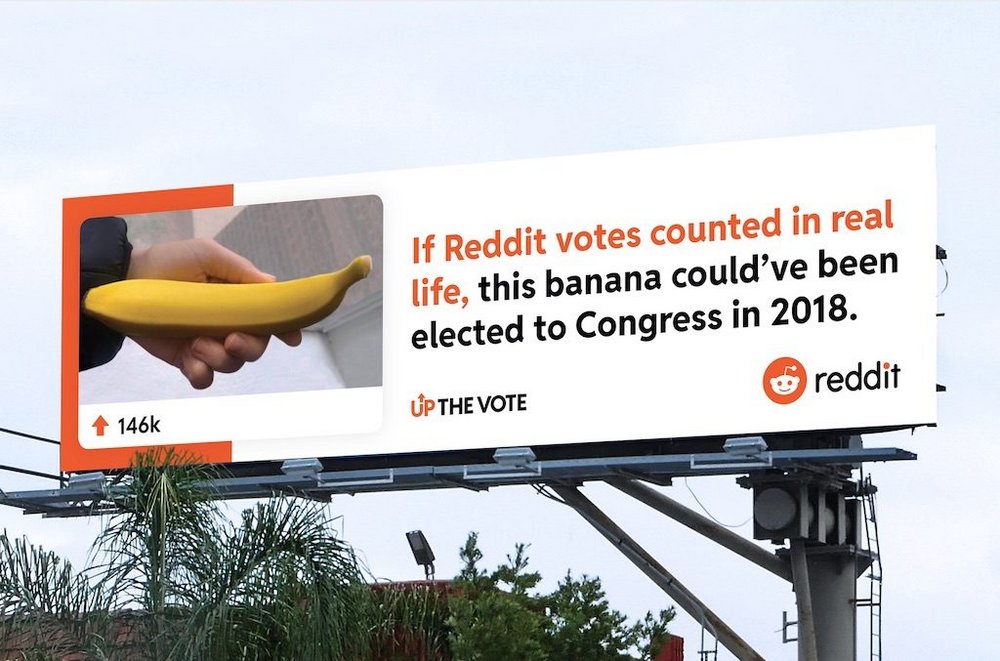 This article was first published on Contagious I/O, our online intelligence tool. To find out more click here.
On 1 September Reddit launched its new campaign in the US, encouraging people to exercise their right to vote at the polls in the 2020 US presidential election.
Created with R/GA San Francisco, the campaign was launched on National Poll Worker Recruitment Day and runs out-of-home ads, print, online and in-ad displays across New York, Houston, Chicago and Los Angeles up until Election Day on 3 November.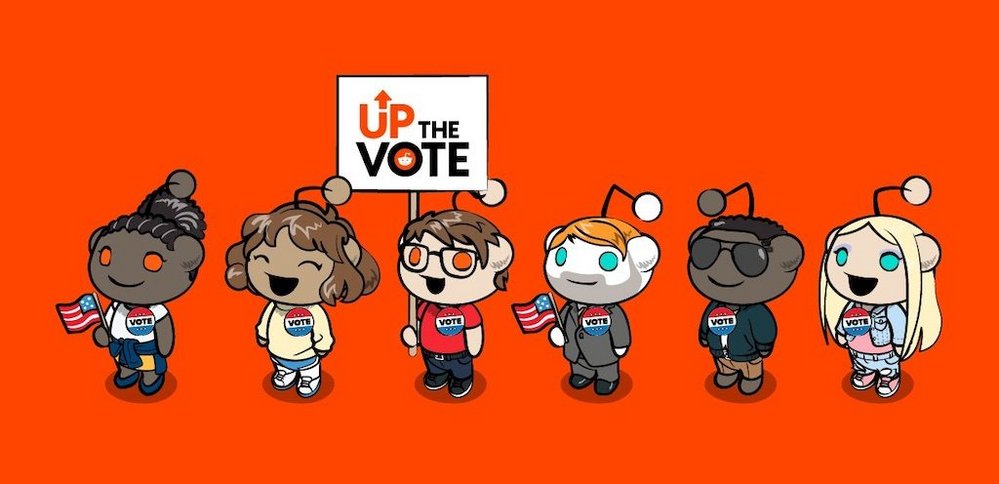 Reddit is a community-determined aggregator of content. Within discussion threads, people submit posts that users can 'upvote' or 'downvote'. The more a comment is upvoted, the more people will see it.
This is Reddit's first ever brand marketing campaign, and the visual ads feed into a wider Up The Vote initiative. With the ads, Reddit is calling on the 26.4 million Americans that use the platform monthly to show the same enthusiasm for voting in the real world as they do on the platform. And in the press release, Reddit urges its users to 'vote where it matters most: at the ballot box' because in the 2016 election, only 63% of people eligible voted.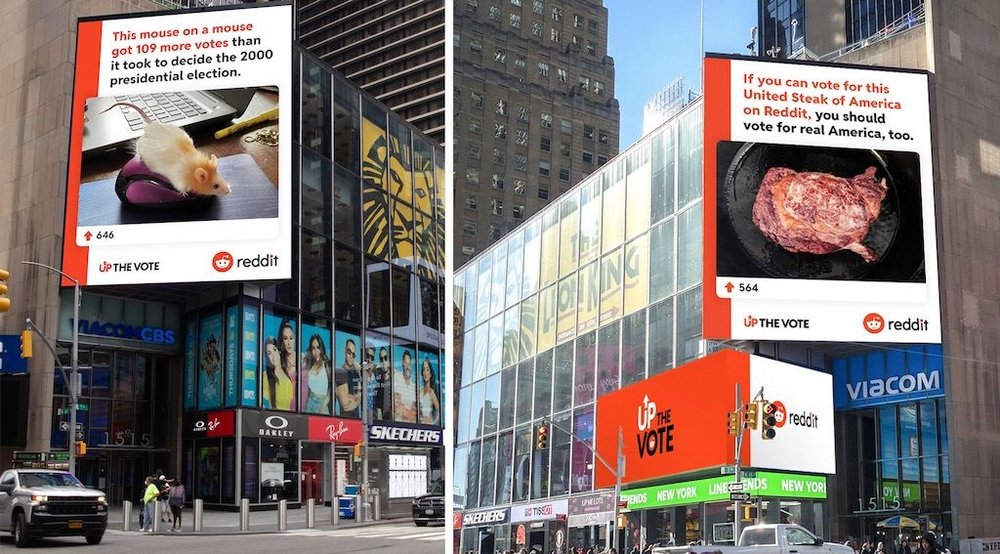 The OOH campaign is accompanied by a number of other initiatives focused on alerting and educating users on their right to vote. This includes an expert Ask Me Anything series on voting laws, rights and processes; a National Voter Registration Day initiative and Election Day resources. Reddit is also giving its US employees the day off on Election Day to ensure they have the opportunity to vote.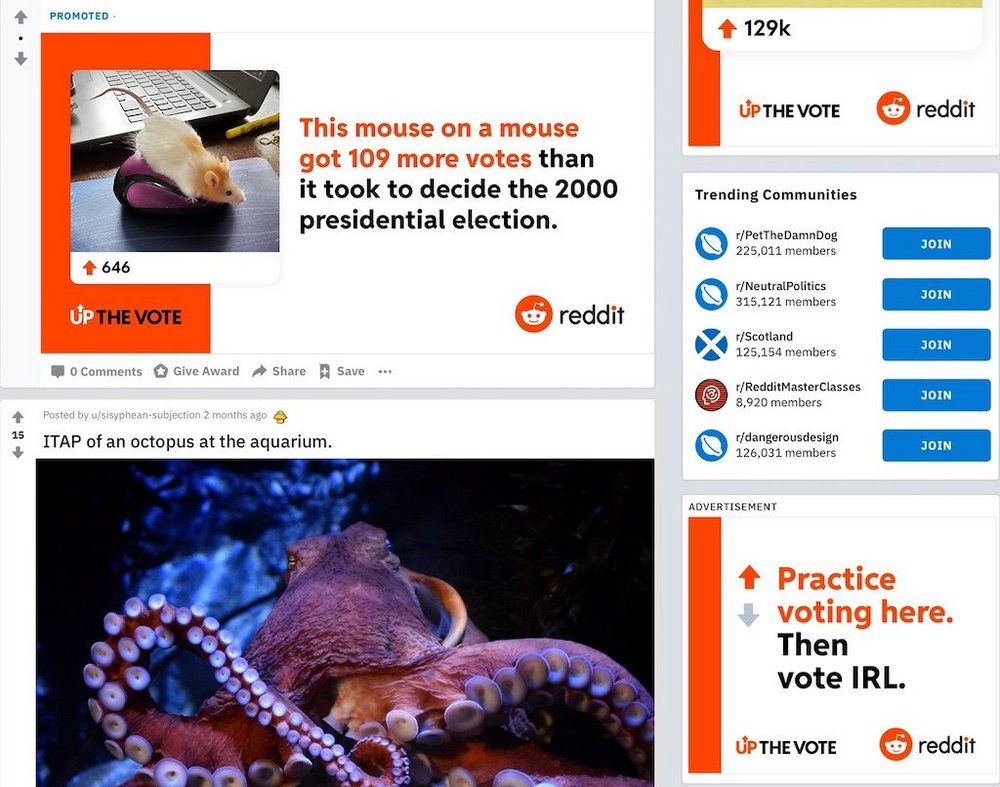 'Like so many others in 2020, we have pivoted our marketing efforts in order to best represent our brand in an appropriate and relevant way,' said Roxy Young, Reddit VP of marketing. 'It feels fitting that our first ever marketing campaign is focused on something as intrinsic to Reddit as voting, while also serving a positive purpose for our larger, real world community.'
Contagious Insight 
/
Keep it real / For Reddit's first brand marketing campaign, it is apt that it has chosen to encourage voting in the US presidential election, given that voting is intrinsic to its platform. On Reddit, users cast over 165 million votes per day. These votes determine what content on the site is seen most, and what falls to the bottom of the feed.
By drawing a connection between this aspect of users' experience, and the upcoming election, Reddit is highlighting the mechanics of its platform and the vital part voting plays in the real world. As a result, the campaign serves both as an eye-catching piece of civic responsibility and a deft expression of Reddit's core appeal.
In-sync / The humorous ads encouraging people to make their real vote count broadens Reddit's relevance by tying the platform to one of the most topical conversations of the moment – a conversation that will last until 3 November.
Other social media platforms have taken on a similar responsibility encouraging voting in young adults – Snapchat added features to encourage people to become poll volunteers but this message lacks a tangible connection to the platform itself and so doesn't connect as well as Up The Vote.
Real world / The campaign's big OOH presence represents Reddit expanding beyond its niche online community (the platform boasts an avid user base, with non-users invariably having never even visited the website, nor understanding how it actually works). Research by Nielsen found that 46% of US adults have searched for something online after seeing an out-of-home advertisement. We've seen tech giants like Google and Facebook capitalise on this in attempts to drive new users to their sites, and Reddit's attention-grabbing foray into the real world may well do the same.
Contagious thinking delivered to your inbox 
/
Subscribe to the Contagious weekly newsletter and stay up to date with creative news, marketing trends and cutting-edge research.