Campaign of the Week
Contagious I/O
/
15 September 2020
Snickers protects against 'hunger blunders' with insurance promo 
/
Snack brand launches insurance that pays out when people make mistakes out of hunger
This article was first published on Contagious I/O, our online intelligence tool. To find out more click here.
Snickers launched its own insurance that paid out when people made mistakes as a result of their hunger.
Working alongside Impact BBDO Dubai, the confectionery brand assessed claims sent via an AI-powered chatbot, and in return offered compensation of between one and 50 Snickers bars, depending on the severity of the mistake.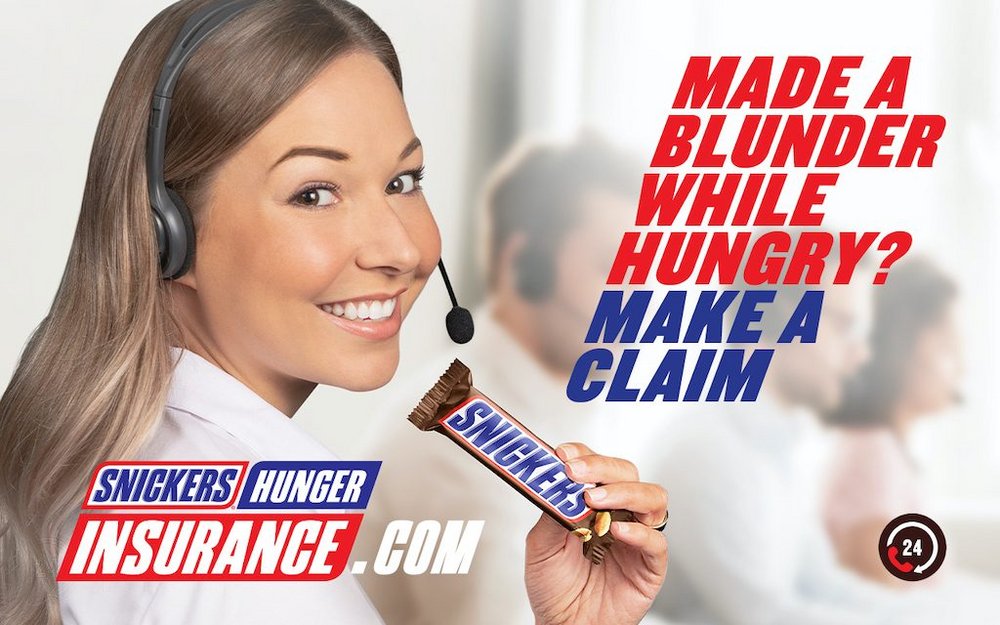 The campaign, from the UAE, is the latest in a series of activations that align with the brand's long-standing global creative platform, You're Not You When You're Hungry, established by BBDO New York in 2010.
The Mars-owned chocolate bar brand launched the campaign, Snickers Hunger Insurance, with a spoof-style infomercial featuring Ramy, a hunger insurance expert, telling viewers that they may be entitled to compensation if they've ever 'done something stupid' when hungry.
Those guilty of 'hunger blunders' were directed to a website where they could make a claim. The website allowed visitors to speak to an 'agent' (a chatbot), view customer testimonials, expert ratings and achievements.
Snickers worked with underwriters to power the chatbot, developing an algorithm that evaluated claims by analysing thousands of keywords to judge the severity of the mishap. The bot then factored in data including time of day and location to assess whether the mistake was likely made as a result of hunger.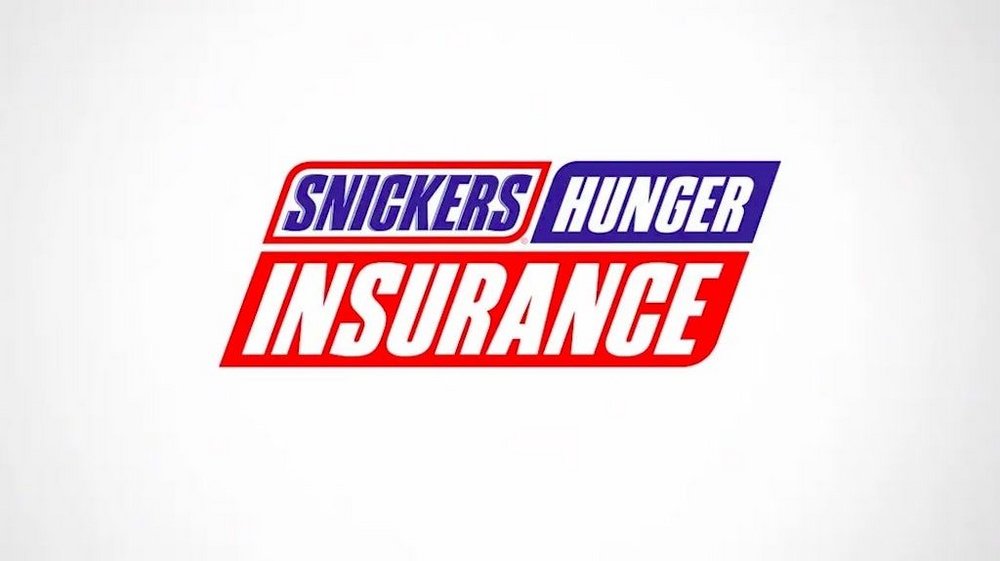 The frequency and severity of each error, along with its relation to hunger, were used to calculate the payout (up to a maximum of 50 bars for the most serious of mistakes). According to the case study video, someone who made an error such as breaking personal property might be compensated for five bars, while someone who had booked the wrong holiday might be given 40 bars. After the application was assessed the claimant received a mobile coupon redeemable at stores across the UAE for the appropriate amount of chocolate bars.
The campaign was also promoted across outdoor, audio, social and in-store.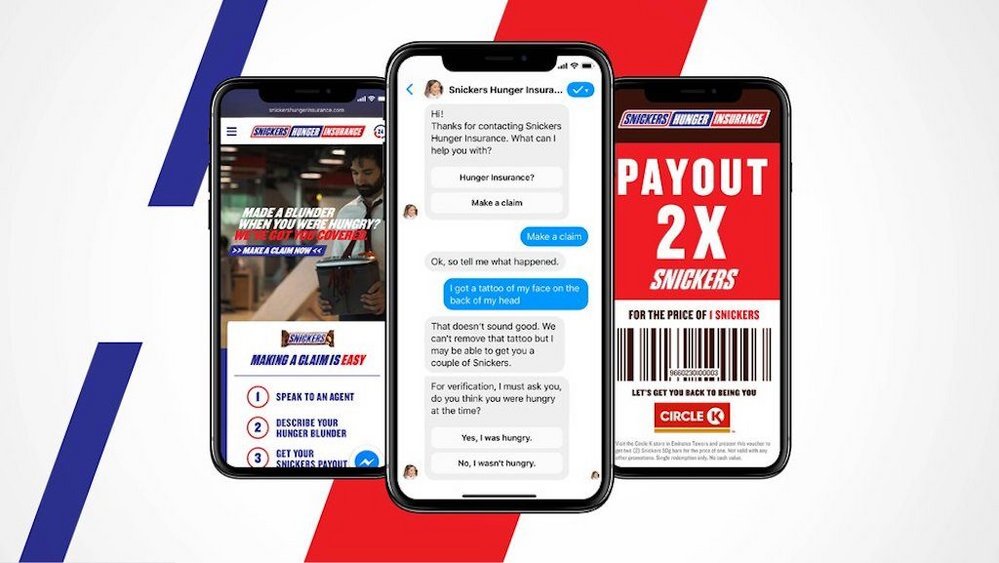 Results / According to the agency, there was an uplift of 18% in weekly sales of Snickers during the campaign period, and a 21% increase in foot traffic in participating retail stores. There was also a 30% rise in brand associations with 'hunger'.
Contagious Insight 
/
Creative consistency / This campaign is yet another example of Snickers executing against its multi-award-winning creative platform, You're Not You When You're Hungry.
Other examples include Australia's 2016 The Hungerithm campaign, which saw chocolate bars given away at different prices according to the nation's mood, as assessed via an online algorithm, and 2017's Who Are You?, an on-pack promotion which played on different words for hunger.
Since 2010 Snickers has been developing its 'hunger' positioning by consistently delivering the same message in its comms. This repeated messaging builds mental availability for the brand which, crucially in a category where impulse purchases are the norm, increases the likelihood that a consumer will choose the brand in a buying situation.
Oh so refreshing / Finding new ways to execute this creative platform is a key challenge for Snickers. As Matt Pearce, senior planner at Melbourne-based Clemenger BBDO, told us when we spoke to him about The Hungerithm: 'We had to tell the brand story in a new way, to give people a stronger reason for purchasing. It was about finding a way to twist the platform which people are familiar with a love.' This campaign is a great example of a compelling, creative variant on the same idea that doesn't feel tired or repetitive.
Crack the code / Despite being styled as a spoof insurance campaign, each component leverages the brand's distinctive assets such that it is recognisably Snickers. As described by Jenni Romaniuk, co-author of How Brands Grow: Part 2, distinctive assets are 'non-brand name elements, such as colours, logos, characters and fonts that can trigger the brand for category buyers'.
Here the TV ad, OOH and social assets, in-store activations and campaign website each feature the Snickers logo, red parallelogram, and product packshot associated so closely with the brand. For Snickers, these codes are so strong that it can even produce an ad parodying another product category, and still clearly reinforce the brand's identity.
For more on Snickers, read the Contagious case study here.
Contagious thinking delivered to your inbox 
/
Subscribe to the Contagious weekly newsletter and stay up to date with creative news, marketing trends and cutting-edge research.