Campaign of the Week
9 August 2022
Spotify B2B campaign targets CMOs with personalised songs 
/
Music streaming platform commissions songs about CMOs to attract more advertising investment
Spotify Advertising offers advertisers access to over 200 million users of its free music streaming service, who use the platform for hours every week and generate a huge amount of personal data that can be used by brands to hyper-target cultural segments. However, according to Spotify, marketers weren't making the most of these opportunities.
So, in August 2021 Spotify created A Song For Every CMO with FCB New York, a campaign to show advertising executives what they were missing out on in the way Spotify knows best: the medium of song.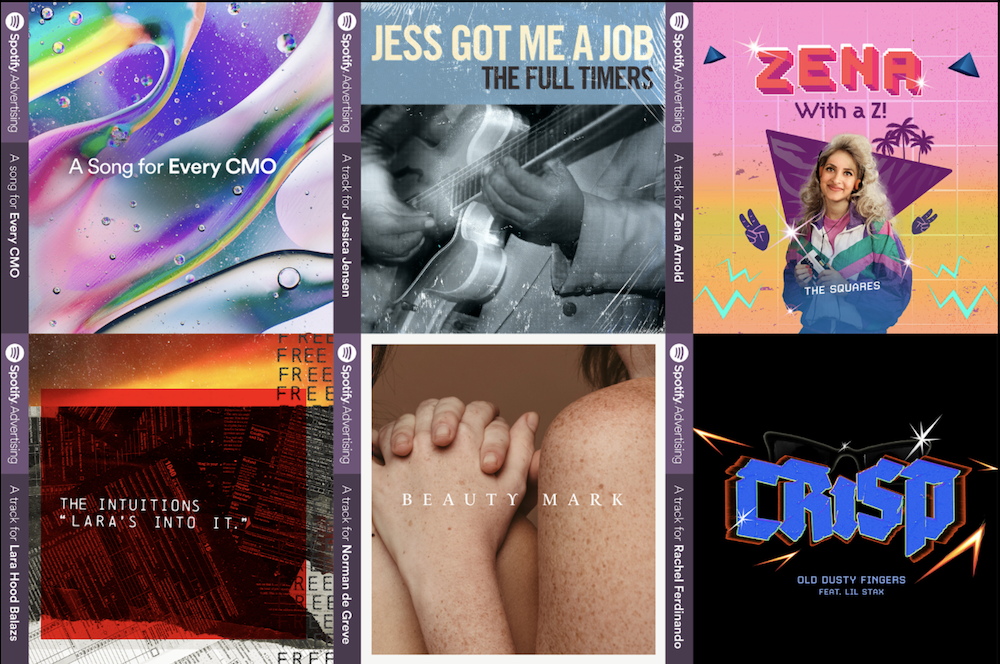 The brand reached out to 14 CMOs from brands including L'Oréal, Mastercard and Samsung and produced a personalised song for them. The CMOs included Spotify's existing partners and other CMOs they brand didn't work with but admired.
The songs contained lyrics about their lives and professional accomplishments, and took stylistic cues from their Spotify listening data. For example, Norman de Greve, CMO of US drugstore chain CVS, received a 70s-style piano ballad called 'Beauty Mark' (named after the brand's initiative calling for transparency around digitally altered images of models).
Each song was composed by award-winning composer Watt White, and had matching album art. For instance, the cover of Zena Arnold's 80s synthpop tune 'Zena with a Z!' featured the Kimberly-Clark CMO wearing a brightly coloured windbreaker.
According to Spotify, the CMOs were involved at every step of the process. When the track was ready, the CMOs were each sent a public calendar invite for a five-minute music meeting to listen to the final track.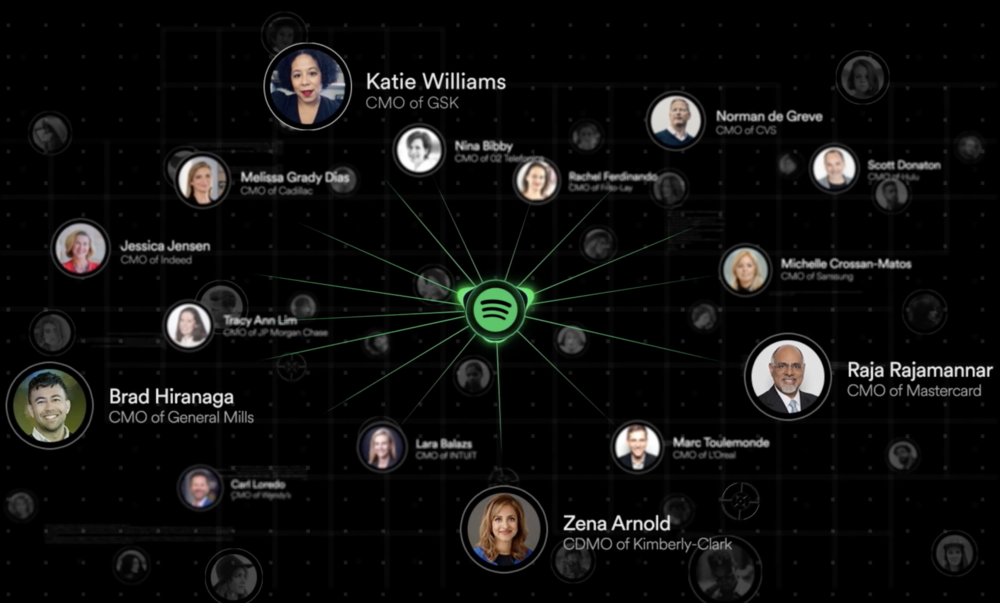 Each CMO received a commemorative platinum record, featuring a scannable code that would take them to their custom song's Spotify page.
Michael Aimette, co-chief creative officer at FCB New York, said in a statement: 'It's a big miss when we just treat audio as radio. A Song For Every CMO is trying to show marketers how fun and effective the platform can be, how their message can be so tailored to one's audience, and how it can bridge music and creativity in new ways.'
Results / According to the agency, following the campaign Spotify Advertising saw a 75% year-over-year growth, and earned €1bn (approximately $1bn) ad revenue for the first time, making 2021 Spotify Advertising's best year ever.
Contagious Insight 
/
Shape of you / Most campaigns aim for as large a reach as possible. But focusing its creative effort on only 14 people worked best for the Spotify's purposes. By working with only a select group of CMOs, the brand was able to demonstrate the depth of its cultural insight. It also helped highlight Spotify Advertising's strength: its ability to hyper-target.
Spotify has shown itself in the past to be adept at packaging its listener data in an entertaining way to connect with its audience. For example, the platform's users wait eagerly to see their 'Spotify Wrapped' every December. Launched in 2016, this feature presents data about each listener's platform habits at the end of each year, creating something personal and shareable.
No more boring B2B / Spotify Advertising's ambition was to connect with busy creatives on a deeper level, celebrate its existing partners and establish a relationship with new ones. And the brand did just that by creating something that surprised and delighted. B2B advertising has a reputation for not being as creative as B2C. As the jury president and CCO of Doremus, Paul Hirsch, said at this year's Cannes Lions festival, speaking about the trailblazing Sherwin-Williams' campaign Speaking in Color', 'B2B often follows in the wake of B2C in many ways – whether it's ideas or trends.' But who says B2B marketing has to be boring?
Here, Spotify stood out with a campaign that was entertaining and by virtue of being personalised, hard to ignore. What's more, the initiative was made for social media sharing, allowing the campaign to spread to each influential person's equally influential networks.
​​​​​​​Give it away now / Creating an effort-intensive, hyper-personalised gift for (prospective) clients not only commands attention. It also invokes the reciprocity bias – a feeling of obligation to return a favour. The tactic is widely used in B2C marketing: it's the logic behind giveaways and free samples. There's no reason it can't be as impactful in the B2B space. Businesspeople are people too after all.
The strategy calls to mind Google Cloud's Biography of Tomorrow, which aimed to convince French businesses of the benefits of its predictive capabilities by delivering personalised biographies to 10 leading executives. At the time of writing, two of these executives had struck deals with Google Cloud, a testament to the effectiveness of applying a little bit of social pressure.
Contagious thinking delivered to your inbox 
/
Subscribe to the Contagious weekly newsletter and stay up to date with creative news, marketing trends and cutting-edge research.