Interview
James Swift
/
24 June 2021
Cannes Interview: Creative Strategy president Suzanne Powers 
/
Contagious interviews McCann's global president about presiding over only the second ever Creative Strategy jury at Cannes Lions, and why they picked a 'frivolous' winner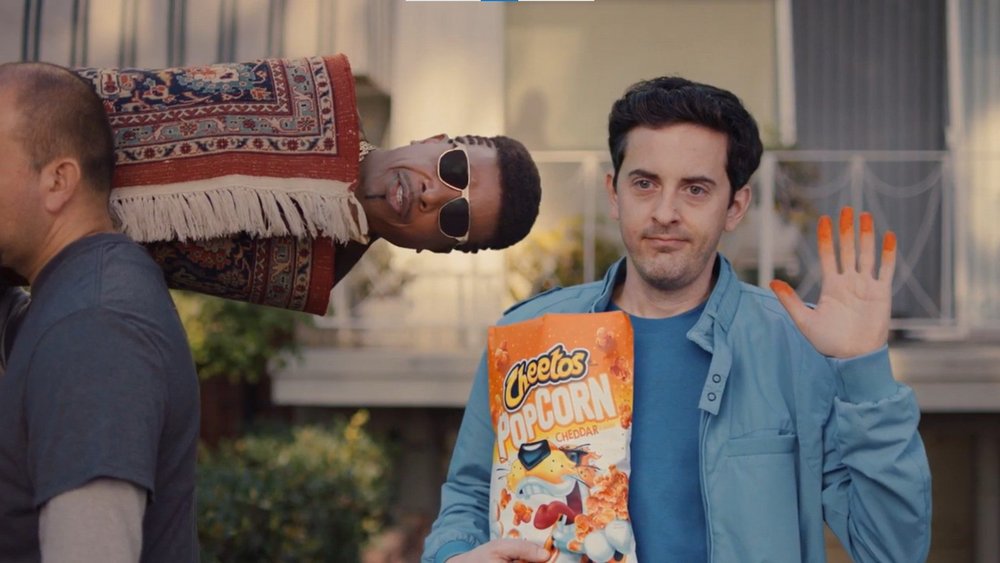 Cheetos' 2020 Super Bowl ad was a surprising choice for the Creative Strategy Grand Prix.
Creative Strategy is a serious category and 2021 has been a serious year, and Cheetos' ad is about a man who doesn't help people because he has flavour dust on his fingers.
It also features MC Hammer – as a baby, at one point.
But the frivolity of the campaign belies the in-depth thinking behind it. There was no shortage of cerebral and worthy campaigns jostling for the top award, but the more the jury spoke to Goodby Silverstein & Partners about Cheetos the more they realised that it delivered a 'masterclass' in Creative Strategy.
We interviewed Suzanne Powers, global president and CSO at McCann and Creative Strategy jury president, about the big winners in one of Cannes Lions' newest categories.
How do you define the Creative Strategy category?
It's only the second time that this category has been used, and we defined it as a strategy that unlocks an irrefutably powerful creative solution.
We really centred ourselves on trying to figure out how strategy helps unearth the real problem behind the problem, in order to unleash creativity to solve that problem.
One of the jurors said something that I thought was really lovely, he said: 'Basically, it has to be creative, but very strategic, and it has to be a strategy that's also creative.'
The other piece that we built into it was making sure that there were some brave decisions made.
You've touched on some of the criteria for winning there. Didn't you also create a charter for judging entries?
Yes, we deconstructed that very simple phrase around strategy unlocking an irrefutably powerful creative solution.
We defined 'strategy' as the discovery of the what to whom, why, where and when; and 'irrefutably powerful' as driving a measurable impact. And impact for us is defined in a few ways. It can [be understood as] massive in terms of scale, but impact can also mean intensity.
And then 'creative solution' we talked around as a real 'Aha' moment and a 'why didn't I think of that' idea.
I kept reminding the jurors to be human first. Don't be marketing geeks. [Ask yourself] does this thing that you're looking at affect you? And then, as a marketing geek, does it make you a little bit jealous?
Strategists are usually divided on the meaning of 'insight'. Did that come up at all in the discussions?
It did and I expected more debate around it than we had. But when we did discuss insight, we landed on something that was around pattern recognition that helped make a creative leap.
So why did you select Cheetos as the Grand Prix winner? What elements put this campaign in a class above everything else?
We saw such wonderful work that many of us cried over and felt things about, from a humanitarian standpoint. And then we had this thing called Cheetos. And it just was such a simple, wonderful thing that they unlocked. But we realised that they had to go very deep to get to it, so there's a very high level of creative strategy going on there.
They understood their target audience, they understood the category, they understood every single thing about the product down to a little particular piece of the product, called the dust, which their super users kind of wax on about.
They also applied such deep strategy to the ecosystem that they designed to launch the product, from creating a word [Cheetle: to describe the dust that collects on your fingers when you eat Cheetos] to creating art to infiltrating social. It's almost like a masterclass in creative strategy.
Did the campaign call to mind previous ads, like Stella Artois' Reassuringly Expensive and Guinness' Good Things Come To Those Who Wait, which turned a flaw into a virtue?
Yes, we talked about that a little bit, but we talked about it more in terms of having a deeper-than-expected product truth [...] and that's where the creative leap comes in.
The other thing we talked about was the fact that we were the pandemic jury [...] and the massive societal issues that have been brought up because of what we've all lived through. Because [Cheetos] is a little bit frivolous, isn't it? [...] And you almost feel guilty about it, but you can't, because it does everything that a great creative strategy should do.
We all want to use our craft to make the world better, but ideally, we do that and also move businesses.
Suzanne Powers, McCann
Was the jury unanimous on the winners?
In years past, when I've been on juries, we usually get into a hot spirited debate, where there are pros and cons, and it gets really emotional. I don't know if it's the virtual environment, but we didn't have that heated debate. It was just very logical, with everybody having a voice in the conversation, and not a lot of jockeying.
It was a really unified conversation about the importance of being clear about what excellence and mastery and creative strategy is, and which of those four cases do it from soup to nuts all the way through. And I'll tell you, the Cheetos piece, having such an incredible ecosystem that they defined and delivered on was a huge part of that. We don't see enough of those ideas. We see a lot of, I don't want to say stunts, but we see things where you go 'Wow, that's amazing,' and then it disappears. And we wanted to be careful that we weren't just awarding something like that.
Did you discern any trends about the category from the work that you saw?
There are a couple things. I think the fundamentals are still the fundamentals of creative strategy. What I think is different is that creativity can manifest in many, many different forms. We had some very interesting tech-based solutions, we had some very interesting traditional solutions, we had long form content, and we had documentaries.
The other theme is purpose. It's been around for a while and I just was so happy that all of the work in our category that had a broader societal purpose was also incredibly integral to whatever brand and product and service it was aligned to. We haven't seen that as much in years past. We all want to use our craft to make the world better, but ideally, we do that and also move businesses.
What's your advice to strategists who are doing work now hoping maybe to win next year?
You know, it's going to sound cliched, but the mix of art and science. It's important. And my worry in a world where we just keep talking about data and tech is that we don't stop and take a beat and have that human response that allows us to take a creative leap. Creative strategy still has to be about taking a creative leap.
Cannes Deconstructed 
/
Want to know about the best work and key trends from this year's Cannes Lions International Festival of Creativity? Book a Contagious Cannes Deconstructed briefing for your team and we'll deliver a week's worth of festival insights in one hour. These can be delivered in person (depending on Covid restrictions) or virtually. Contact [email protected] for more information.
Want more Contagious thinking? 
/
Subscribe to the Contagious newsletter to receive a weekly dispatch of campaigns, opinions and research, curated for strategists, creatives and marketers.
Contagious thinking delivered to your inbox 
/
Subscribe to the Contagious weekly newsletter and stay up to date with creative news, marketing trends and cutting-edge research.