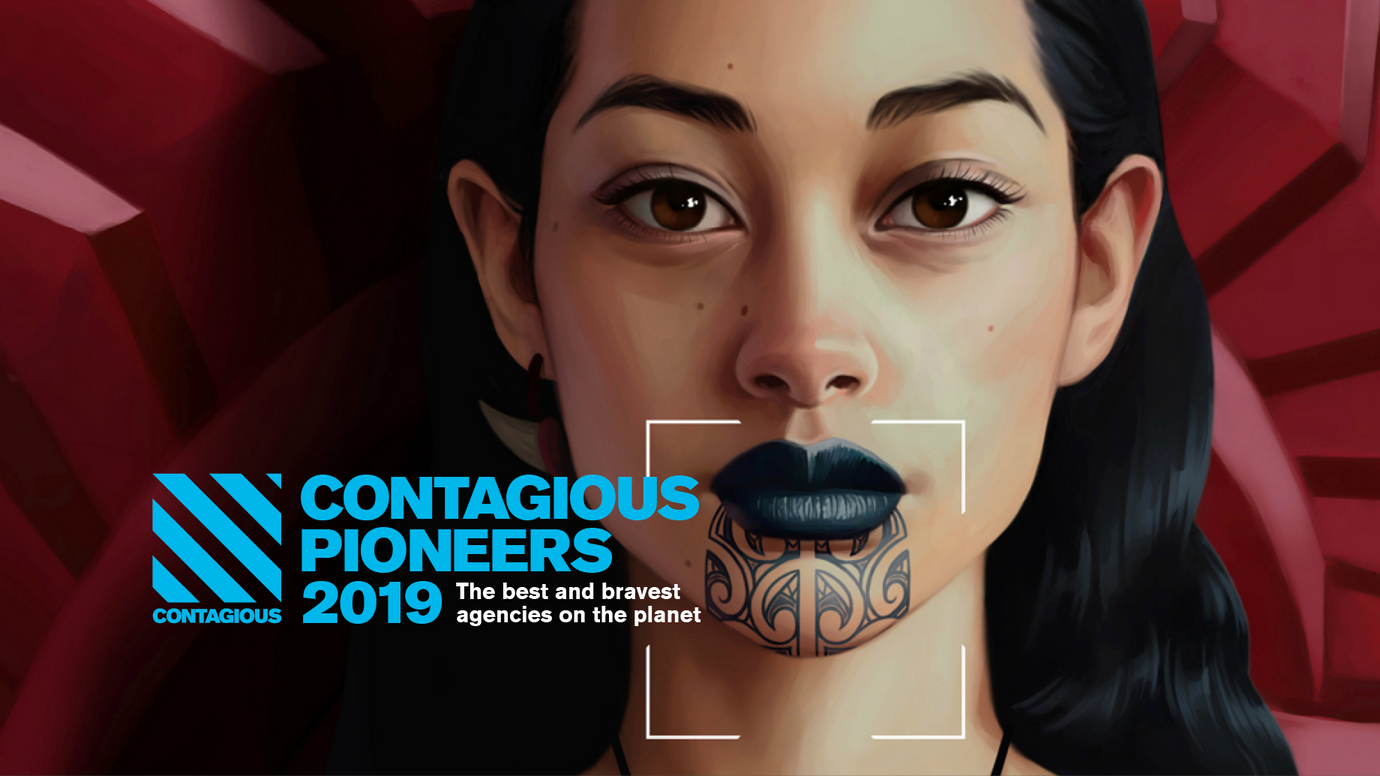 creativity
Contagious Team
/
13 February 2019
Contagious Pioneers 2019: The Work 
/
Our favourite work from the 2019 Contagious Pioneers – this year's best and bravest agencies on the planet
We've just announced the 2019 Contagious Pioneers – our list of the 10 best agencies that consistently set the standard for creativity, innovation and excellence in marketing. The list is compiled from the campaigns featured on Contagious I/O over the past 12 months.
Below, we highlight some of the most creative and effective work created by our esteemed list of Pioneers.
1. Colenso BBDO, Auckland / Spark: The Kupu App
New Zealand telecoms provider Spark worked with Google and Te Aka (an online Māori dictionary) to create the Kupu app and help more people learn Te Reo Māori, the official language of New Zealand's indigenous people. Kupu uses machine vision to identify objects and then supply the Māori translation. Anyone who downloads the free app need only take a picture of something to find out how to say it in Māori. 'The innovation needed to fit seamlessly into people's established behaviours. The effort to keep things simple guided every decision for the Kupu app product experience,' Colenso BBDO's strategy director Nick Salter said in an interview for Contagious I/O. Kupu was downloaded more than 120,000 times, becoming the number one trending app on both the Apple and Google stores.
2. McCann, London / Xbox: The Fanchise Model
To increase sales on its Design Lab website, which sells customised controllers, Xbox gave gamers ownership of the designs they created. As part of The Fanchise Model campaign, the Microsoft-owned brand offered gamers a cut each time someone bought one of their customised controllers. The designs were then promoted through print and outdoor ads, as well as in-store. The campaign led to a 350% sales increase. It also picked up the Grand Prix in Creative eCommerce at the 2018 Cannes Lions Festival. I/O subscribers can read our Insight & Strategy interview on the campaign here.
3. AlmapBBDO, São Paulo / Gol Airlines: Neymarless Sponsorship
Gol Airlines publicly declared that Neymar Jr wouldn't be engaging in any of its promotional activities despite the airline paying for 80 hours of his time in the run-up to the 2018 Fifa World Cup. In asserting that the real Neymar Jr's time was best spent training, not shooting commercials, the campaign hijacked and undermined competitor brands' use of the Brazilian star while generating 540% more media mentions than all other brand sponsorships featuring the player combined. 'If Brazil won - amazing. Gol were the ones who let Neymar prepare properly. If we lost, a lot of other people and brands were responsible for making him lose valuable time,' AlmapBBDO's creative Fernando Duarte said in an interview for Contagious I/O.
4. BBDO, New York / Procter & Gamble: The Talk
Procter & Gamble (P&G) worked with BBDO New York to create The Talk, a two-minute film showing black mothers preparing their children for the racism they will face in their lives. The film aired on national TV in the US and was seeded online. Created as part of P&G's My Black is Beautiful initiative, which was created to change the narrative around black women and beauty, the campaign earned over 1.86 billion impressions and was covered by more than 900 media outlets. It was also awarded a Grand Prix in the Film Category at Cannes and the Primetime Emmy for Outstanding Commercial. I/O subscribers can read our Insight & Strategy interview on The Talk here.
5. CHE Proximity, Australia / Carsales: AutoAds
A car-buying and selling site in Australia offered personalised film ads to every private seller who listed their vehicle on its website. Carsales and CHE Proximity Australia created an algorithm that combined pre-recorded footage parodying popular car ads with information about the seller and the car for sale. The algorithm was capable of producing more than 1 trillion different commercials, and 435,000 AutoAds were generated in the first week of the campaign. This campaign was published on Contagious I/O in March 2018.
6. Wieden+Kennedy, Portland / Nike: Juntas Imparables
Environmental and cultural factors stop many Latin American women from playing sport. Almost half (47.8%) of adult Latino women report they never engage in any leisure time physical activity, compared with just 29.2% of non-Latino white women. To push against these barriers, Nike launched Juntas Imparables (Unstoppable Together). The campaign, the first Just Do It execution for Nike Women in Mexico, encouraged women to team up in groups of up to four and get physical. Each group competed to log the most hours of exercise through Nike's fitness apps over a six-week period and the most active girl squad won a year-long Nike sponsorship. This campaign first appeared on Contagious I/O in September 2018.
7. Mother, London / KFC: FCK
KFC in the UK turned a PR disaster into an earned-media win by subtly tweaking its logo in a print ad. In February 2018 KFC faced a crisis when its supplier failed to deliver chicken to its restaurants, forcing the fast-food chain to temporarily close over 900 outlets. The apologetic ad simply showed an empty chicken bucket with the letters rearranged to spell FCK. Despite only running once in two newspapers, the ad generated more than 1 billion impressions. 'The main objective was to apologise, in a very simple and humble way. We wanted to change the conversation in the media to one that recognised KFC for owning up for their mistake and dealing with it like a grown up,' Hermeti Balarin, partner at Mother, said in an interview for Contagious I/O.
8 = BBH, London / Absolut: The Vodka With Nothing To Hide
Absolut made headlines with a campaign film in which the vodka brand's employees stripped naked to talk about the provenance of its product. The humorous three-minute ad was shot in the style of an employee introduction video. It highlighted how Absolut sources its ingredients locally, distils its vodka 'countless' times until it is pure, and abides by environmentally friendly practices. The campaign attracted 7.75 million online views and even inspired Alex Ricard, the CEO of Absolut's parent company, Pernod Ricard, to strip off for an internal video. 'We liked the idea that it could be seen as this leaked thing that came from inside Absolut and it gave us a reason to do the whole story of how Absolut makes its vodka,' Mel Arrow, BBH London's strategy director, told Contagious.​
8 = TBWA\RAAD, Dubai / Louvre Abu Dhabi: The Highway Gallery
How do you sample a museum? Tougher still, how do you get an art shy audience interested in one? Louvre Abu Dhabi's campaign showcased 10 of the newly built museum's exhibition pieces on a radio-guided tour down the E11 highway from Seih Shuaib to Rahba City, a road used by 12,000 cars a day. Images of the artworks were put on roadside billboards that were equipped with radio jammers that automatically played a 30-second audio clip about each painting when a car drove past. According to data from Nielsen, visits increased by 165% compared to the previous month. I/O subscribers can read our Insight & Strategy interview here.
10. David, Miami / Burger King: Whopper Neutrality
To help people understand the impact of repealing net neutrality policy, which makes it compulsory for internet service providers (ISPs) to treat all data on the internet equally, Burger King applied the principles to one of its restaurants. The Whopper Neutrality ad compared burgers with the internet, making real customers wait longer than necessary for their food. If people wanted to get their meal faster, they had to pay more – just as ISPs will be able to charge internet users different rates to access different sites at certain speeds. 'We believe the internet should be like Burger King restaurants, a place that doesn't prioritise and welcomes everyone,' Fernando Machado, Burger King's global chief marketing officer told Contagious. The ad generated more than 4.3 million views on YouTube. Read our in-depth case study on how Burger King's marketing strategy enables the brand to join culturally relevant conversations.
What the hell is this Contagious I/O thing we keep banging on about?
Like this article? Share with your network:
Sign up to our weekly newsletter