Promoted content
Contagious Contributor
/
18 May 2020
How outdoor media can galvanise communities post pandemic 
/
As we emerge out of the first phase of the Covid-19 Pandemic, Aimee McKay, client partnership director at Clear Channel, looks at what role outdoor media can play in galvanising communities and the economy.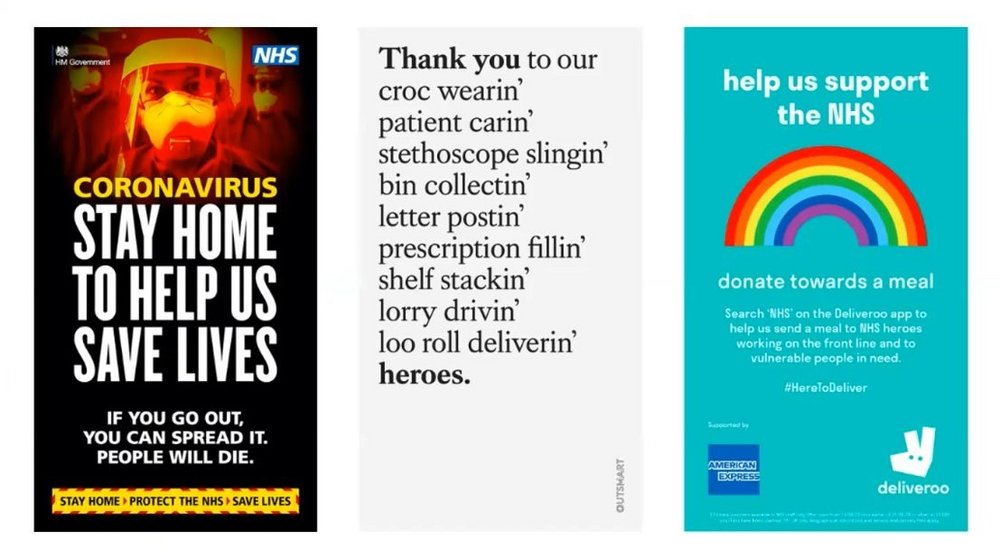 Clear Channel is asking how it can be a platform for brands and a platform for good as the UK emerges from coronavirus lockdown, said Aimee McKay, the client partnership director at the outdoor media company.
McKay was speaking during Contagious' Digital Reboot livestream (in partnership with Clear Channel) on 13 May, which explored how brands can inject more creativity into online advertising.
She explained the role outdoor media has played so far and what role it will play in the next phase of the pandemic, as well as how the tone and content of outdoor creative work is evolving to reflect changing circumstances and attitudes.
During the early stages of the pandemic Clear Channel's portfolio was put to work communicating important messages to the country, said McKay, citing as an example the Government campaign that Clear Channel has hosted with over 50 creatives, changing in advice and tone as the pandemic has unfolded.
'They've been using out of home as a community notice board, which it very much is, sitting at the heart of communities up and down the country,' said McKay, noting the sombre and proscriptive tone of the communications.
But outdoor media also played host to messages of gratitude to the people keeping the country going and its population safe during the crisis, added Mckay, highlighting the Grateful Britain campaign by Outsmart, the outdoor industry marketing body, which put the posters in places where they would likely be seen by the key workers it championed.
When you're spending on out of home [advertising], you're actually doing good: for every pound spent on outdoor media, 50p of that goes back to local communities and society.
Aimee McKay, Clear Channel
Now, as we emerge from the Covid-19 lockdown, brands must shift get to grips with a different kind of normal and the question Clear Channel is asking itself, said McKay, is 'how can we be a platform for brands but also a platform for good?'
'For brands, it's worth saying that when you're spending on out of home [advertising], you're actually doing good: for every pound spent on outdoor media, 50p of that goes back to local communities and society [through local councils that collect rents on advertising space].'
McKay believes data and creativity also have a huge role to play, as brands must seek to understand how audiences are changing as we move along the unpredictable curve of pandemic recovery.
'We have to be nimble, we have to have this ability to stop and adapt to the situation, and increasingly, to change our creative messages to reflect that. And this is where flexible channels like digital out of home are going to play a massive role in the coming stages,' said McKay.
Given 89% of advertisers say they expect to have to change their messaging as a result of the pandemic, that's a message that appears to have reached brands and agencies. But how they adapt their ads is another matter.
To help understand the kind of messages that hit the right note and resonate with consumers in these times, McKay offered pillars of guidance, based on successful examples of outdoor campaigns.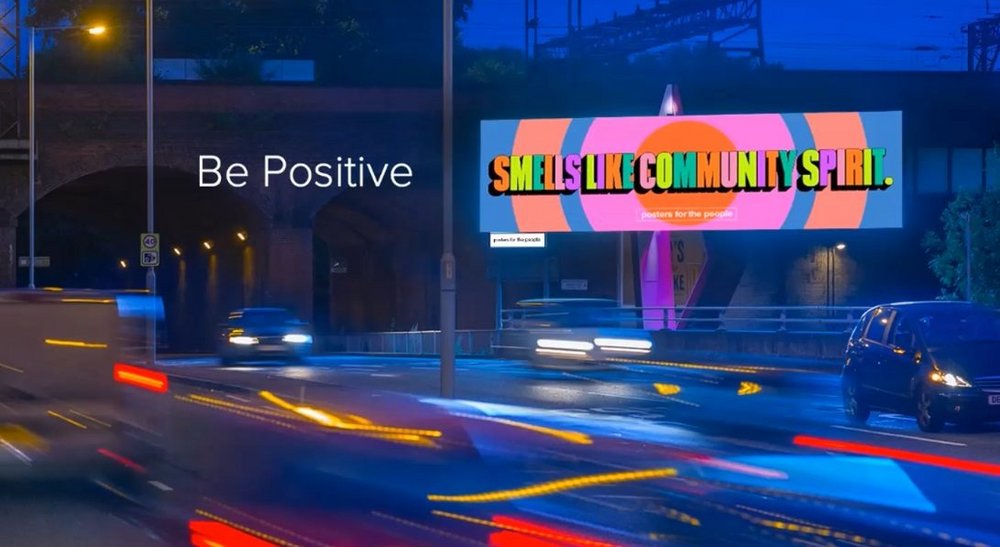 Be positive 
/
'Everyone is looking for that optimism. We're all missing that social experience and what's great about out of home is that it's public, so ads are seen by many, and it's in this positive place where people want to be spending their time. This poster [see above] by Atomic I think is a brilliant example of bringing colour into people's lives: it's bright and bold and the copy tells it like it is.'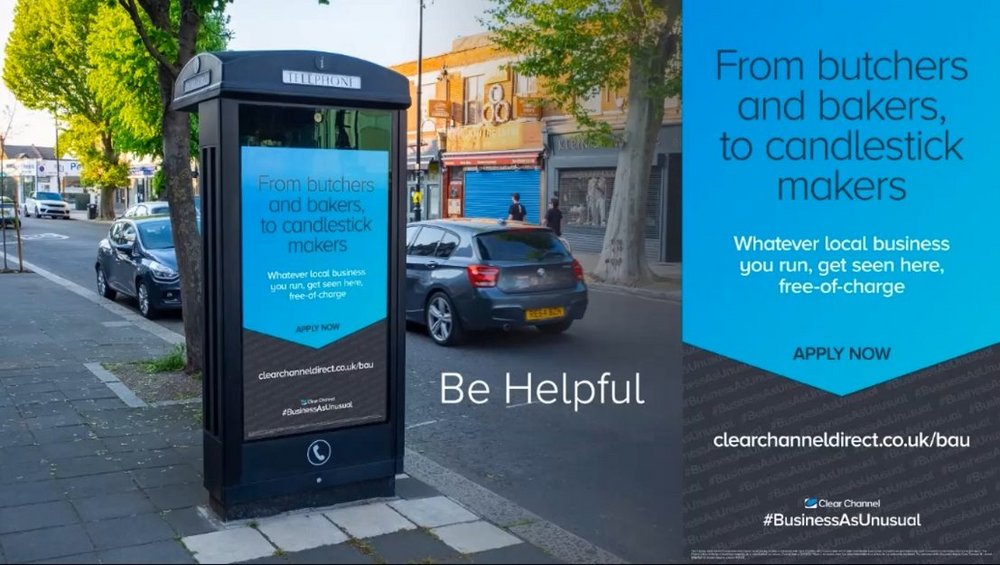 Be helpful and supportive 
/
'Now is really the time to put customers first. And perhaps now is not the time to be pushing a promotion as perhaps we might have done otherwise. A good example for me is Oreo. I've seen a lot of their work on social; they have this campaign called Stay At Home Stay Playful, which is all about giving families ideas about what they can do indoors during lockdown.
And something we're doing is a campaign called Business As Unusual. It's all about supporting local businesses. Our portfolio sits perfectly to target those businesses and we know how important they are to communities. So we're offering free ad campaigns to help them drum up business around this time.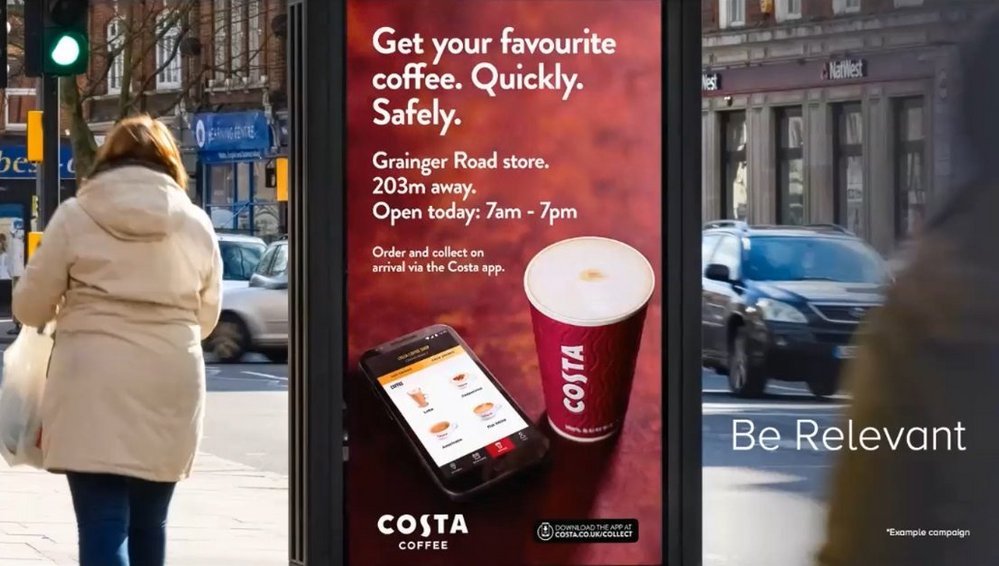 Be relevant 
/
'People are desperate to know what the new rules of engagement are: what does the new normal look like? This [see image above] is a great example that summarises how we can provide that relevance. It's a creative concept that didn't run, but the feel of the ad is inline with what we would have expected from the brand pre-covid. It's merely been adapted for the now. This example references the words 'quickly' and 'safely' and the reference to clock and collect means I know I can order my coffee and socially distance - which increases the likelihood of driving action.'
Keeping messaging relevant over the coming months will be key for brands. Find out how the flexibility of DOOH is perfectly placed to deliver more memorable campaigns in the latest Out of Home insight study, The Moments of Truth.
Like this article? Share with your network:
Sign up to our weekly newsletter