Campaign of the Week
7 May 2019
India Gate, #IndiaDegaAashirvad 
/
Rice brand boosts profile – and cuts food waste – with new take on wedding tradition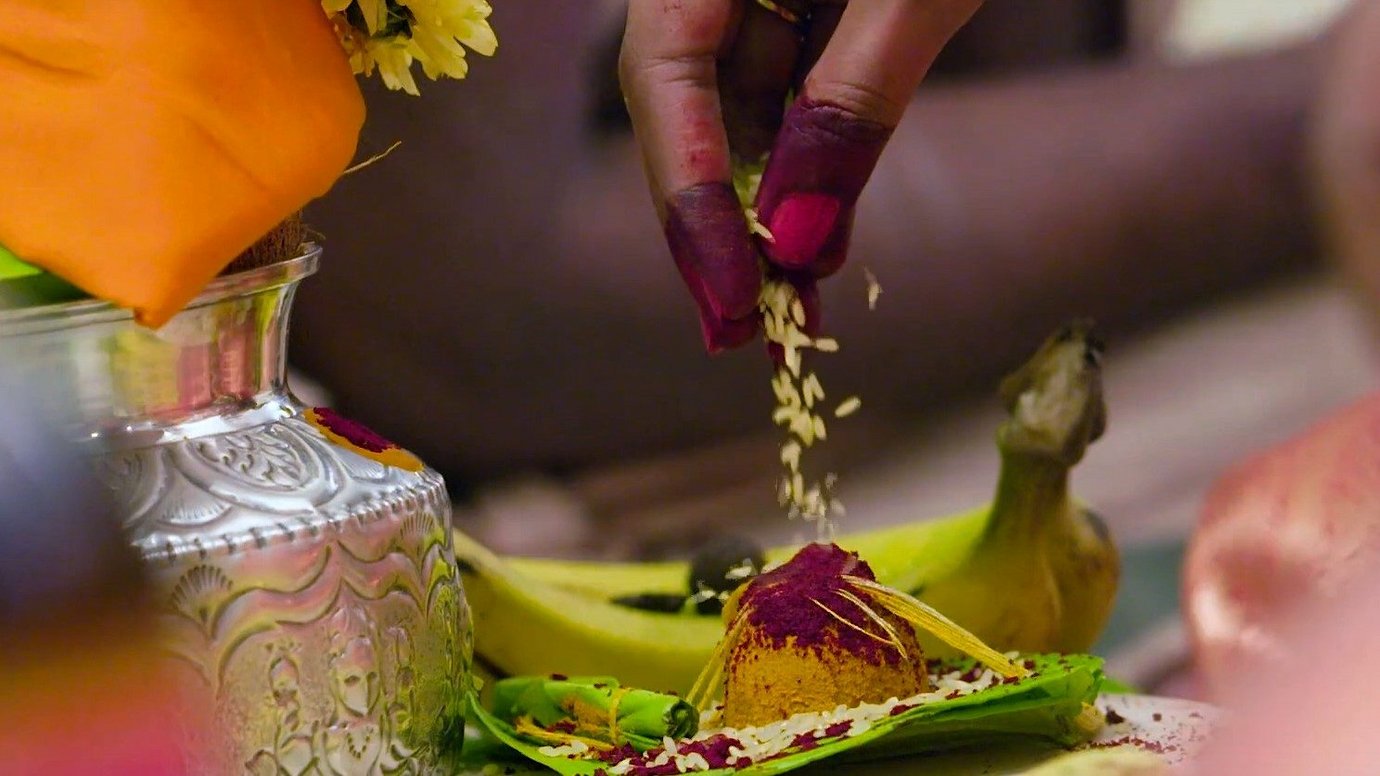 This story originally appeared on Contagious I/O, our online intelligence tool. To find out more click here.
Challenge / Over 10 million weddings take place in India every year, with guests blessing newlyweds by showering them with rice. For each wedding, 'at least 2 to 5 kg of rice' is swept away when the celebrations are over. At the same time, 195 million Indians are undernourished. India's biggest rice brand, India Gate, wanted to honour tradition without the food waste.
Solution / India Gate partnered with Dubai-based agency The Classic Partnership, a division of the VMLY&R Group, to create #IndiaDegaAashirvad (IDA), an initiative that aims to redirect wasted rice to those in need. They designed special rice packs that guests can touch, rather than throw, as a token of their blessing.
The packs come in four designs, each inspired by Indian cultural heritage. Every pack contains a few grains of rice, and includes a message telling the reader: 'you are holding this instead of a fistful of rice because the family hosting this wedding believes that the rice that would be used to shower the lovely couple should be donated, so it can serve a bigger purpose.'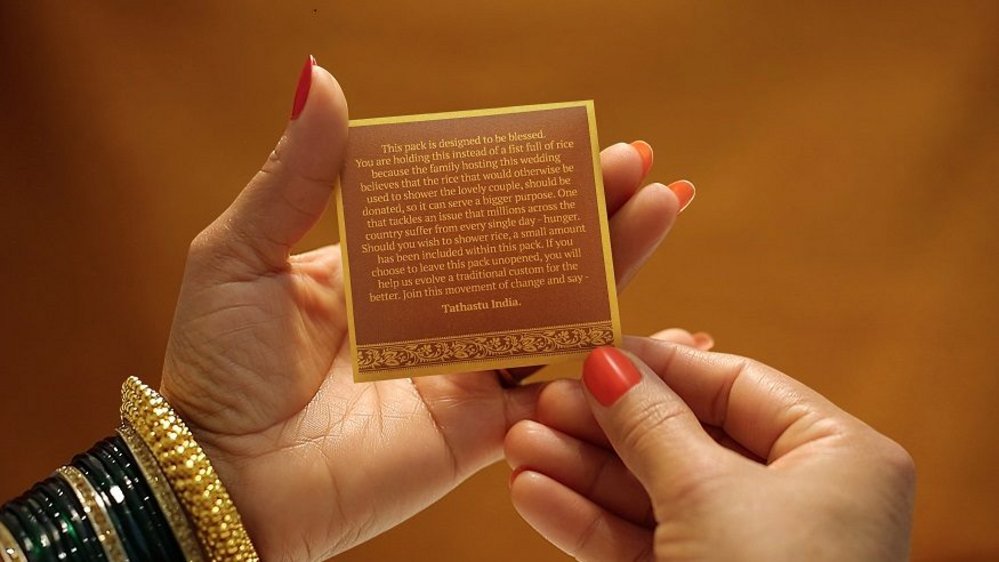 Families can order the rice packs in advance of their wedding from a custom-built microsite launched at the end of March. Users first register their wedding details to join the IDA initiative, then select the number of packs they need (one per guest). In exchange for each pack, the user is asked to donate 40 grams of rice. The minimum number of packs is 100, which equals 4 kg of rice: enough to feed 20 people.
Guests can choose to leave the packet unopened and therefore 'help evolve a traditional custom for the better'; the unopened packs will then be collected from the wedding venue and, along with the donated rice, will go to those in need, via a not-for-profit organisation, Feeding India. The organisation collects food from individuals, weddings, restaurants, corporate offices, and delivers it to those in need.
On the microsite users can also virtually sign a pledge 'to be more responsible and conscious at every wedding that I attend as a guest. I will refrain from showering rice, so that it may be put to a better purpose. One that can feed thousands of people instead of blessing just two.'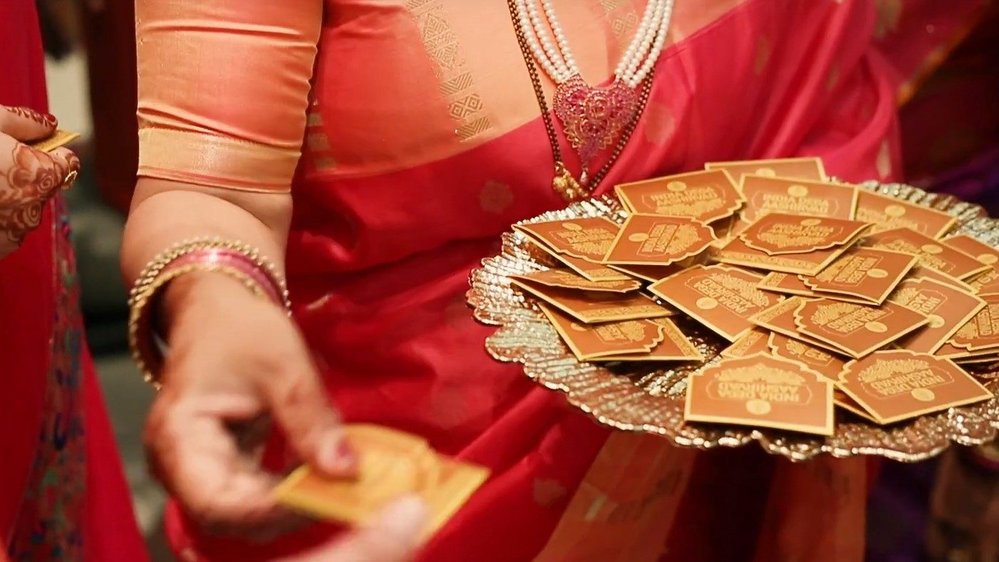 Results / Just ten days after launching, the campaign received 70 wedding registrations across India, which accounted for over 16,000 rice packs – equivalent to 640 kg of rice and 3200 meals for the underprivileged.
CONTAGIOUS INSIGHT 
/
Branding the unbranded / With over 10 million weddings a year (of which 80% are Hindu and last around three days) come hundreds of millions of wedding guests: for India Gate, they represent a vast audience of potential customers. In identifying a consumer behaviour – in this case the ubiquitous custom of throwing rice at weddings – and attaching its brand to it, India Gate increases its exposure while basking in the glow of a socially conscious initiative. It cements its position as India's biggest rice brand, while earning the trust of its consumers and influencing their behaviour by playing on the power of tradition in Indian culture.
According to CNN, India's wedding industry is worth somewhere between $40 and $50 billion – double what it was in 2012. Marriage has always been a sacred rite of passage in Indian culture, but these figures reflect a trend among India's middle classes of throwing increasingly lavish, status-boosting ceremonies. By attaching the India Gate name to one of the most basic and commoditised elements of Hindu weddings, the brand taps into a goldmine of potential reach and customer loyalty – literally: 'Around half the gold bought in the country each year is for items used at wedding ceremonies'.
Be part of the solution / Rice is the staple food for more than half of India's population; it's the world's second largest consumer and producer of rice, after China. Rice serves multiple purposes in Indian culture: it is a basic food for millions of people, an integral part of the economy and agriculture, and recognised as a symbol auspiciousness, prosperity and fertility. It's a powerful move by India Gate to address the uncomfortable contrast between the opulence of Indian weddings and the high percentage of poverty; in reconciling rice as a source of sustenance and rice as a cultural symbol it emphasises the need for a solution.
Just as rice brings Indians together, whether for a meal or a wedding, India Gate asks its consumers to be part of the solution, turning a problem into something positive. Rahul Nagpal, CEO of The Classic Partnership said in a press release: 'This was a great example of a highly creative idea that raised our client's profile, influenced consumer behaviour, and also proved to be a very worthy cause that stands to benefit many people. We were very pleased to work with India Gate as responsible partners to effect this positive change.' The strategy is a lesson in navigating traditions when looking to influence consumer behaviours: India Gate respected and harnessed the power of the role of rice at weddings, taking away the impractical aspects and creating a solution that serves 'a bigger purpose.'
The Contagious I/O intelligence tool is constantly updated with case studies, in-depth strategy interviews, stories about new technologies and trend reports. If you would like to find out more about how you can get access to this resource, click here.
Want more Contagious thinking? 
/
Subscribe to the Contagious newsletter to receive a weekly dispatch of campaigns, opinions and research, curated for strategists, creatives and marketers.
Contagious thinking delivered to your inbox 
/
Subscribe to the Contagious weekly newsletter and stay up to date with creative news, marketing trends and cutting-edge research.