Insight & Strategy
22 February 2019
12-Hour Drive-Thru, Popeyes 
/
We spoke to GSD&M about the 850-mile long drive thru they set up for fast food client Popeyes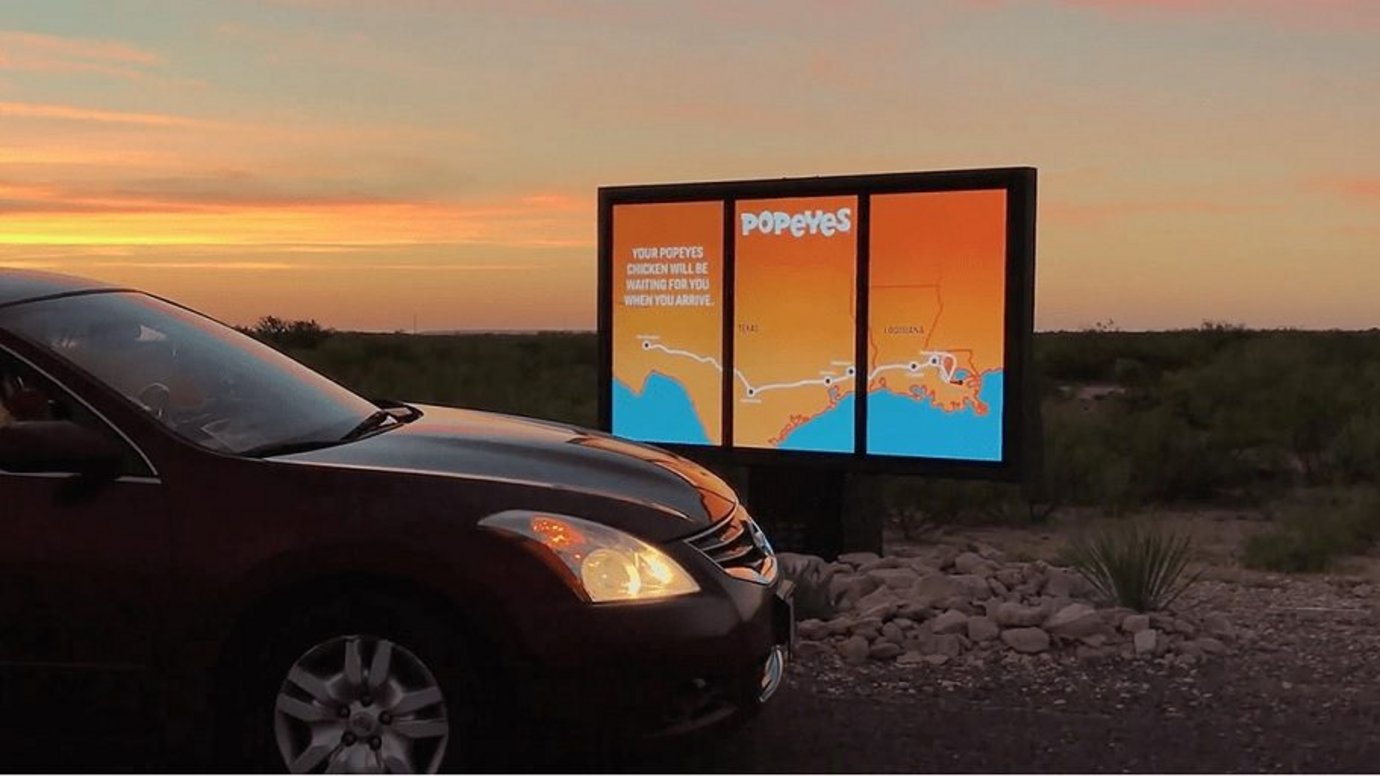 This story originally appeared on Contagious I/O, our online intelligence tool. To find out more click here.
In October 2018, Popeyes Louisiana Kitchen launched the 12-Hour Drive-Thru, a pop-up drive-thru outside of Fort Stockton, Texas, that asked customers to pick up their order in New Orleans – a mere 12-hour car ride away. Those who made the trip received their Popeyes order for free, and free chicken from the brand for the next 12 months. Fans could register to participate in the event and, in the end, 12 winners were chosen to complete the trip.
Results / The campaign earned media that resulted in 150,541,618 impressions ($1,519,927, in paid-media value) The 12-hour site generated 880,000 impressions, reaching 588,000 unique users. And through paid social media channels, the campaign delivered 8.7 million additional impressions, reaching 5.7 million unique users.
To learn more about the strategy behind the campaign, we spoke to Jim Firestone, group strategy director, and Tom Hamling, group creative director at GSD&M Austin.
Can you give us an overview of Popeye's brand?
Jim Firestone: Popeyes Louisiana kitchen is one of the fastest growing quick serve restaurants in the world. It's a 47-year-old brand that is widely known in the US for its flavourful New Orleans-style chicken. We first started working with Popeyes about a decade ago, and at the time the brand was on the verge of collapse. Very few people seemed to have an idea of what Popeyes stood for, the marketing was happening very locally, they were preaching to the converted, and the business itself was struggling. The chicken was always delicious, so the brand had developed a cult following.
Working with the team, GSD&M was able to bring to life the rich Louisiana heart and soul the brand embodied. Popeyes had real chefs and cooks in their kitchens, which was an anomaly in QSR, so together with them, we rebranded what was Popeyes Chicken and Biscuits, as Popeyes Louisiana Kitchen. This led to seven years of consecutive sales growth, which in QSR is pretty considerable. I came upon the brand about three and a half years ago, and in early 2017 a massive change happen. Restaurant Brands International, [RBI] which also owns Burger King, acquired Popeyes. And in an exciting scenario, GSD&M came with it, having been instrumental in building a lot of the brand's core equities.
When RBI came in, they brought a growth-orientated mindset and took a fresh look at everything. They've challenged us to go new places creatively, and we've zeroed in ourselves in what we've called 'first and only brand platforms', so Popeyes 12-hour Drive-Thru is an excellent example of that, as it builds on something that is truly unique to the brand, that no other QSR can say. In this case, Popeyes is marinating its chicken right there and then, with Louisiana spices.
Who is the Popeyes target audience?
Firestone: Popeyes has been all about marketing to a core audience of Popeyes: great workaday people who are incredibly knowledgeable about fast food. Their values are embedded in Louisiana culture, things that are intrinsic to what it means to be a Louisianan. Popeyes customers tend to be a bit older than typical QSR customers. But when RBI came in, we saw opportunities to broaden that audience to be inclusive and active in attracting a younger group that is more digitally oriented and more connected in general to what resonates in popular culture.
What are the brand's current key challenges?
Firestone: Popeyes has a lot of the same challenges as other QSR in that it's now easy for consumers to get good food at a reasonably good value, virtually anywhere. So that requires us to think unconventionally against our competitors. But for existing customers, nobody's waking up in the morning and saying, 'I feel like having Louisiana food today.' It's a rare occasion, and we want to be more of a part of people's lives than that, so we have to convince them that Popeyes isn't just this occasional treat brand that a lot of people remember from growing up.
Tom Hamling: There's a great point of difference. Marinating for 12 hours is a brilliant thing to create a hook on. You often work on so many briefs where you question, 'How are we different?' And it's often like 'Well, we're not.' But for Popeyes, it's awesome because we have something that's truly unique to the brand to come back to.
Was there a brief for this campaign?
Firestone: There was a brief for the overall effort to help people understand the things behind the food, such as 12-hour marination, asking how do we bring our culinary expertise and what makes Popeyes special, forward. Strategically it was effortless: take something special about the brand and find a way to make it connect with the customer. We have a raging fan base out there, but they haven't engaged with the brand in this way in the past. We knew there was an opportunity to do that.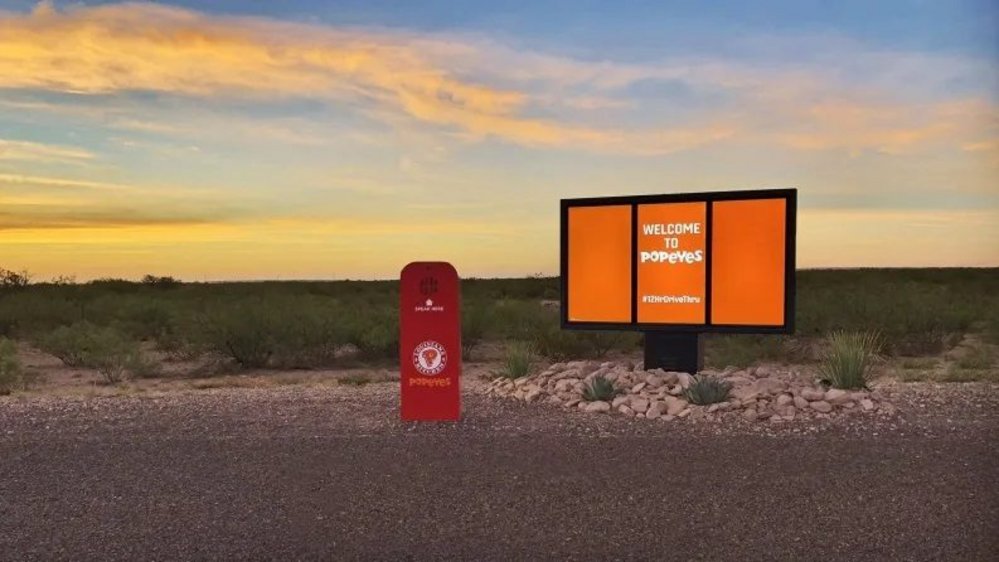 How did you come up with the idea for the 12-hour Drive-Thru?
Hamling: Their flagship store is on canal street in New Orleans and that store doesn't have a drive-thru. We thought, what a great way to get people to check out New Orleans as a destination town. We married the lack of the drive-thru and the 12-hour marination together and came up with the idea of sticking a sign in the middle of nowhere, and just proving how much people love our chicken.
Firestone: We realised when we were pitching the idea that New Orleans was the number one road trip destination in the US this past summer. So we happened to find a moment in time that coincided with that city's 300th anniversary. People were connecting with the authentic culture and cuisine, which made it a resonate thing with road trippers. It helped us bring all of the pieces together for our fans.
What was the client's reaction to the idea?
Hamling: It's hard to refute the core of the idea because it was about their brand. It was a great way to get the 12-hour method out there, but there was a lot of logistics. How do we put these people in the desert? How do we document the people who are going to do it? We put billboards all along the way, and we had teams on overpasses cheering people on. When you're taking a 12-hour road trip, and it's made for the driver, it takes time to figure out when they'll be passing by, and when to buy the media placements for. Also, what exactly to say on the signs, 'Hey your chicken has been marinating for nine hours, only three more to go!' The logistics of that involves a lot of walkie-talkies, a lot of back and forth. Think Groundhog Day, we had to orchestrate these plans to surprise people which took a lot of planning, and we pulled it off. It was fun, but logistically we had our work cut out for us.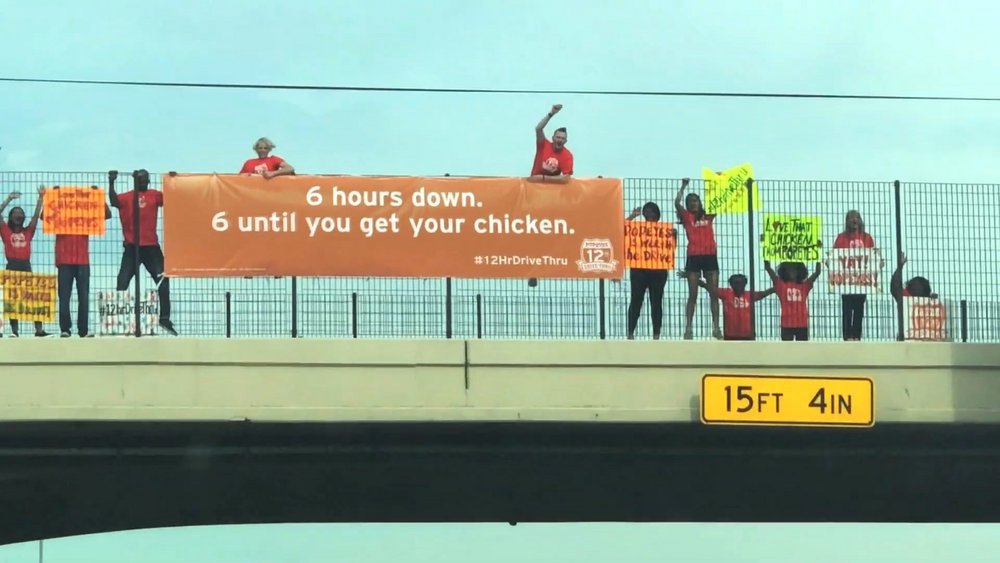 It's a lot to ask someone even to sit and watch a 30 second TV commercial sometimes. If your advertising is not entertaining, then we've done a disservice.
Tom Hamling, GSD&M
Was there a plan B?
Hamling: In cases like this, we come up with so many ideas that we realise the way to pull it off. If we're going to do it, it has to be right. And if it dies for whatever reason, that's what we all signed up for in advertising. I think with any idea no matter how big or small, we never want something to get watered down. If it comes down to an idea that was 20% of the original one then its time to stop and think and wonder if we still want to produce this. But, this was a scalable idea. There were things we could pump up and pump down. [For example] at one point we had a marching band, which we realised we'd needed to scale back…
Was there anything that surprised you about this campaign?
Hamling: It was surprising how many people would go out of their way to make this trip. The fact that people sought it out, even though it wasn't in their plans, spoke volumes about the power of the brand. It's a lot to ask someone even to sit and watch a 30 second TV commercial sometimes. If your advertising is not entertaining, then we've done a disservice. We're competing with people to come down and pay attention to us, and we're asking people to drive for 12 hours. To engage with a brand for 12 straight hours is almost unheard of. And a lot of them said yes. What that tells us is that our Popeyes fans are such a resource, that we can tap into and build a working dialogue with.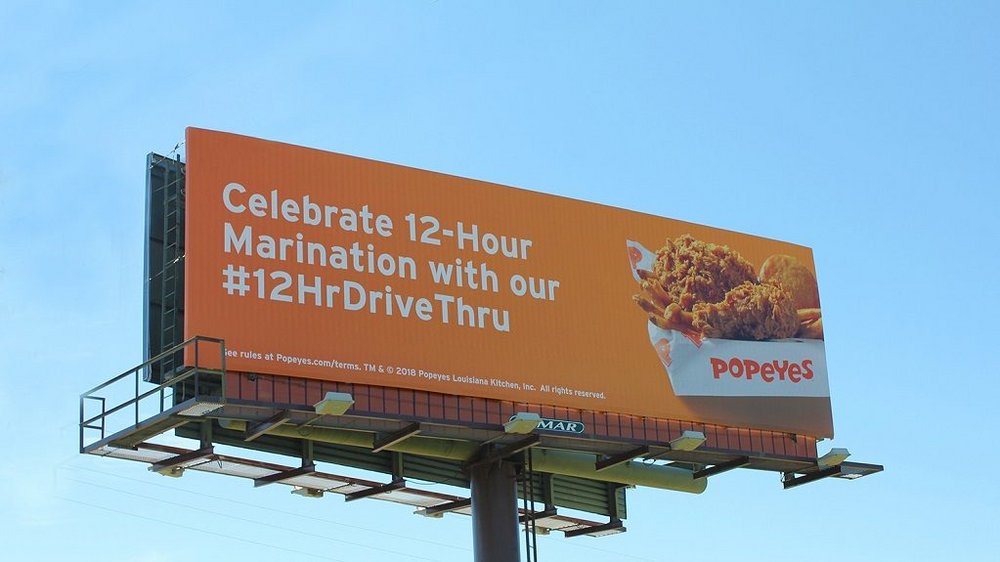 Can you tell us about the media plan put in place?
Firestone: We had paid Instagram and Facebook, and out of home billboards, traditional and mobile. But that's the most of it, it was mainly about the experience itself and driving attention to the brand.
And what were the results?
Firestone: The latest numbers generated 150 million media impressions. The real fact of this is the lasting impact that we are building on, and breathing equity into the brand.
Hamling: When you have success like this with the client, they're able to see those impressions, and we can act on another big idea. Emotional Support Chicken [GSD&M's latest campaign for Popeyes] got over a billion impressions, which is nuts. 12-hour Drive-Thru has got the ball rolling for us.
Want more Contagious thinking? 
/
Subscribe to the Contagious newsletter to receive a weekly dispatch of campaigns, opinions and research, curated for strategists, creatives and marketers.
Contagious thinking delivered to your inbox 
/
Subscribe to the Contagious weekly newsletter and stay up to date with creative news, marketing trends and cutting-edge research.