Campaign of the Week
Contagious I/O
/
11 February 2020
KFC sandwich artists sidestep Spotify Premium ad ban  
/
Fast-food brand infiltrates Spotify's ad-free zone to launch new burger
To launch its 'anything but ordinary' Kentucky burger, KFC Middle East wanted to advertise in an ad-free space: Spotify Premium.
The brand partnered with three music artists from the region, Flipperachi, Moh Flow and Shébani, to promote the burger by including images and references to it in their Spotify cover photos, bios, profile pictures, and events. The artists' new profile pictures showed them with a Kentucky burger, for example, and when fans clicked on the locations for these artists' upcoming gigs, they were directed to the nearest KFC stores.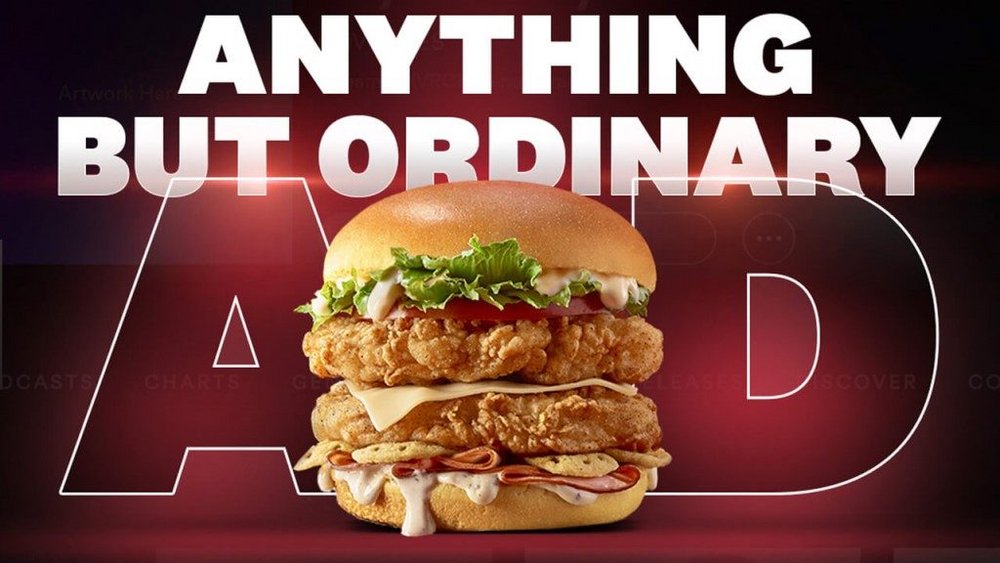 The artists' playlists also included the song titles 'Discover', 'New', 'Kentucky, Burger', 'Come & Visit', 'KFC', 'Get It', and 'Before it's too late', listed consecutively to urge Spotify users to try the new burger.
Without interrupting Spotify users' streaming, KFC used every available avenue on the platform to advertise the Kentucky burger.
The Anything But Ordinary campaign was created in partnership with agency Memac Ogilvy, Dubai.
With this campaign we can estimate that KFC reached fewer than 100,000 people through Spotify itself; Flipperachi has 42,000 monthly listeners, Moh Flow has 34,000 and Shébani has around 20,000.
Contagious Insight 
/
Bend the rules / There is plenty to learn from KFC's campaign, even if the execution itself is not that impressive in this instance. Firstly, to advertise in an advert-free space such as Spotify Premium requires some loophole tactics. KFC embedded its brand and its new product into the platform via edited song titles, bios and images, all presumably for a relatively small fee. Spotiwear, a campaign by Swedish sportswear brand Salming that we covered last year similarly attempted to bend Spotify's no-ad rules by putting QR codes in the cover art of its running playlists that led customers to its online shop.
Spotiwear made use of a tiny, but free, space on the platform and lured Spotify users away from the platform and onto the brand's website. We've also seen more creative instances of 'hacking', such as Cheerios' Amazon-savvy Hacking Prime Day campaign, and more recently, Tradera's Google algorithm cheating campaign Face the Hidden Facts.
What these campaigns did which KFC's did not was adapt their creative to the mediums they targeted; it's not enough to change bios and pictures on Spotify. Assuming KFC's audience are heavy Spotify users who follow the three artists the brand collaborated with, the relevance ends there. In short, KFC forgot to justify its presence on a music streaming platform and just littered it with burger references.
Blue ocean or just annoying? / On one hand, advertising on an ad-free platform is a great example of a blue ocean strategy. With no other fast-food brands to compete with inside the space, KFC automatically stands out. On the other hand, who's to say Spotify users wouldn't find it annoying to discover a brand flogging its new burger in a space that they pay to use ad-free? There's plenty of research to suggest that online ads are intrusive or too frequent and in 2018, Spotify came under fire from users who argued that their homepages were a glorified advert for hip-hop artist Drake's latest album.
One good turn deserves another / At the same time however, 89% of people prefer having an ad-funded internet to paying for online services (IAB UK and Sparkler 2018). The implication being that most people expect something in return for putting up with ads - a value exchange that means that people will watch a 4-second preroll if they can watch YouTube videos for free, or put up with an oversized banner ad to be able to read free news articles.
Although KFC is muscling its way into an ad-free zone, it's not offering users anything in return - discounts, links to offers or coupons for example. Furthermore, from the brand's perspective, this lack of sales mechanism will also make it more difficult to measure this campaign's impact on actual sales of the Kentucky Burger.
Untapped potential / Criticisms aside, KFC's 'Anything but ordinary' campaign is an interesting example of how other brands might unlock Spotify Premium as a potential advertising platform. The sheer range of elements on Spotify makes it an extremely comprehensive advertising tool: artist and playlist pages, links to events, audio and now video content all represent opportunities for creativity. Take Expensify's 'Expensify This' music video. Released on YouTube in the run-up to the 2019 Super Bowl, the advert-cum-commercial became the number-one trending hip-hop song in the US.
Beyond the creative opportunities is the size of the potential audience: according to the platform's own figures, Spotify has some 271 million users across 79 markets.
This was first published on Contagious I/O, our online intelligence tool. To find out more click here.
Contagious thinking delivered to your inbox 
/
Subscribe to the Contagious weekly newsletter and stay up to date with creative news, marketing trends and cutting-edge research.