Campaign of the Week
4 March 2019
LifeDirect, The Demise of Simon 
/
Comparison website brings death into people's homes by killing off its mascot.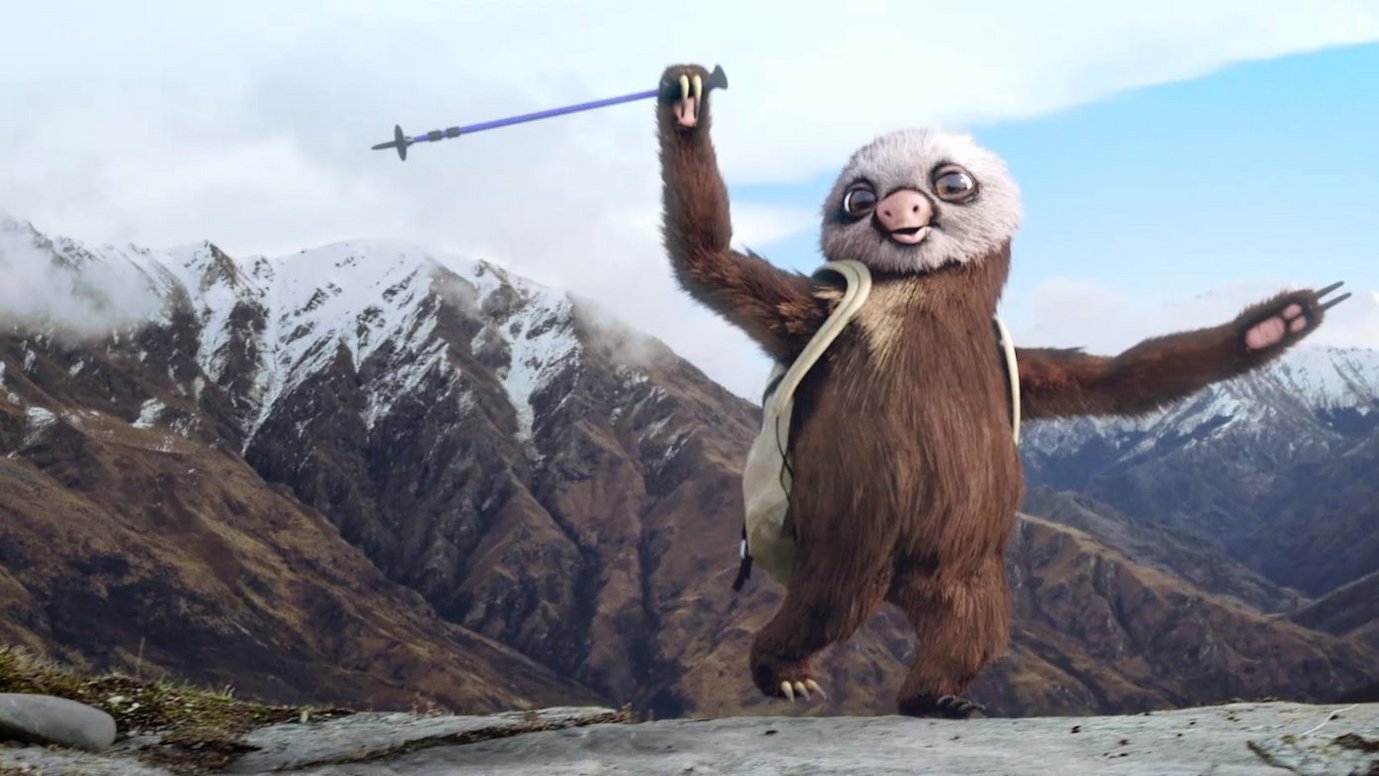 This story originally appeared on Contagious I/O, our online intelligence tool. To find out more click here.
New Zealand life insurance comparison website LifeDirect killed off its mascot in a TV ad to persuade viewers to plan for their own deaths.
The TV ad showed LifeDirect's mascot of almost 10 years, Simon The Sloth, on a hike to celebrate buying life insurance when he tumbles off a cliff and plummets to his death.
The spot was shown simultaneously across 25 different channels during prime time but aired only once. The following day, LifeDirect continued the story by placing a print ad in New Zealand newspapers. The ad was in the style of an obituary and described how Simon had failed to identify the beneficiaries of his policy, inviting readers to stake their claim to a portion of the NZ$10,000.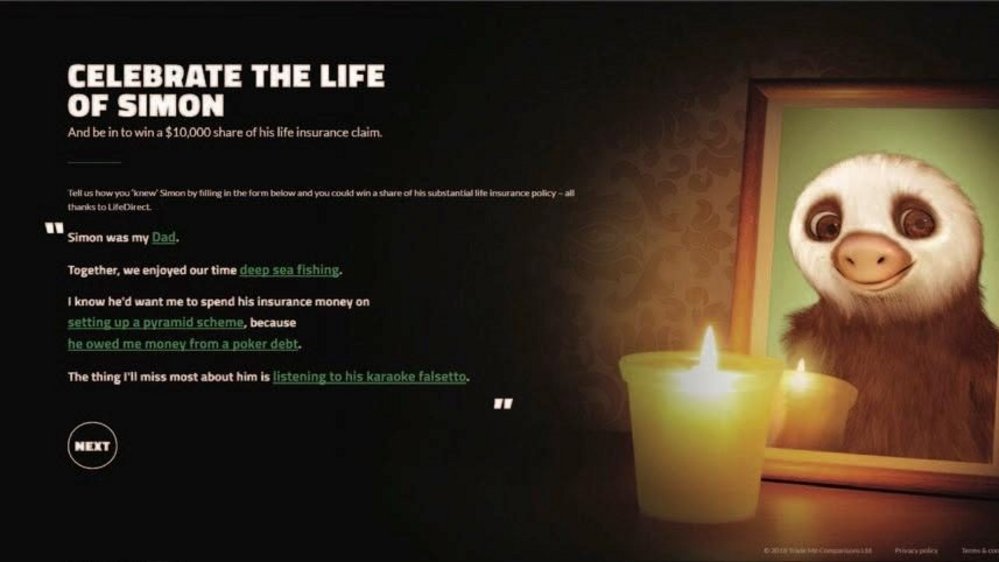 Participants could enter the competition by inventing stories about how they knew Simon and why he would want them to have his money. Entries could be made by completing a template form on a dedicated website, or by submitting their own entries and adding photoshopped images, etc.
LifeDirect promoted the competition through outdoor digital ads and online videos. The campaign, called The Demise Of Simon, was created by Y&R.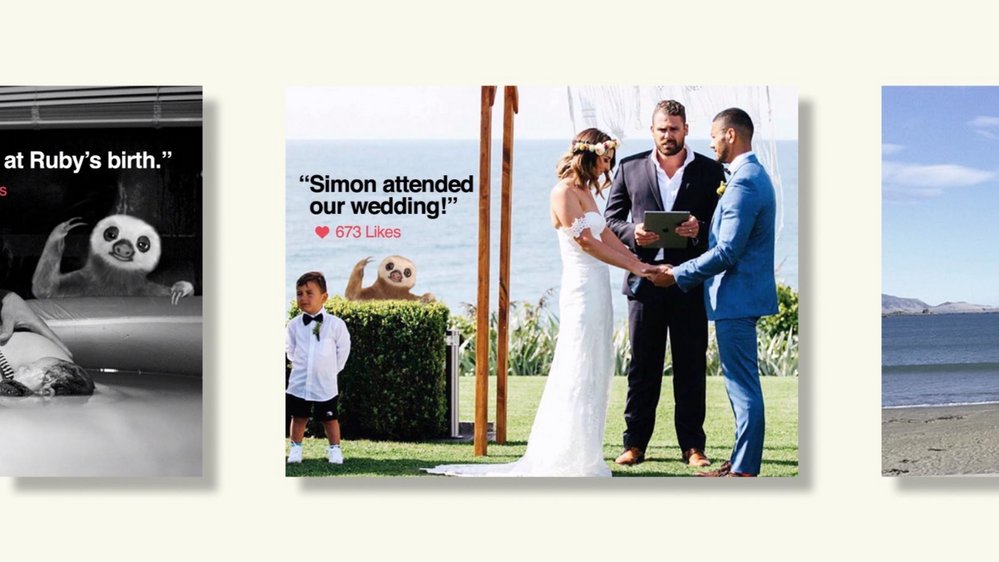 Results / According to the agency, the campaign prompted 17,000 visits to the dedicated microsite and a 32% increase in visits to Lifedirect.co.nz, while brand preference increased 44%.
Death in advertising / LifeDirect's mascot was not pulling its weight and, according to Y&R, had been losing relevance with consumers. Killing Simon The Sloth closes his narrative and allows the brand to neatly move on to another creative execution.
The death of Simon is also attention grabbing because it is unusual. Brands rarely dispense with mascots so definitively (although GoCompare.com's Gio Compario has been killed multiple times as part of a running joke about how annoying he is) and death is rarely broached in TV advertising.
McDonald's discovered in 2017 how UK consumers were not prepared to accept an ad using grief to flog fast food. McDonald's pulled the ad, which was about a child who loses his father (who was a big fan of the Filet-O-Fish), after more than 100 complaints were made to the Advertising Standards Authority.
In the wake of the McDonald's debacle, professor Barbara Phillips of the University of Saskatchewan conducted a qualitative study and found that consumers' attitudes towards grief in advertising varied largely depending on age, with older consumers more willing to accept death in a sales narrative. Younger consumers were open to the subject, but only if it was done appropriately or in a way that was relevant to the product or service sold.
In LifeDirect's case Simon's mortality was an opportunity to create a narrative around unexpected death and the value of being prepared, and this relates directly to its business.
Broad appeal / It makes sense for LifeDirect to create a wider conversation around life insurance. This is in part because, in 2016, New Zealand had the third lowest take-up of insurance among 31 OECD countries and new customer rates within life insurance were especially dismal, at 12%. Against this backdrop, increasing the size of the category is the correct priority. Also, as an aggregator of life insurance policies from many different brands, LifeDirect will likely benefit from general interest in the category anyway.
The competition element of the campaign meanwhile encourages participants to engage with the brand (in a way that reinforces the importance of getting their affairs in order) and furnishes LifeDirect with contact details and other data.
The Contagious I/O intelligence tool is constantly updated with case studies, in-depth strategy interviews, stories about new technologies and trend reports. If you would like to find out more about how you can get access to this resource, click here.
Want more Contagious thinking? 
/
Subscribe to the Contagious newsletter to receive a weekly dispatch of campaigns, opinions and research, curated for strategists, creatives and marketers.
Contagious thinking delivered to your inbox 
/
Subscribe to the Contagious weekly newsletter and stay up to date with creative news, marketing trends and cutting-edge research.