Campaign of the Week
Contagious I/O
/
4 August 2020
LifeStyles creates STI Index to sell discount condoms to DIY investors 
/
Sexual wellness brand visualises STI transmission in real time, discounting its condoms accordingly
This article was first published on Contagious I/O, our online intelligence tool. To find out more click here.
Australia's leading sexual wellness brand, LifeStyles, is offering discounts on its products in response to spikes in sexually transmitted infections (STIs). Working with FCB/SIX New York, the brand created an 'STI Index' – a metric that reflects the rate of transmission of six key sexually transmitted infections: chlamydia, HIV, syphilis, herpes, gonorrhoea and HPV.
The campaign was conceived in response to an increase in STI rates across Australia in the past decade; cases of chlamydia increased five-fold between 2008 and 2017, while cases of gonorrhoea more than tripled in the same time period.
Using Google Search data, the Publicly Traded project analyses Australian search behaviours – searching for an STI by name (eg, 'herpes') and searching by symptoms (eg, 'pain when urinating') – and the region in which those searches take place. The information is then displayed on PubliclyTraded.com.au in the style of stock market charts, where visitors to the site can track and trend Australia's top six STIs.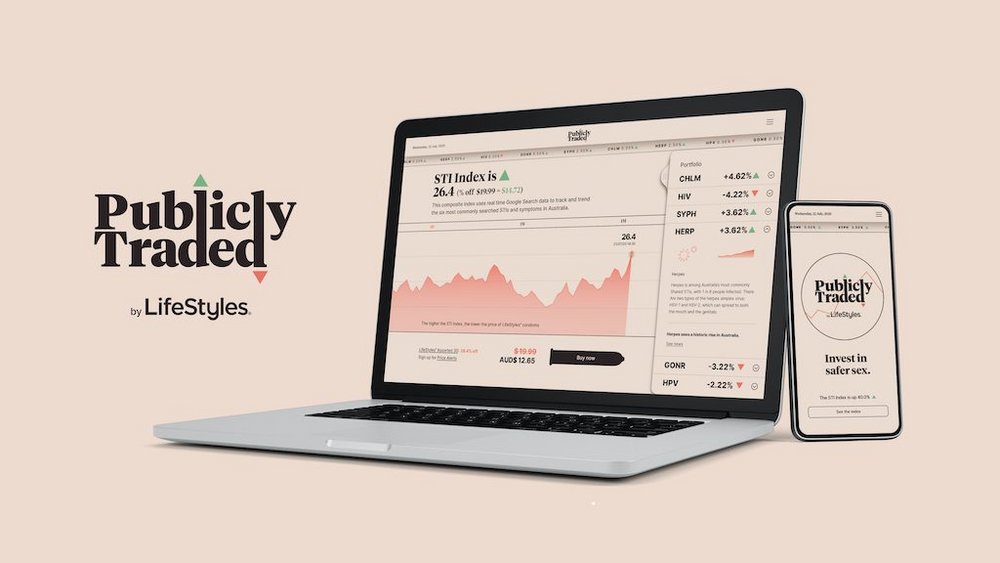 In addition, the STI index drives dynamic inverse pricing for packs of LifeStyles condoms: the higher the index in a particular region, the lower the price. Customers who visit the site can buy discounted condoms directly, or sign up for price alerts via email or SMS.
According to a press release, the initiative is aimed at males aged 18-34 'who have shown interest in DIY investing and are also likely to purchase condoms'. The insight behind the stock market-style visualisation is that 'like stocks, STIs are "publicly traded", and people can opt to either play it safe or risk it all,' the press release continues.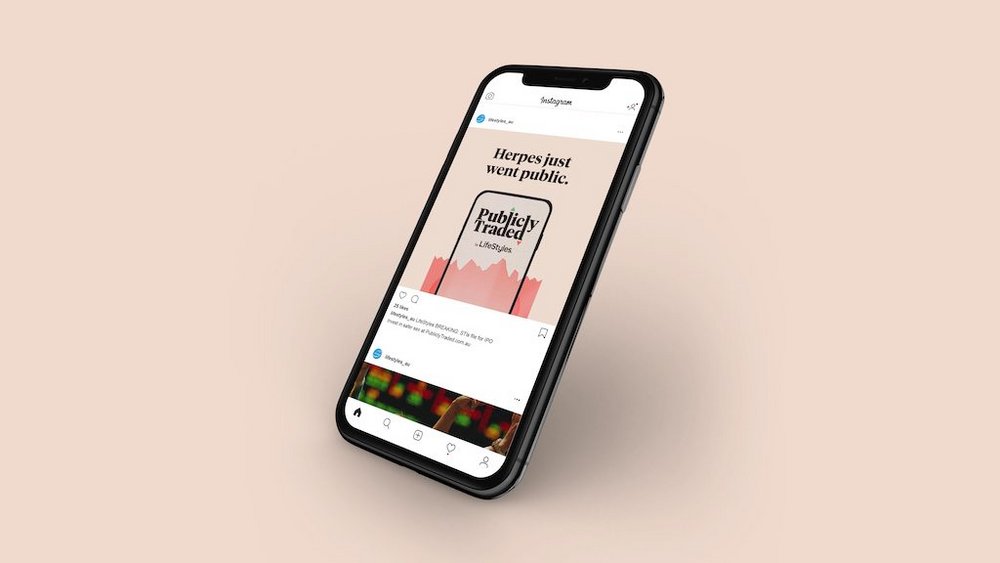 The campaign is supported by IPO-themed ads on social media and financial websites that urge people to 'Minimize Risk. Maximize Pleasure', as well as 15- and 30-second videos, GIFs and influencer marketing elements.
Contagious Insight 
/
Creative data / When FCB/SIX New York's data-inspired Go Back to Africa campaign (for Black & Abroad) won the 2019 Cannes Lions Creative Data Grand Prix, jury president Yasuharu Sasaki told Contagious: 'People think of data in a negative way. With Go Back to Africa, people can think about using data in a positive way. It could be a catalyst for a change in attitudes.' He added: 'Data is not just a record of the past, of people's activity. Data is alive, it's always being produced and will continue to be in the future.' With this campaign, the agency similarly makes creative use of available data, transforming STI statistics into a dynamic, real-time metric.
The use of stock market-style visuals that track real-time transmission of STIs helps convey the urgency of the statistics; the risk of contracting one is very much alive and in constant flux. But it's not a scaremongering campaign: with the Publicly Traded platform, LifeStyles positions itself as an authority on the topic and offers people a solution – its range of condoms. By pricing and discounting its condoms according to its 'STI index', the brand ensures there are two incentives to purchase: heightened awareness of the prevalence of STIs, and a limited-time promotional offer.
Afterlife / If people visit the site and choose not to purchase, the platform's prompt to sign up for price alerts via email or text is a neat way of incentivising customers to return to either the platform or the LifeStyles website later on. While price alerts will convince customers they've got themselves the best deal and also taken responsible measures for their own health, it's also an exercise in customer data acquisition, meaning LifeStyles gains a new audience and insights into its customer base. The 'buy now' and 'price alerts' features add value to the Publicly Traded platform, making it a driver of ecommerce rather than just a fun gimmick.
This article was first published on Contagious I/O, our online intelligence tool. To find out more click here.
Want more Contagious thinking? 
/
Subscribe to the Contagious newsletter to receive a weekly dispatch of campaigns, opinions and research, curated for strategists, creatives and marketers.
Contagious thinking delivered to your inbox 
/
Subscribe to the Contagious weekly newsletter and stay up to date with creative news, marketing trends and cutting-edge research.