Opinion
James Swift
/
21 April 2022
Liquid Death, porn and purpose 
/
Why Liquid Death's chaotic brand belies a calculated morality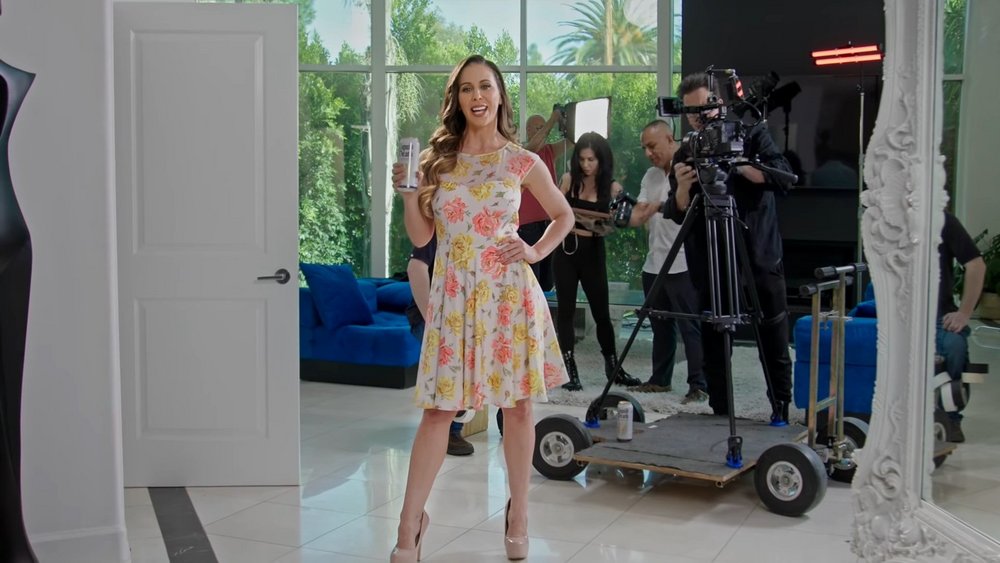 Liquid Death is a brand unashamedly built on image and little else. It makes cursory claims about the provenance and quality of its canned water but they are beside the point. It was created as a marketing exercise, to occupy a niche as a chaotic force in a category that usually trades in health and wholesomeness.
So it is almost logical that Liquid Death has cast a porn star in its latest TV ad, 'Don't F**k The Planet'.
The innuendo-laden spot follows adult film actor Cherie DeVille, who introduces herself as 'stepmom to the internet' and then explains why Liquid Death's cans are better for the environment as she makes her way on set to shoot a scene.
Mike Cessario, the former advertising creative who co-founded Liquid Death, told Adweek he chose DeVille because 'statistically speaking, adult film stars are some of the most famous people on the internet'.
Maybe so, but we suspect there's more to it than that. Using a porn star to promote its product is not just a surefire way for Liquid Death to generate publicity and capture attention – it's a signal that the brand treats adult film stars like any other kind of celebrity.
Combine this sex-positive attitude with Liquid Death's messages about sustainability and you get a morality that seems carefully calculated to appeal to the brand's millennial and Gen Z target audience.
Purpose remains a divisive subject within the ad industry. Some see it as an effective tool for connecting with audiences; others, an attempt by guilty marketers to feel better about their jobs. But the critics would probably have less ammunition if so much purposeful marketing wasn't po-faced and heavy-handed.
Sharing values with customers may not be how advertising 'works' according to the Ehrenberg-Bass model of mental availability, but it's easy to see how it can have knock-on effects that do contribute to its effectiveness. And a brand that can weave popular values into distinctive and entertaining ads is surely on to a good thing.
Liquid Death is a fascinating marketing case study (trust us, we wrote one), and in just three years it has reached $45m revenue and secured investment valuing the company at $525m.
It may be a faintly ridiculous brand but Liquid Death is far from a stupid one.
See Paul Feldwick at Contagious Live 
/
Adland legend and author Paul Feldwick will be at our Contagious Live event on 28 April to explain what it takes to shove a brand into the spotlight. Join us for an evening of rapid-fire insights and inspiration (as well as pizza and beer) at Framestore's Chancery Lane offices in London. Space is limited, so book your place now.
Want more Contagious thinking? 
/
Subscribe to the Contagious newsletter to receive a weekly dispatch of campaigns, opinions and research, curated for strategists, creatives and marketers.
Contagious thinking delivered to your inbox 
/
Subscribe to the Contagious weekly newsletter and stay up to date with creative news, marketing trends and cutting-edge research.