The future favours the brave 
/
Contagious' Alex Jenkins offers five predictions for the future of content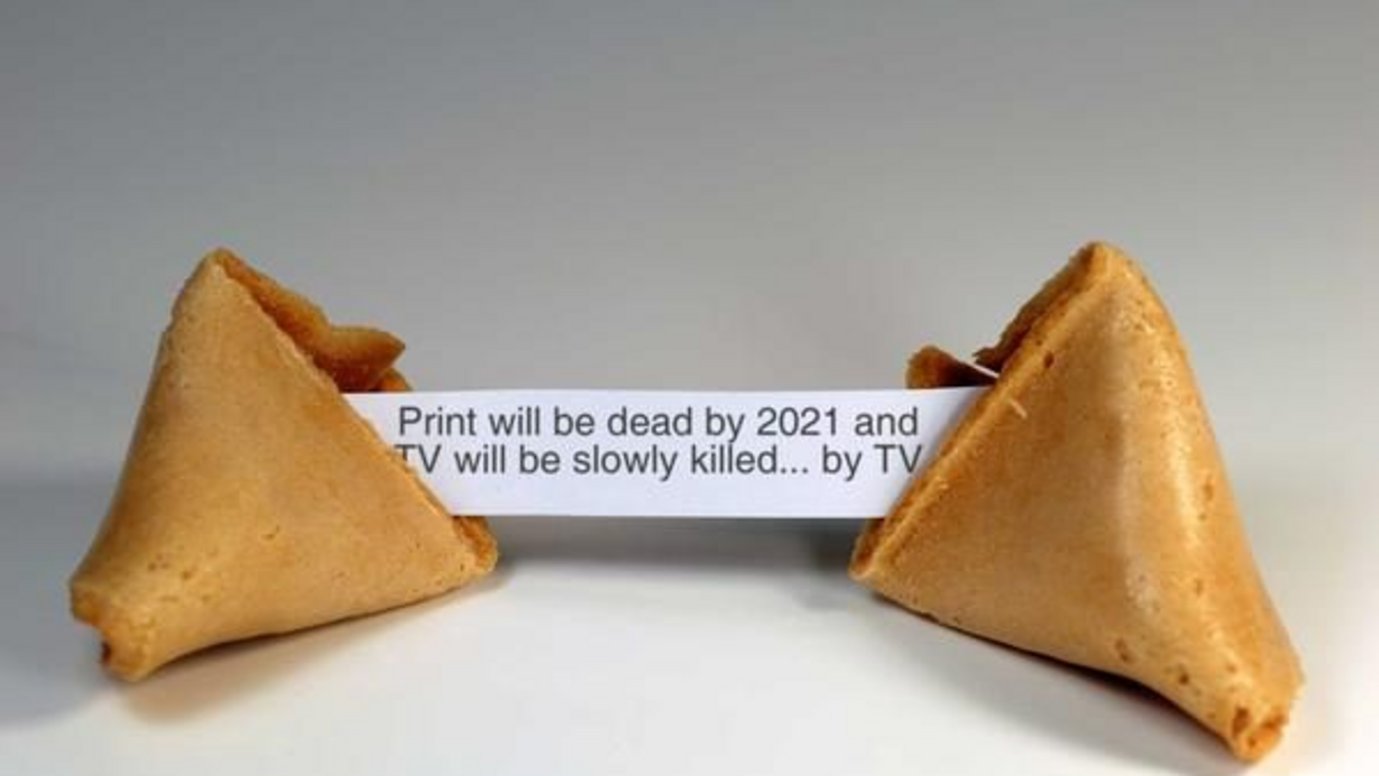 Contagious has always looked at what's changing in the world and tried to help brands and their agencies understand and take advantage of that change.
Because of that remit, we often get asked a question I tend to shy away from answering directly: what's going to happen in the future?
The reason I personally try to dodge that prophetic bullet is because the amount of complexity involved makes it likely that any answer is probably going to be wrong. But occasionally, the consistent and clear message being told by the data makes it surprisingly easy to answer. For example, take a look at this graph from Enders Analysis showing national advertising revenues for UK newspapers: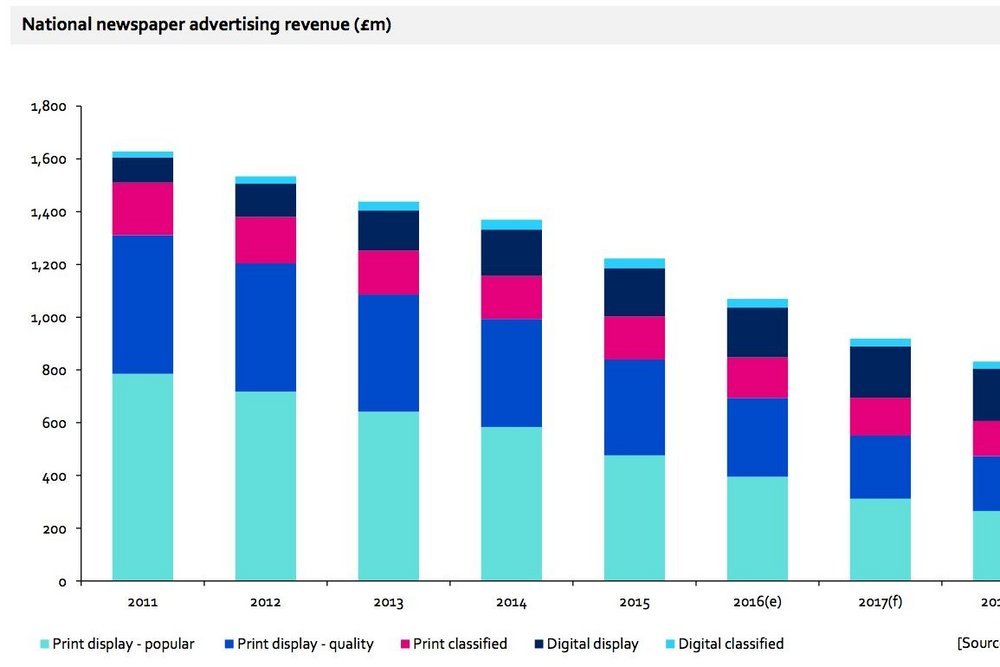 It doesn't take a genius to extrapolate that steady decline to see that ad revenues fall to zero around 2026:
A similar story is being told on a global scale, as demonstrated in this brutal visualisation of ZenithOptimedia's data: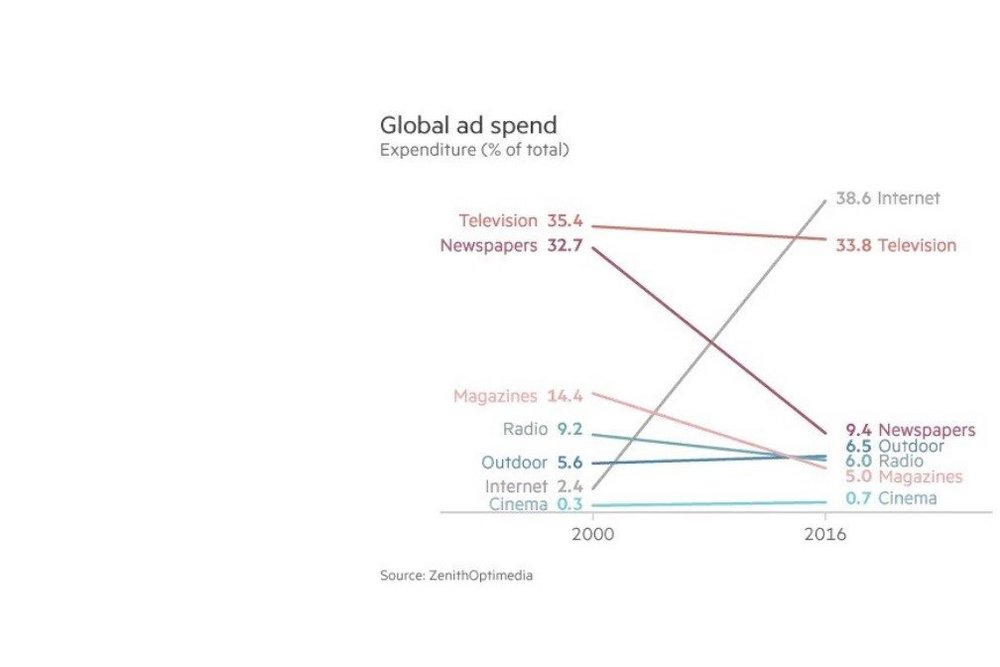 The percentage of global ad spend going into newspapers has dropped by 23.3% over the last 16 years. And if we extrapolate it out...
...newspaper advertising crashes out around 2021 with magazines following suit shortly afterwards.
Based on those trends, I'm going to make a couple of forecasts about the future of media and marketing.
Prediction #1: Print advertising may not disappear entirely but its place in the marketing mix will become negligible in the next five to eight years.
Prediction #2: In the same time period, the combination of print, outdoor, cinema and radio will make up a combined c.15% of global ad spend. This will turn advertising into a two-horse race between TV and digital, with TV maintaining a c.30% share of revenue and digital taking the remaining 55%.
Going forward from 2021, things get a little more speculative, with two likely scenarios:
1. TV declines as the inexorable rise of digital continues to absorb a higher percentage of marketing dollars.
2. The rock-solid effectiveness of TV will safeguard it, causing digital advertising to plateau at c.60%.
To help make a judgement about likely outcomes, it's worth looking at some of the forces at work in these murkier waters. For example, the velocity of statistics around TV viewing. In an 18-24 year-old age range, the number of daily minutes spent watching TV have declined from 250 per day to just over 150 minutes in the last six years: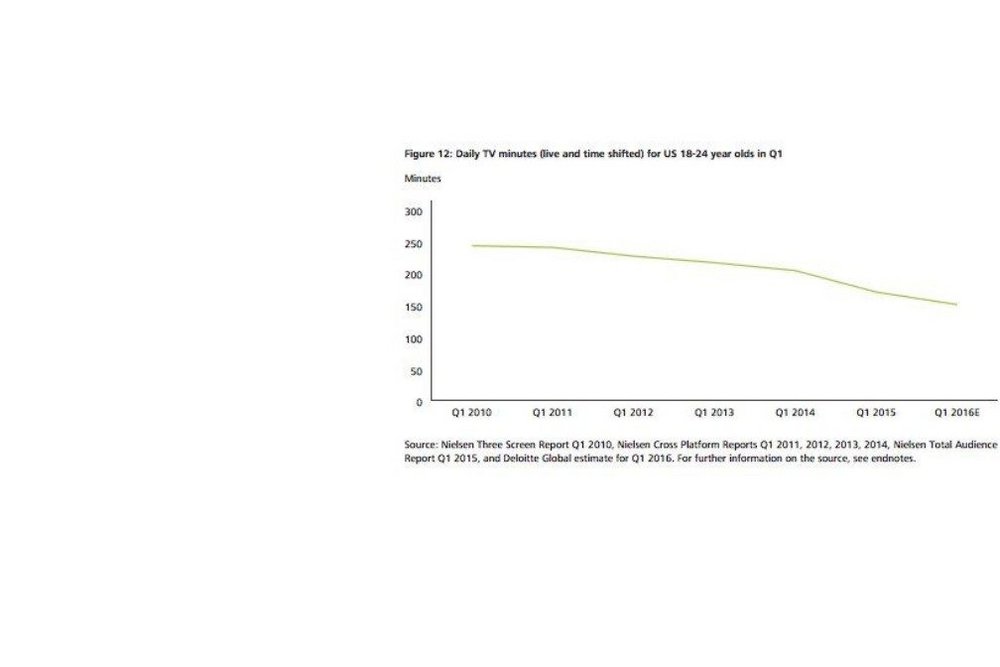 In light of that decline, it's easy to understand the decision of Adidas chief exec, Kasper Rorsted, who last week told CNBC that the sportswear brand was pulling out of TV advertising. 'The younger consumer engages with us predominately over the mobile device... You don't see any TV advertising any more. All our engagement with the consumer is through digital media.'
Of course, this only speaks to a younger demographic media consumption trend, but it does beg the question: do the habits we create in youth carry through to older age?
Well, to be honest, it's something of a rhetorical question, given that time spent watching TV has been on the decline for every age group below 50+ since 2010: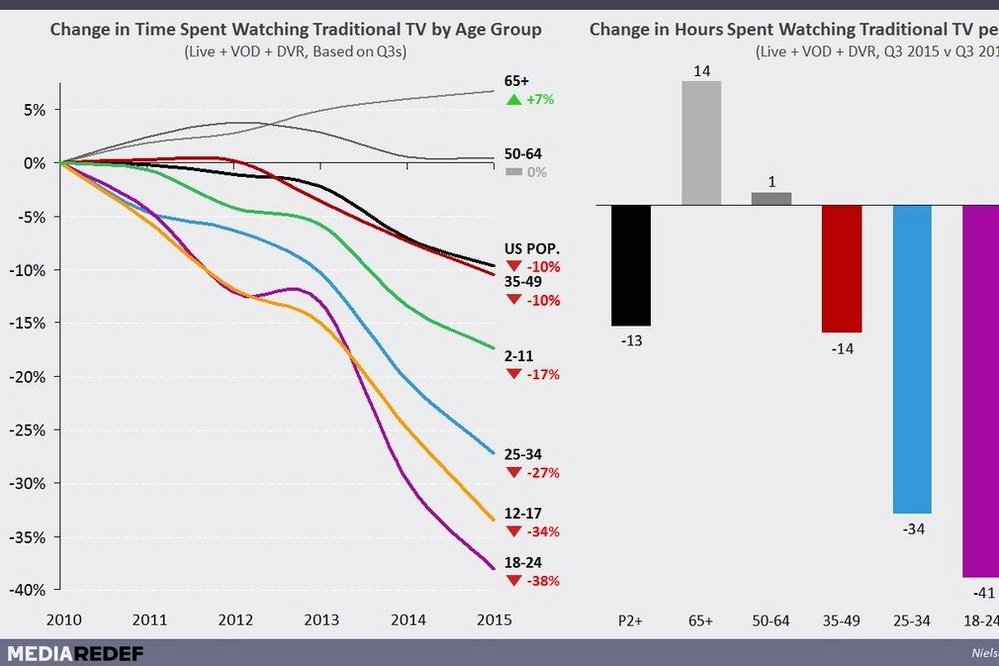 No communication technology has ever disappeared, but instead becomes increasingly less important as the technological horizon widens
Arthur C. Clarke
Prediction #3: As the tech horizon widens, TV will become less important. Marketers follow eyeballs (ugh) so, if the viewing time on TV decreases, then so too will the amount of money being spent there. This means that the first scenario outlined above is likely to come true: digital will continue to rise and take share of budget from TV.
But it's important to bear in mind what is happening in digital and where that trend may lead us. Increasingly, those marketer-beloved eyeballs are watching video content online. For example, YouTube recently announced that people are now watching abillion hours of content on the platform every day, rivaling the c.1.25 billion hours people spend watching TV content every day. Factor in time on Facebook video, Instagram video, Snapchat video, etc, and the trend becomes more compelling.
Prediction #4: Digital will replace TV... but with TV-like video content. The major social media platforms are already becoming less social and more media, with Facebook hiring content producers, Twitter live streaming NFL games and Snapchat broadcasting exclusive episodes of The Voice.
In step with this, digital advertising is increasingly becoming video content – making it more similar to those tried-and-tested effective TV ads.
Prediction #5: This will lull many marketers into a false sense of security, as they mistakenly believe that TV-like content is the same as TV ads, when it is not.
I may well be wrong – after all, the future really is anyone's guess. My suspicion is that this is how one part of it will play out. But it's always worth remembering that there are two ways to think of the future: one is that the future is something that happens to you, the other is that it's something you create.
Both views are correct – the only difference is how active you want to be in shaping the world you're going to have to work in. Whether you want to passively ride out a decline or lead the charge in exploring the fastest-growth area, it's up to you.
Personally, I believe that the future, like fortune, favours the brave.
Contagious thinking delivered to your inbox 
/
Subscribe to the Contagious weekly newsletter and stay up to date with creative news, marketing trends and cutting-edge research.