Why Stranger Things glimpses the future of product placement and brand partnerships 
/
Stranger Things might be set in the past, but the show's array of brand deals could foreshadow the future of entertainment, argues Contagious' Becca Peel.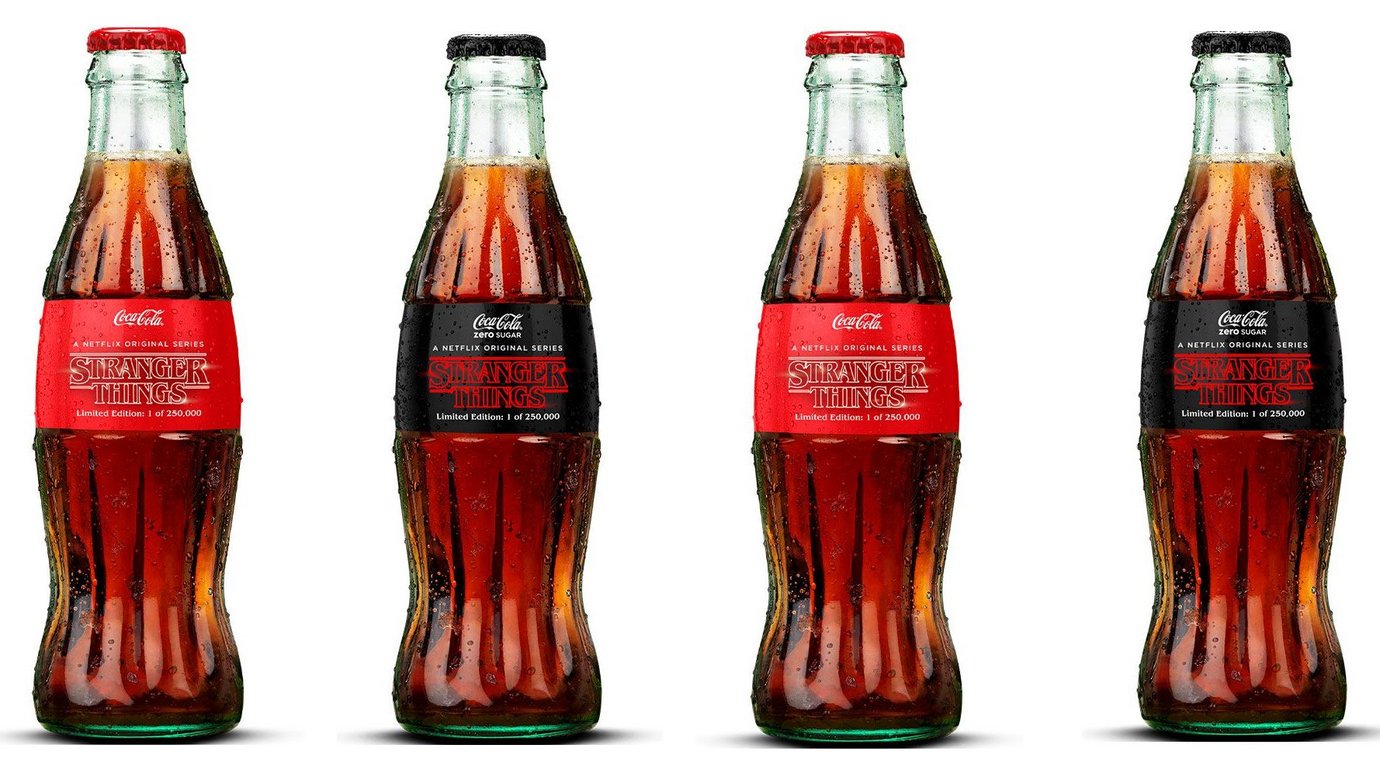 Season three of Stranger Things was released on Netflix on 4 July and instantly smashed the platform's viewing records, becoming its most-watched show in its first four days of release.
While I could write a lengthy blog post on any number of plot points, I won't. My interest lies in how Stranger Things may mark a turning point in the dynamic between brands and entertainment.
Previously on… Brands and entertainment get cosy 
/
In 2017, PJ Pereira (co-founder of creative agency Pereira O'Dell) led the Entertainment jury at Cannes and declared: 'Being realistic, ads will always exist, but they will decrease in importance, which will force us [advertisers] to find other ways and opportunities to talk to consumers. We [the Entertainment jury] believe this opportunity lies [with] being the content consumers will seek, instead of interrupting it.'
Meanwhile, entertainment companies, from the BBC to Netflix to Disney, are facing a different challenge: relevance and share of mind. The proliferation of streaming services has fragmented people's attention and commitment to any one brand, product or service.
In the age of binge-watching, how do services like Netflix keep their shows in the public consciousness for longer than a week? At last year's Most Contagious, Burger King's global CMO Fernando Machado spoke about the social media news cycle and how any one scandal or success stays top of the agenda typically for a week before being usurped by another more relevant headline in the world of #trending.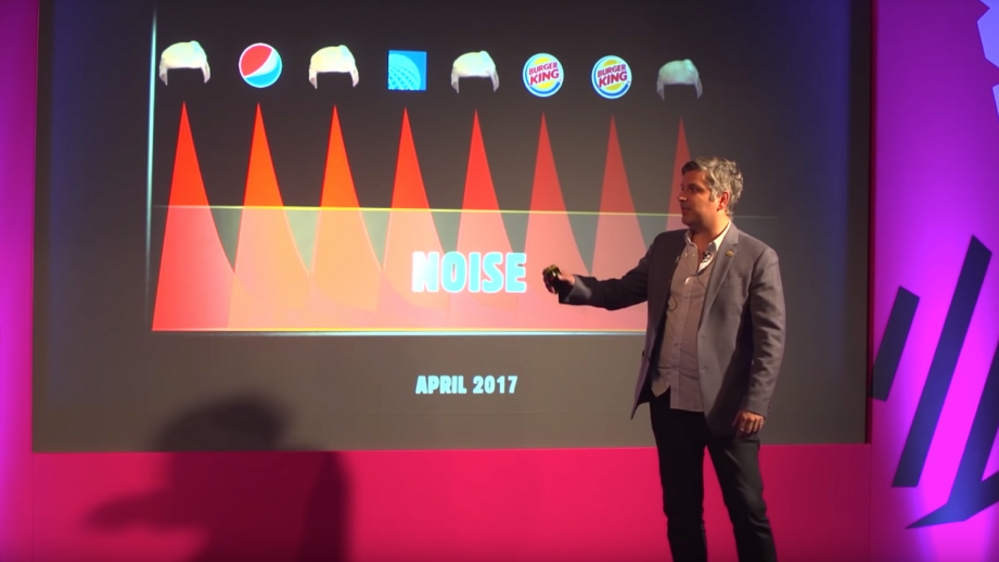 Stranger Things season three shows the intersection of the advertising and entertainment industries coming together to solve their respective challenges.
Into the Upside-Down 
/
As the landscape of consumer expectations changes around brands and entertainment services, both industries are being driven closer together, becoming more reliant on each other's native strengths.
For brands, product partnerships have a proven track record of success, from Heineken's awareness jump following its placement in a James Bond film, to Reese's Pieces 65% sales boost following its iconic role in E.T. the Extra-Terrestrial.
But these partnerships and integrations offer more than simply sales results. Today, authenticity and emotional connections are must-haves for marketers. In Stranger Things, Coke embraced the opportunity to re-situate its product in 1980s America, when feelings toward fizzy drinks and junk food and big companies were less complicated. And this messaging was wrapped up in the plot of a beloved TV show, which viewers will find impossible to tune out like they would an advert.
Clearly brands win big from product partnerships done well, however, given the new landscape, perhaps the value for shows is greater. Stranger Things signed over 75 brand deals for this season, going beyond in-episode placements and stretching into things like clothing ranges with H&M and Levi's.
For Netflix and Stranger Things, the partnerships extend the shelf-life of the show. There was a time when, had it been broadcast traditionally, a season of Stranger Things would have consumed our attention and dominated our conversations for two or three whole months. But those days are over. But by getting Coca-Cola to reintroduce an old drink and by getting Burger King to put a hamburger the wrong way up in a box, Netflix is helping to keep Stranger Things in the public consciousness for longer.
These partnerships extend the shelf life in two ways. Ahead of release, Stranger Things teasers are released in the form of product ads. Netflix understands the build-up to a drop is crucial. And what better way to tease fans than release tangential content that reveals show clues to fuel speculation on fan forums, while still maintaining the necessary mystery and suspense for an impactful launch?
As if we've entered the upside-down, the new environment has led to a reversal of roles: brand ads acting as promos for Stranger Things, while the actual Stranger Things episodes become quasi-long-form advertisements for the brands.
Brand partnerships also lengthen and amplify the the show's presence after its release, embedding physical world reminders and ensuring it is an intrinsic part of culture. "We exist on the internet, and Coke has a century of experience in building consumer products that are physical," said Barry Smyth, head of global partner marketing at Netflix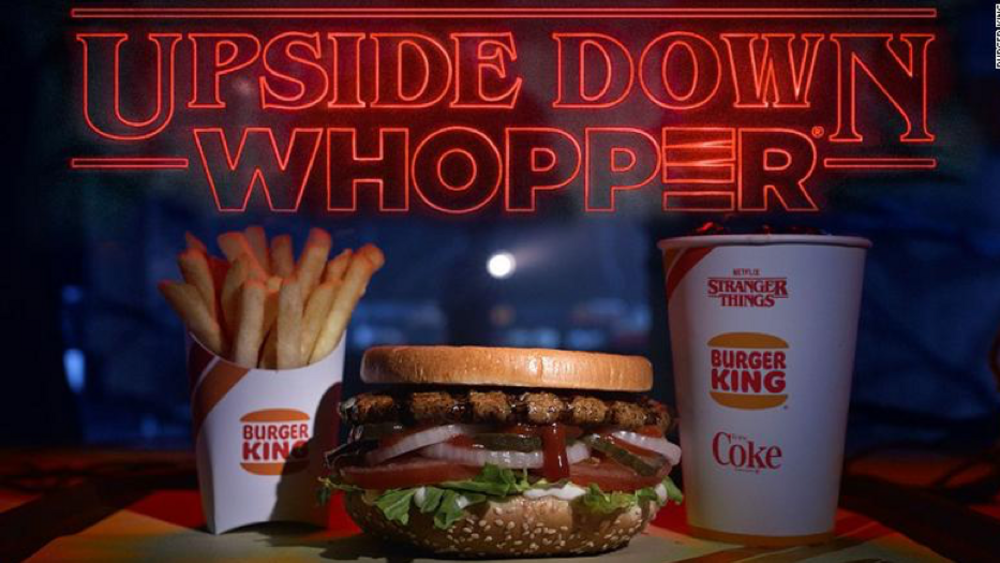 With production budgets of more than $8 million per episode, Netflix shows are not only designed to sate content-hungry subscribers, but also to tempt the rest of the population to subscribe to the platform. The omnipresence of Stranger Things partnerships across different products and services is designed to reach wide and pique anyone and everyone's interest.
In other words, Netflix is growing penetration through physical and mental availability. Byron Sharp would be proud.
Stranger things to come? 
/
As bingeing becomes the norm across entertainment, Netflix is helping to keep Stranger Things in the public consciousness for longer through its breadth and depth of brand partnerships. Slap the logo in enough places and it may even pique newcomers into subscribing.
While there has been plenty of criticism of the rampant brand presence, maybe this is the future of brands and entertainment.
Plus, Netflix is hamstrung by its commitment to keeping its platform ad-free and so must find revenue in other ways. For Stranger Things season three, the estimated value of the brand integration was $15M. With 57% of subscribers claiming they would leave the streaming service if it adopted an ad-funded model, perhaps this approach is the more palatable and sustainable model.
Stranger Things may not have struck the perfect balance, but it does exemplify what Chet Gulland, head of digital strategy at Droga5, says about advertainment: 'Creating advertising people welcome alongside their favorite content is a huge challenge but an incredible opportunity'.
Are we entering a world where entertainment needs brands possibly more than brands need entertainment? Stranger Things have happened.
Contagious is a resource that helps brands and agencies achieve the best in commercial creativity. Find out more about Contagious membership here.
Contagious thinking delivered to your inbox 
/
Subscribe to the Contagious weekly newsletter and stay up to date with creative news, marketing trends and cutting-edge research.