Creativity
20 November 2019
The 25 Most Contagious Campaigns 2019: part 1 
/
As 2019 runs to a close, let Contagious take you through the year's best campaigns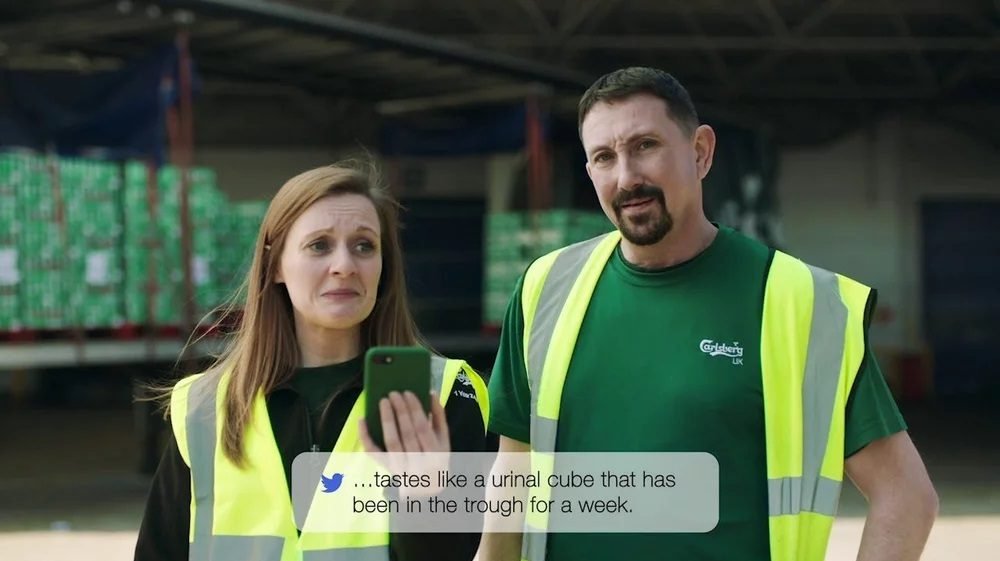 The Contagious editorial team is dedicated to finding the best advertising from around the world.
We're not hustling on the side for news about what niche insurer has got a $50k project out to pitch, or scratching through LinkedIn for information to pad out stories about agency hires.
All we do is look for and analyse the best ads, the best ideas.
We can discard a dozen campaigns before we hit upon one that we think is worthy writing about on our I/O platform, which should tell you something about what it means to make our list of the top 25 campaigns of the year.
These are the campaigns we've judged the most creative, most effective or just the most un-ignorable of the tens of thousands that we've scrutinised over the past 12 months.
It's not your usual list of US/UK blockbusters; the chosen campaigns come from almost every corner of the earth and encompass almost every medium: from Parisian posters that your pets pee on, to Honduran hospitality hi-jinks.
Here in no particular order is part one (of five) of The 25 Most Contagious Campaigns of 2019.
Leroy Merlin, Lessons for Good 
/
There is a famous saying that those who can't do, teach. However, arguably the best people to learn from are those who can create and pass on their experience to others. Italian home improvement retailer Leroy Merlin is one such example. Every year the brand hosts in its stores across Italy free classes for people who want to learn a variety of DIY skills. But in December 2018 Leroy Merlin and agency Publicis Italy moved the workshops into community spaces in need of renovating. Participants learned DIY skills while improving their local community, for example sprucing up a classroom for disabled students or a paediatric unit within a hospital.
Repurposing an existing initiative with a new social community element, Leroy Merlin has positioned itself as a brand campaigning for change while also being the change it wants to see in the world. In 2019 discussions about sustainability were prevalent among people and brands alike. Leroy Merlin stands out for addressing its role in this discussion with simplicity and authenticity.
Carlsberg, Probably not the best beer in the world 
/
'Carlsberg tastes like the rancid piss of Satan,' tweeted one unhappy customer last year. Not something most marketers would want to shout about, but Carlsberg promoted this and other scathing tweets as part of its rebrand in April this year. In a series of videos featuring Carlsberg employees reading aloud damning tweets about the product, the brand bravely faced its critics and admitted that, contrary to its long-time strapline ('Probably the best beer in the world'), standards had slipped, before announcing a new brew, Carlsberg Danish Pilsner.
The £20m ($26m) integrated campaign, developed with London agency Fold7, took a major risk by toying with one of the most well-known and beloved slogans in UK advertising history, to shift customers' perceptions of the lager. and the brand was rewarded with tons of attention. Everyone who has an opinion on advertising had an opinion on this ad. Definitely a Most Contagious campaign.
Hotel Honduras Maya, Hotelbnb 
/
Since launching more than 10 years ago, Airbnb has posed a growing threat to hotels all over the world, particularly when it comes to attracting authenticity-seeking millennials. To reclaim a portion of its customers from Airbnb, a four-star hotel in Honduras took a 'if you can't beat 'em, join 'em' approach and refurbished several of its rooms to resemble Airbnb rentals before listing them on Airbnb. Unsuspecting guests were surprised and even angry on arrival, but Hotel Honduras Maya won them over with the kind of customer service and amenities that only a hotel can offer – for the price of an Airbnb.
The Hotelbnb campaign stood out to us as an unorthodox strategy in an conventional category that is in desperate need of innovation. 'We were fearful of what would happen,' admitted Alan Cruz, director of strategic planning at Ogilvy Honduras, the agency behind the activation. 'But we had faith that, on seeing the rooms and everything they had access to, for the price they were paying, the guests' initial discomfort would disappear.' He was right: in the first three months there were more than 4,200 visits to the listings, which amounted to a 32.5% increase in bookings by the close of the first quarter of 2019.
Kraft Heinz, Kraft Now Pay Later 
/
Earlier this year, FMCG giant The Kraft Heinz Company responded to political division in the US with an initiative that everybody could get behind. Working with Leo Burnett Chicago, the brand offered federal workers in Washington DC free groceries during a pay freeze brought on by the month-long government shutdown. At a Kraft pop-up grocery store in Washington DC, those who presented their government ID could receive a free bag of Kraft Heinz products. The brand also ran a full-page ad in The Washington Post, asking other brands to donate products. All Kraft asked in return was that workers 'pay it forward' by donating to charity once they were able.
The number of families that used the programme peaked at 2,300 per day and Kraft, which has long-standing partnerships with hunger-relief charities Rise Against Hunger and Feeding America, cemented its reputation as an all-American brand committed to improving the lives of families. The apolitical Kraft Now Pay Later initiative rode the wave of news coverage of the US government shutdown and earned more than 700 million media impressions and was a shining example of how brands can take a stance without alienating customers.

Puppo, Every dog has its ad 
/
Dogs have earned their title of man's best friend due to their loyalty, companionship and obedience. We thank our furry friends with love, shelter and food. Dog food brand Puppo places a very high regard on this last need, with the brand offering bespoke nutrition to every dog.
To launch the brand in New York, BBDO Auckland promoted Puppo's personalised products by generating a unique ad for each of the 100,729 dogs within the city, in a campaign called Every Dog Has Its Ad. Puppo created an Algorithm using NYC Dog Licensing data to discover the age, name, breed, borough and zip code of each dog. These details were then woven into personalised copy and distributed as print ads in the neighbourhoods where the dogs lived. People walking their dogs would then be surprised with an ad for their pooch with a QR code directing them towards Puppo's website.
The tussle between personalisation and privacy in advertising continued unabated and, to be honest, we have no ideas where lines will ultimately be draw, but we still couldn't help but be charmed by this example.
Like knowing about marketing's most important trends, insights and campaigns? Then come to Most Contagious in London on 5 December to discover everything that truly mattered in marketing in 2019 and what it means for 2020. Give us a day and we'll give you a year. Click this link for more information about the line-up and for tickets, or check out the video below for a taste of Most Contagious.
Want more Contagious thinking? 
/
Subscribe to the Contagious newsletter to receive a weekly dispatch of campaigns, opinions and research, curated for strategists, creatives and marketers.
Contagious thinking delivered to your inbox 
/
Subscribe to the Contagious weekly newsletter and stay up to date with creative news, marketing trends and cutting-edge research.