Creativity
23 November 2018
The Most Contagious Campaigns of 2018: Part 2 
/
We've made a list and checked it more than twice, and we're bringing you the best campaigns of the year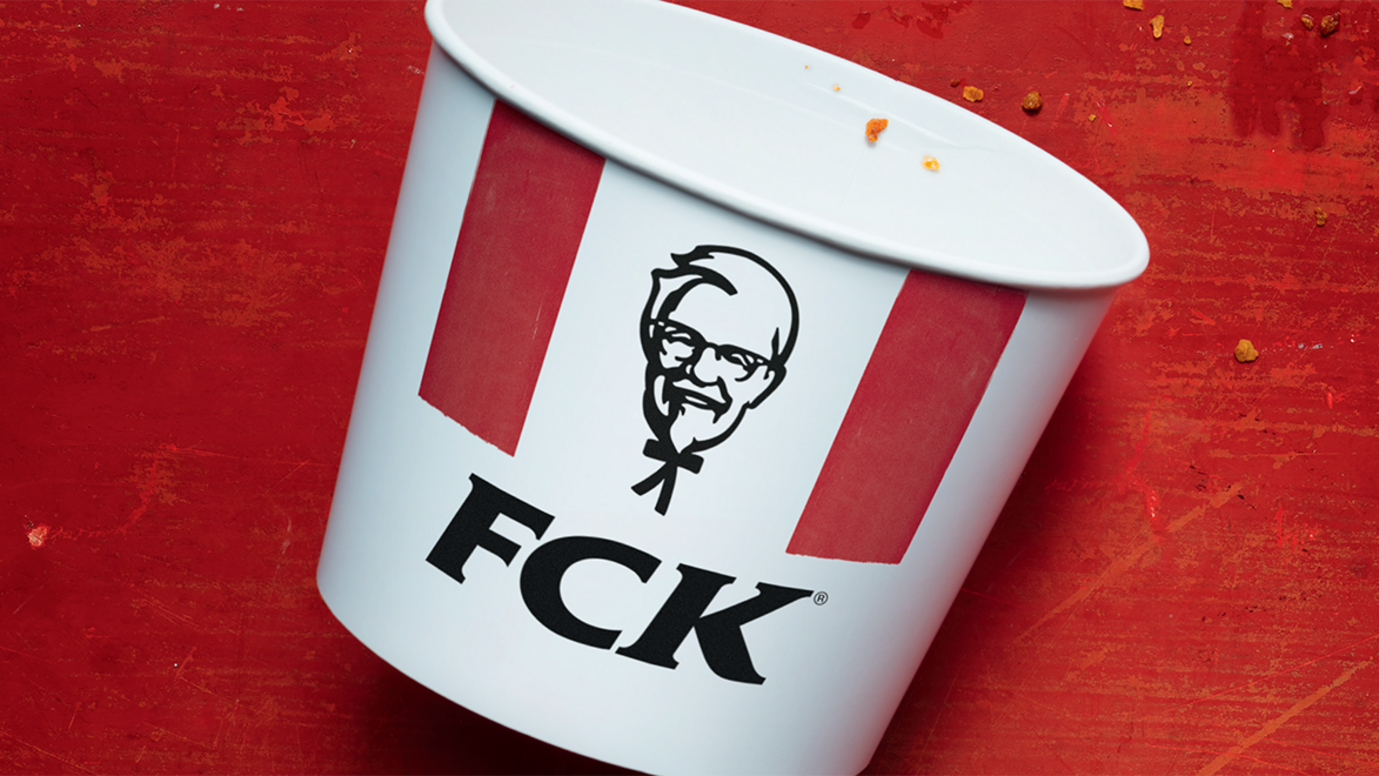 Throughout the year we at Contagious look at tens of thousands of advertising campaigns. Some of them make us laugh, some of them make us cry a little, and a few of them make us think that maybe we should give communism a try. But only a tiny percentage of these campaigns make it onto I/O, our online platform filled with the most impressive and most instructive examples of commercial creativity.
So this should give you an idea of what it means to be on our list of the 25 Most Contagious Campaigns of 2018. Out of the tens of thousands of ads that we watch and critique, these are the ones that we've judged to be the smartest and most creative of the lot. We'll bring these to you in no particular order of favour in a series of five blog posts over the next five weeks. No shiny hunks of metal, no comedians paid our annual salary for an evening's work, just a list. Here's part two (Click here for the first installment).
Ore-Ida / Potato Pay

Kids can be a pain in the ass, especially at meal times. So American frozen food brand Ore-Ida gave parents of fussy eaters a way to get their kids to eat their greens - bribery. 'Is it ethical? No. But edible? Yes,' a woman in the promotional video says. Instead of begging their kids to 'just eat one carrot', parents can just pay kids to eat the foods they don't like with the fries they do – simple. 'It was really about reaching the modern millennial parent,' Justin Ruben, group creative director at Droga5 New York, the agency behind the Potato Pay campaign, told Contagious. 'We found that parents appreciate brands that are more transparent and acknowledge that parenting doesn't have to be done perfectly.' With Potato Pay, Ore-Ida proved to parents it was firmly on their side, and willing to break the rules a little to make their lives easier. Not just transparent - a clear favourite at Contagious.
KFC / FCK
KFC showed us all how turn a disaster into a PR win earlier this year. Following a chicken supply shortage, the fast food chain had to temporarily close 900 UK restaurants, prompting outrage and even a few calls to the police (people are sometimes hard to understand). Working with Mother, London, KFC addressed the crisis with a humorous and foul-mouthed mea culpa. By getting playful with its logo, KFC made sure its ad was conspicuous and immediately identifiable. Meanwhile, the clear and simple message that the brand had 'FCKed up' achieved cut-through without sounding self-pitying. At a time when many other brands would have reverted to dull, safe corporate speak, KFC took a chance on creativity. And it spoke in a voice that was true to the brand. The ad generated over 1 billion impressions despite only running once in two newspapers.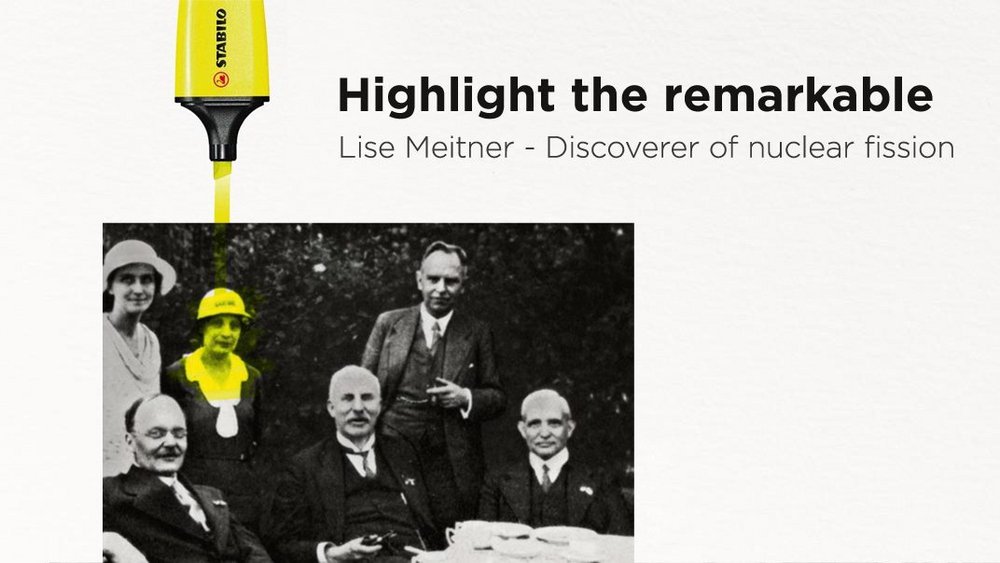 Stabilo Boss / Highlighting the Remarkable
All good adverts tell a story but Stabilo Boss' Highlighting the Remarkable campaign is great because it has a little story of its own. The print campaign, which used luminous ink to pick out the overlooked women in historical pictures, was largely ignored when it was released in Germany in April. But after winning Gold and Silver Lions at Cannes it was posted to Twitter where it found its audience, amassing 10 million impressions in a few days. As result, the campaign's run was extended in Germany throughout the summer. The (delayed) adulation was deserved. DDB Düsseldorf's ads not only showed that brands could talk about gender equality without seeming shallow, they did it in a way that made it impossible to separate the idea from Stabilo Boss' product. A real advertising fairytale.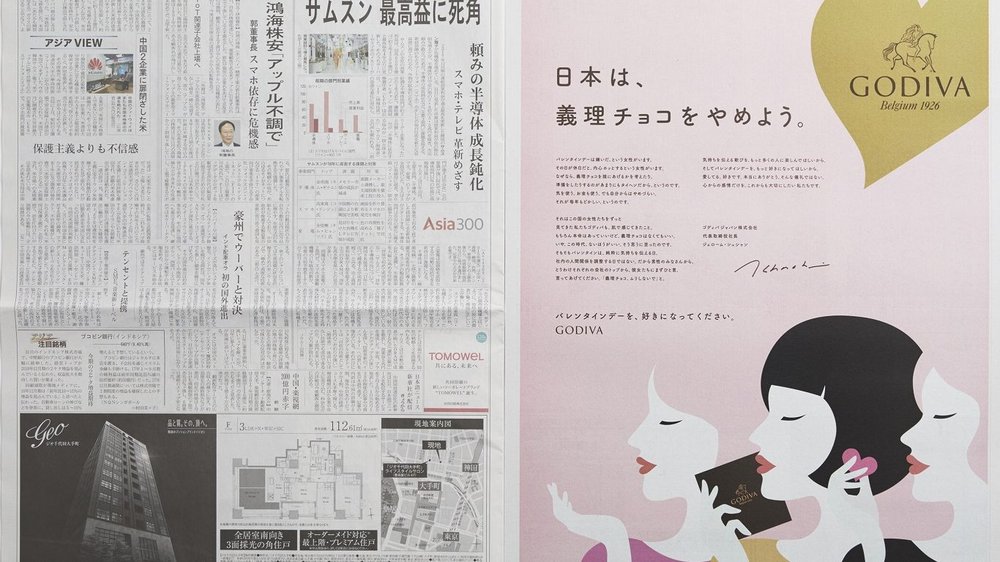 Godiva / Give Freely
Instead of promoting its chocolates as the perfect gift for Valentine's Day in Japan, Godiva called to an end to the country's custom of women giving giri choco 'obligation chocolates' to male colleagues. The Give Freely ad, created by Mori in Tokyo and Stink Studios, New York, was printed in Japan's leading financial newspaper and asked company executives to excuse their female staff from buying giri choco because a lot of them think it's a chore. Zagging while everyone else zigged earned a lot of PR buzz for the brand, at home and abroad. But, more importantly, by showing that it understood the stresses women face, Godiva built an emotional connection with consumers that went beyond delicious chocolate.
Nike / Nothing Beats a Londoner

Nike's Nothing Beats a Londoner campaign celebrated the young people living in the British capital and their dedication to sport. It also redefined the idea of ensemble casts in advertising. Created by Wieden+Kennedy London, the film included 258 young Londoners as well as official Nike ambassadors and Local celebrities such as rapper Skepta, Olympic athlete Dina Asher-Smith and footballer Harry Kane. With that many actors, it should have been a mess. But somehow it ended up greater than the sum of its parts: entertaining and peerlessly observed. The young stars of the film were also a key part of its distribution strategy. Each of the selected Londoners received the scene in which they appeared as standalone piece of content, which they then posted on their social channels, tagging the next person in the spot. The city-centricity of this spot is not just a brilliant creative idea: targeting metropolitan locations like London was a sound business strategy, creating influential communities that love Nike and are willing to shout about their affection.
If you want more analysis of the year's best creativity and most important trends, book a ticket for Most Contagious. This must-attend event on 6 December crams a year's worth of insights, trends and technology into a single day to help brands and agencies create work that's fit for the future. If you're looking for the inspiration to help you steal a competitive advantage, click here.
Download the Most Contagious 2018 report here 
/
Contagious thinking delivered to your inbox 
/
Subscribe to the Contagious weekly newsletter and stay up to date with creative news, marketing trends and cutting-edge research.