Promoted content
10 May 2021
Why TV advertising is the best shop window for online brands 
/
Thinkbox research and planning director Matt Hill explains why ecommerce shouldn't mean defaulting to online marketing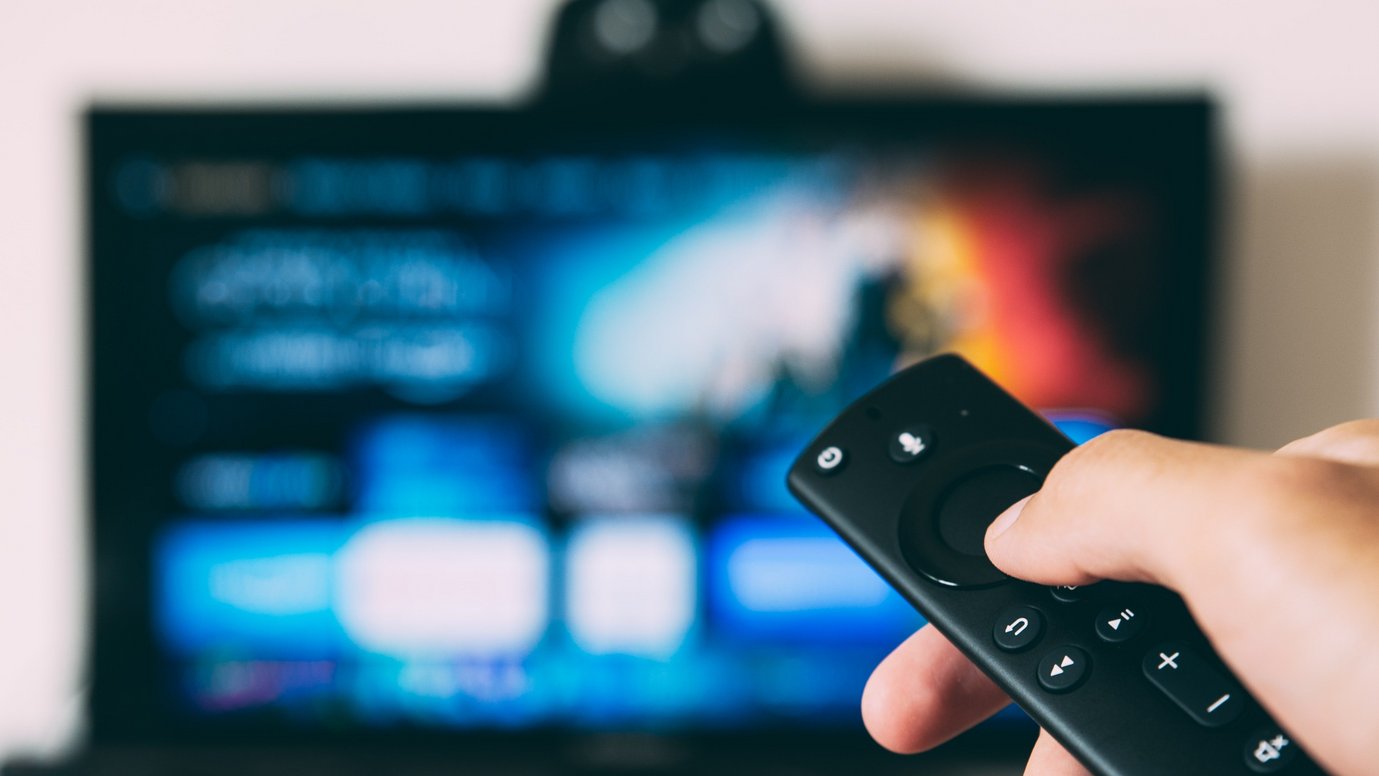 If you want to get people to shop online you should also advertise to them offline, says Matt Hill, research and planning director at Thinkbox.
Hill was speaking at Contagious' 5 May live-stream session (in partnership with Thinkbox) analysing ecommerce advertising.
'There's an assumption that gets made that when we're targeting people to shop online that online media is the only route to success,' he said, but it is a fallacy and one that has been brought to the fore by shopping behaviour over the past year.
Ecommerce surged during the pandemic, and there are indicators that people will continue to shop more online as things return to normal. In fact, according to YouGov, 33% of the UK population say they're doing more online shopping now than when they were locked down.
So what does this mean in terms of media and where brands should put their ad spend?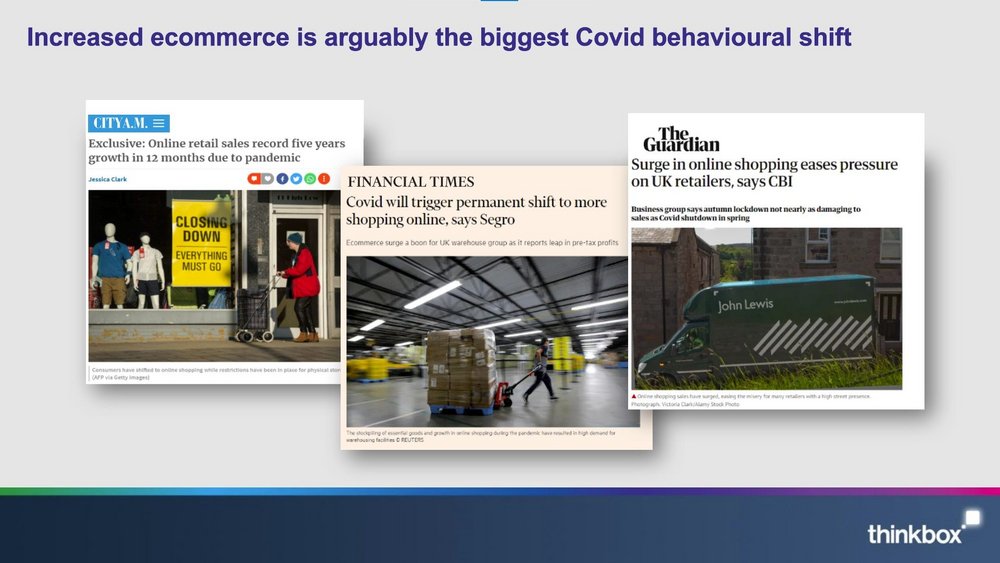 The figures bear out a clear relationship between online ad spend and retail sales, according to Hill. What's more, he says, search is a 'crucial part' of the equation, because it allows brands to tightly control spend, and the lack of barriers in terms of upfront creative costs make search an appealing place for brands to start.
But Hill cautioned that there are diminishing returns in online search advertising. Online advertising often converts people who were already looking to buy and who would have made the purchase regardless of whether they encountered the ad, he explained. And once you move beyond this demographic, the returns start to diminish.
'The only cards that you have in your hand are the budget that you have available and this is what causes you to hit a ceiling,' warned Hill.
When marketers hit this ceiling they should change their mindset away from efficiency and instead focus on driving growth through brand-led advertising, advised Hill. Quoting Ogilvy UK vice chair Rory Sutherland, Hill said: 'Efficient marketing captures customers, effective marketing creates them.'
'Yes, budget is still going to matter,' added Hill, 'but creativity and innovation can be an absolute multiplier that sits on top of that.
And Hill believes that the most powerful channel available to online retailers that want to drive growth is television.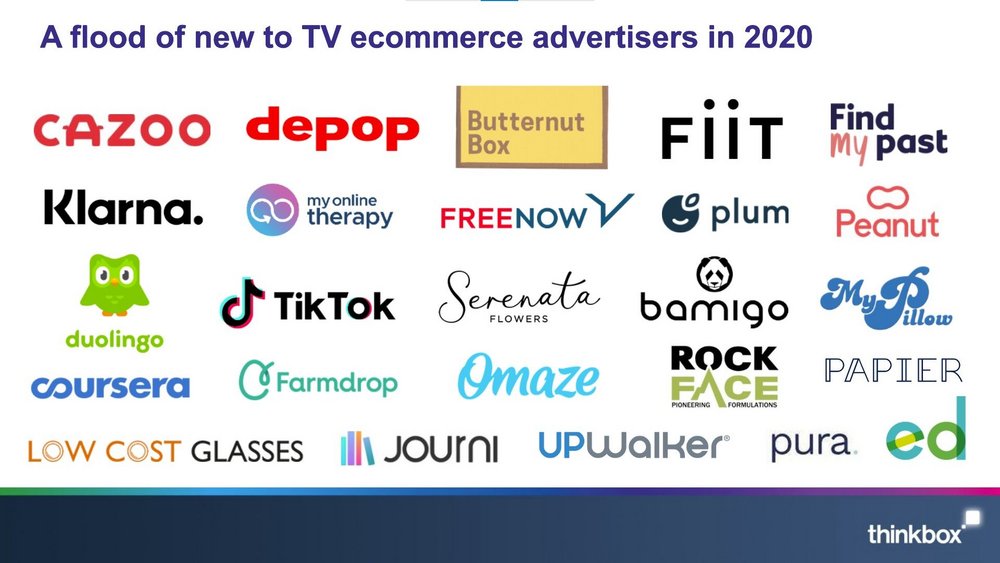 'Ecommerce businesses such as Cazoo are using TV advertising as a shop window, to grow awareness and salience for their brand, ensuring it is top of mind,' he said. 'If you are the first brand that people think about when you're in the market, then you are going to be winning.'
One of the reasons TV ads are powerful is they are perceived to be costly, said Hill, who also noted that the reality doesn't match the perception, since a lot of TV ads work out to be as cheap as 0.6p per view.
'When people see TV adverts, they assume you're spending a lot of money on them,' he said, which leads to further assumptions about the quality and popularity of the product, as well as the trustworthiness of the company behind it.
To finish, Hill offered one final caveat. Once you've built your brand, he said, the relationship between performance channels such as search changes once again. Even sophisticated brands like Adidas and Airbnb have been caught out and have subsequently gone on record admitting they wasted a lot of money on useless online inventory from which they derived no discernable benefits.
'Build your own gravity,' Hill advised, 'and get those customers coming through your door.'
To learn more about the power of TV for online and offline brands, enrol for TV Masters, Thinkbox's free online training course now at tvmasters.thinkbox.tv.
Want more Contagious thinking? 
/
Subscribe to the Contagious newsletter to receive a weekly dispatch of campaigns, opinions and research, curated for strategists, creatives and marketers.
Contagious thinking delivered to your inbox 
/
Subscribe to the Contagious weekly newsletter and stay up to date with creative news, marketing trends and cutting-edge research.