Article
Contagious Contributor
/
28 January 2020
2 issues that will dominate the future of innovation 
/
Research consultant and author Sean Pillot de Chenecey on the challenges and changes facing innovators

Innovation, on which any organisation is so reliant, is about to become more dynamic and challenging than ever.
I believe that hyper-relevance, ultra-personalisation, collaboration, ethics and sustainability are the crucial foundations of success.
Meanwhile, those tasked with creating that innovation are now faced by two key issues with implications that could not be more profound, nor more disruptive.
The first sees the challenge of the environmental crisis mean that society and business alike are confronted with an existential dilemma. It's one that has, in the majority of cases, effectively been ignored. That crisis has in fact become a 'climate and biodiversity emergency' and major action is needed, with businesses in every industry having a role to play.
The second sees technology, and particularly artificial intelligence, having game-changing impacts across all sectors. From product development to service provision, from smart cities to connected homes, and from future jobs to next-generation education; the effects will be deeply felt at all levels, across society and business, around the world.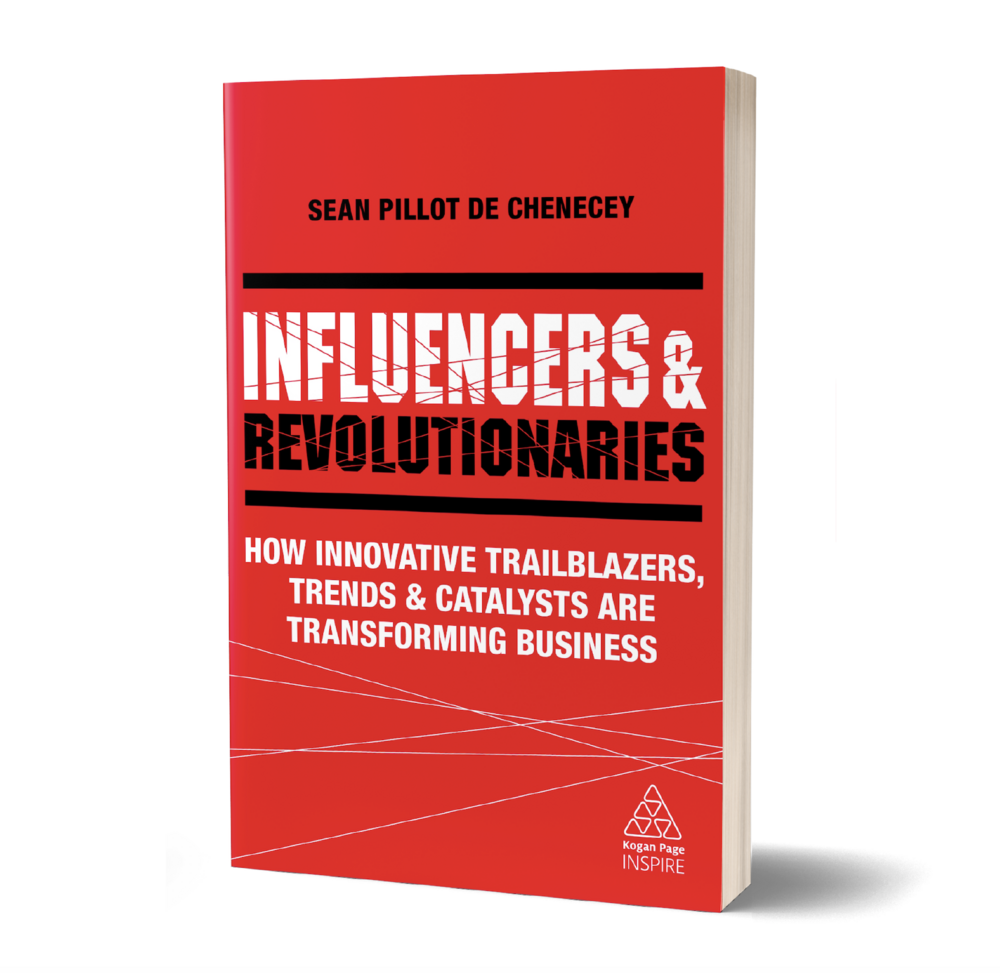 Throughout my new book, Influencers & Revolutionaries, I illustrate the effects of these issues across a wide variety of areas. The first being a global problem that has to be addressed with the utmost urgency, and where innovation has a crucial role to play; whilst the second is set to be the ultimate 'innovation enabler' as we also finally move into the second phase of the internet, where the Internet of Things enables ever more ubiquitous connectivity.
I take note of renowned innovative 'thinkers and doers' (from philosophers to entrepreneurs) and reference international agencies, consultants, think-tanks, brands, movements and organisations that illuminate, in my opinion, best-case examples of 'how to do it'.
In a consumer context, I portray a major overall shift from passive to active consumption. The implications are that businesses must reflect new lifestyles, behaviours and attitudes from people who are both more demanding in their desires from brands, and less satisfied with current branded offerings. Meanwhile, a key ongoing trend in innovation circles sees product development being recast as 'service renovation or 'experience creation' and this move shows not the slightest sign of abating.
Creative thinking and collaborative approaches show the way forward as we move to a circular and more ethical economy
Sean Pillot de Chenecey
From a business strategy perspective, being customer-centric via agile responses to attitudinal trends and behavioural change is a more vital approach than ever. This is why, for instance, the role of the designer is of such importance. And it's also why the influence of the educational establishment is so significant, as their ongoing promotion of 'design thinking' benefits organisations around the world.
In addition, an absolutely vital point is that of 'social innovation', this being a core issue highlighted everywhere from debates at the World Economic Forum to global activist group protests. What is fascinating is that both combine some similar demands. These include that organisations of all types now demonstrate a proactive social purpose, which requires ever more open-minded thinking in order to achieve the required results.
In a context set by the global crisis of climate change and the disruptive impact of technological developments; Governments, businesses and society alike require levels of change that sees innovation, in all its forms, being highlighted 'the answer' as never before.
But whilst many view these issues with a sense of resignation, even fear, I believe the future is one to look forward to with a positive mindset and a progressive attitude.
In each case, creative thinking and collaborative approaches show the way forward as we move to a circular and more ethical economy; and this is what I shall be discussing in my speech at Contagious Live, where I'll also present my Influencers & Revolutionaries 'Innovation Manifesto'.
That manifesto reflects my belief that we need a more humanistic approach to innovation. One that promotes environmentalism, diversity, social progression and individual wellbeing as a foundation of the concepts, products, services and experiences that organisations and businesses create.
Like this article? Share with your network:
Want more Contagious thinking? 
/
Subscribe to the Contagious newsletter to receive a weekly dispatch of campaigns, opinions and research, curated for strategists, creatives and marketers.
Contagious thinking delivered to your inbox 
/
Subscribe to the Contagious weekly newsletter and stay up to date with creative news, marketing trends and cutting-edge research.