Article
Contagious Team
/
20 November 2020
The Most Contagious Campaigns of 2020: part 1 
/
The 25 best campaigns of the year, according to the Contagious team.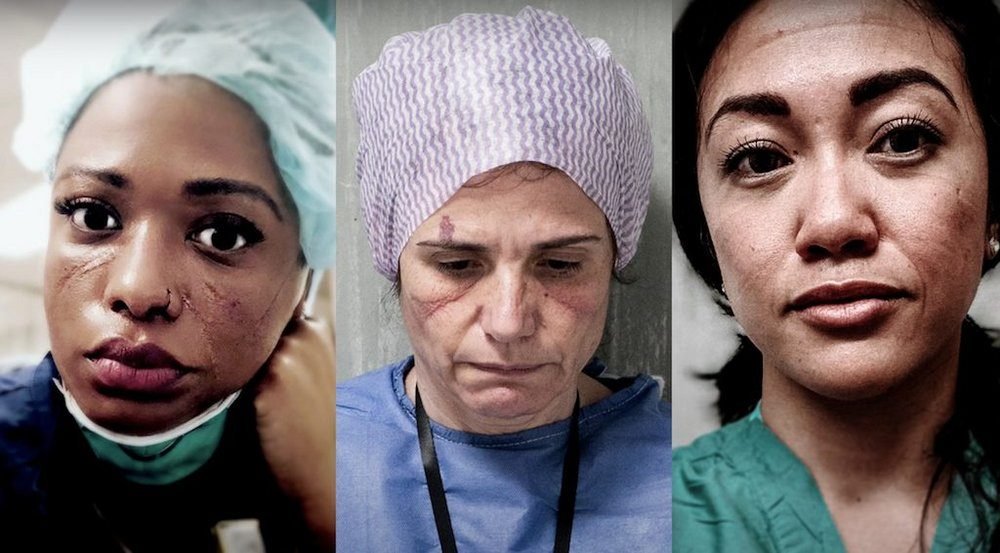 The end of the year is in sight so we're celebrating the best ads of 2020.
The Contagious team sifts through tens of thousands of campaigns every year but only a small percentage are selected for our I/O platform.
This list represents the best of the best. It's the 25 campaigns that we've judged to be the most creative, most effective or just the most impossible-to-ignore.
Here is part one of five of The Most Contagious Campaigns of 2020 (listed in no particular order).
Dove, Courage Is Beautiful (Ogilvy) 
/
Dove's Courage Is Beautiful campaign was definitely of a type that was produced in abundance in the early days of the pandemic. It struck the same sombre-yet-resilient tone that almost every brand used to ease themselves back into the public consciousness during lockdown. Yet it was still unmistakably Dove, and that's to the brand's credit.
Dove was one of the first major brands to align itself behind a point of view when it launched its Real Beauty campaign in 2003. And it has stayed true to that purpose ever since. As a result, Courage Is Beautiful felt like a natural progression (in the extreme circumstances of the pandemic) of the brand's already-established philosophy. And the decision to only run the campaign in areas where the brand had made substantial donations to Covid-relief efforts demonstrated that it had kept pace with changing expectations of what brand purpose means. As far as we're concerned, that's the real beauty of Dove.
By James Swift, online editor
Starling Bank, Connected Card 
/
An old adage says the best way to burglar-proof your house is to throw away the keys. When trying to break back in, you'll regard the weak spots in a new light. The same rule applies to business strategy, but it's one that category heavyweights easily ignore in their rush to hit quarterly targets – leaving windows ajar for nimble challengers to exploit.
With a mission to provide a more human alternative to traditional rivals, mobile-only startup Starling was voted Best British Bank three years running. Which explains why, when the country's Covid-19 lockdown began, and many a marketer pillaged stock footage libraries and commissioned calming piano versions of rock classics, Starling chose practicality over platitudes.
To solve a friction-point for those self-isolating and relying on community volunteers to fetch their groceries, Starling created the Connected Card: a second debit card linked to a customer's personal account. This rapid new product had a unique PIN, a spend limit of £200 and was restricted for use inside physical shops only. 18,000 vulnerable people ordered one.
By Paul Kemp Robertson, Contagious co-founder
B&Q, Build a Life (Uncommon) 
/
Alongside video conferencing apps and brands of antibacterial gel, this year gave the DIY sector its moment in the sun. With people spending more time indoors, home improvement retailer B&Q's Build a Life campaign couldn't have been better timed.
In a departure from category norms, B&Q struck a chord with UK homeowners through its emotional take on DIY: a campaign film featuring real home videos from families from every city in the UK highlighted the true value of home improvements, while a voiceover by Game of Thrones actor Rory McCann breathed new life into B&Q's long-time tagline, 'You can do it'. Then, billboards that reflect life moments (and how home improvement can shape them) appeared across the UK, made unmissable by B&Q's distinctive orange branding.
The campaign's nostalgic tone reconnects the brand with the home and family life, elevating DIY from headache-inducing to life-enhancing.
By Phoebe O'Connell, staff writer
Nike, You Can't Stop Us (Wieden & Kennedy) 
/
The third film in Nike's You Can't Stop Us campaign is so perfectly synchronised, so slick – it almost looks effortless. In reality, the 90-second video is a painstaking triumph of editing and human patience: alongside a production team, Wieden & Kennedy, Portland, sifted through 4,000 hours of footage to find 72 clips that were stitched together into 36 split-screen frames.
Narrated by US soccer player Megan Rapinoe, the film features 53 athletes from 24 sports, all masterfully blended together (a discus thrower merges into a pirouetting ballerina, a tennis serve arcs into the swing of a baseball bat). Aesthetics aside, the film sensitively tackles the headlines of 2020 (cleaners in hazmat suits disinfecting stadium seating, teams taking the knee in honour of George Floyd) and folds them into its message: You Can't Stop Us. At just shy of 59 million views (at the time of writing), this campaign is indisputably contagious.
By Phoebe O'Connell, staff writer
Almacenes Exito, Most Valuable Promo (Sancho BBDO) 
/
Bogotá agency Sancho BBDO had found the perfect place for Colombian retailer Almacenes Éxito to promote its range of electrical goods – inside Call of Duty: Mobile. It was the perfect medium to reach the young buyers that Almacenes Éxito sought. The only problem was that it didn't accept advertising.
Undeterred, Sancho BBDO came up with a solution. The agency enlisted the three top Call of Duty players in Colombia and put a discount on their heads. If players managed to kill one of the influencers in the game, they won a discount on an Almacenes Éxito product. Not only did this deceptively simply idea overcome restrictions, it did so in a way that did not feel forced or invasive, and it drove brand awareness in an uncontested space while turning its products into a badge of honour – not to mention that sales increased by a healthy 7% and an astonishing 78% of coupons were redeemed.
By Bethan Ashman, writer/researcher
Want more Contagious thinking? 
/
Subscribe to the Contagious newsletter to receive a weekly dispatch of campaigns, opinions and research, curated for strategists, creatives and marketers.
Contagious thinking delivered to your inbox 
/
Subscribe to the Contagious weekly newsletter and stay up to date with creative news, marketing trends and cutting-edge research.