Campaign of the Week
Contagious I/O
/
31 March 2020
JD.com's online club nights boost booze sales amid pandemic shutdown 
/
Online retailer partners with music group and alcohol brands to drive sales and engagement amidst the Coronavirus pandemic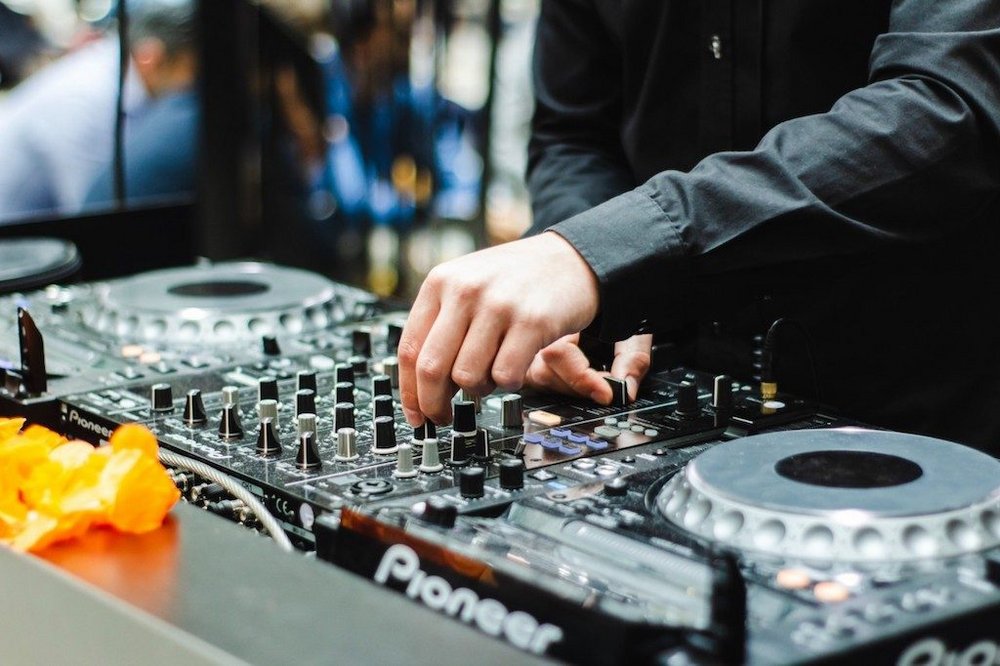 Chinese ecommerce company Jingdong (JD.com) has teamed up with Taihe Music Group (TMG) and a variety of international alcohol brands to create an Online-Clubbing experience in response to the Covid-19 pandemic.
Once a week, the online retailer will livestream a three-hour performance by one of TMG's signed DJs on its streaming platform JD Live.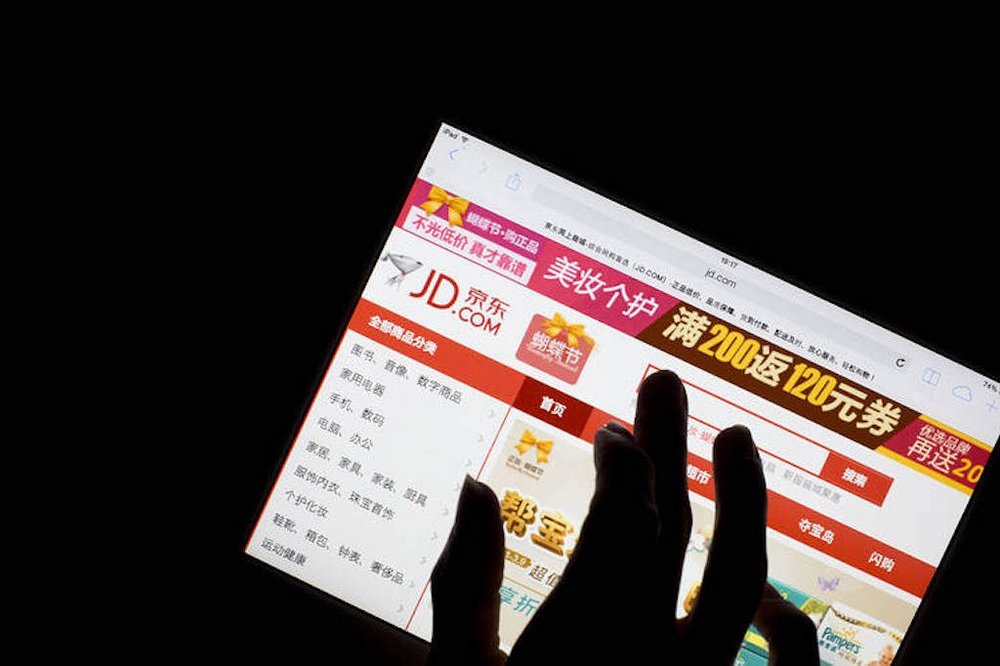 The brand partners' various alcoholic beverages will be promoted throughout each event and viewers will be given the option to immediately order the advertised product.
To date, Budweiser, Rémy Martin, Carlsberg and Pernod Ricard have signed up to the initiative in order to get their products in front of the online audience, according to JD.com.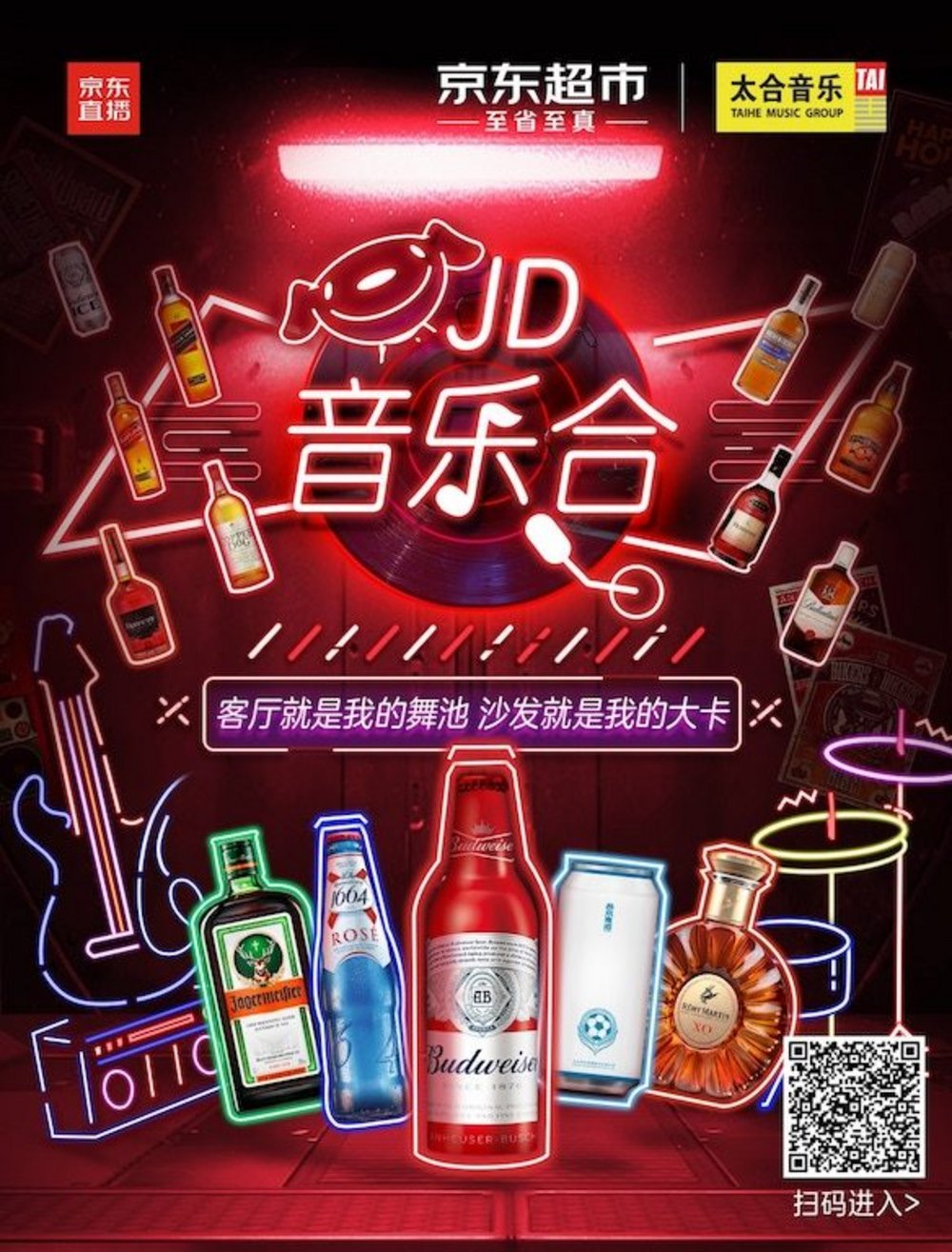 The retailer has also stated that this is a long term project and that it plans to continue using its livestreaming platform for product marketing with future opportunities for brands outside of the alcoholic beverage category to take part.
Results / JD.com has reported that during one of the live shows, one liquor brand saw a 70% increase in the sale of its whisky products, an eight-fold increase from the same time period the day before. The brand has also stated that during a different live show, one beer brand saw a 40% increase in sales compared to the day before.
Contagious Insight 
/
Party for one / Livestreaming is already proving to be a popular response to the pandemic shutdown from brands. So far, we've seen QSR chain Chipotle begin hosting virtual lunch hangouts on conferencing platform Zoom, the Sydney Opera House livestreaming its performances on YouTube and museums around the world offering virtual tours of their galleries and exhibitions. With an unprecedented number of people unexpectedly housebound, and likely to be online looking for a distraction, livestreaming is a useful way for brands to keep up engagement. What makes this campaign clever is that it has combined creating entertainment with a strong sales tool, to help keep business driving forwards.
Using livestreaming to drive sales is nothing new, (you can find out more about the rise of live commerce in China here). In fact, Pernod Ricard has previously tested this tactic in China in 2017. The brand sold thousands of bottles of Ballantine's Finest, an entry-level whisky, in just two hours during a livestreamed concert by Chinese pop singer Hua Chenyu, according to the Nikkei Asian Review. However, thanks to the restrictions implemented to control the Covid-19 pandemic, brands would do well to study the variety of ways you can entertain people and sell to them at the same time by getting on board with virtual experiences and slotting in a simple call-to-action to keep sales ticking over.
To find out about other creative ways brands are responding to the Covid-19 pandemic, take a look at our collection here, which we will be continually updating throughout the health crisis.
Ahead of the curve / While this campaign is a good way for alcohol brands to stay front of mind, it's also a smart move by the retail giant and music group. For TMG, it gives the label a chance to get its artists in front of a captive audience and for the retailer, it brings a useful stream of valuable young consumers to its site, while simultaneously giving the brand a chance to demonstrate the capabilities of its livestreaming platform to potential partners in the future.
Ecommerce aid worker / While some people may argue that ecommerce is one of the few industries shielded from the effects of the pandemic, companies cannot afford to rest on their laurels and there's a lot that brands can gain from taking a proactive approach to the current crisis. According to a study by communications agency Markstein and public opinion firm Certus Insights, 70% of consumers want to know what the brands they support are doing to address social and environmental issues. The same study also showed that 46% pay close attention to a brand's social responsibility efforts.
Rather than shying away from fears around the virus, the online retailer has met the challenge head-on by providing technology, donations and jobs to China's citizens. In February, JD.com integrated a 'smart epidemic assistant' into the Wuhan Mayor's Office WeChat account to help citizens get instant information and services related to the coronavirus; on the day of its launch, the assistant was accessed over 250,000 times, according to the brand. On 14 February, JD Super, the platform's online supermarket, donated 2,000 sets of feminine care products and 630,000 adult diapers to hospitals. The brand has also launched an Emergency Public Service Platform that leverages JD's resources in retail, logistics, finance and technologies to match demand and supply for emergency goods. JD has also pledged to hire 20,000 additional warehouse workers, couriers and drivers to limit the impact the virus has had on employment, as reported by CNN.
This was first published on Contagious I/O, our online intelligence tool. To find out more click here.
Want more Contagious thinking? 
/
Subscribe to the Contagious newsletter to receive a weekly dispatch of campaigns, opinions and research, curated for strategists, creatives and marketers.
Contagious thinking delivered to your inbox 
/
Subscribe to the Contagious weekly newsletter and stay up to date with creative news, marketing trends and cutting-edge research.