Creativity
Sunil Bajaj
/
22 June 2021
Cannes Lions: Direct Winners 2021  
/
Burger King wins Grand Prix for its Stevenage Challenge campaign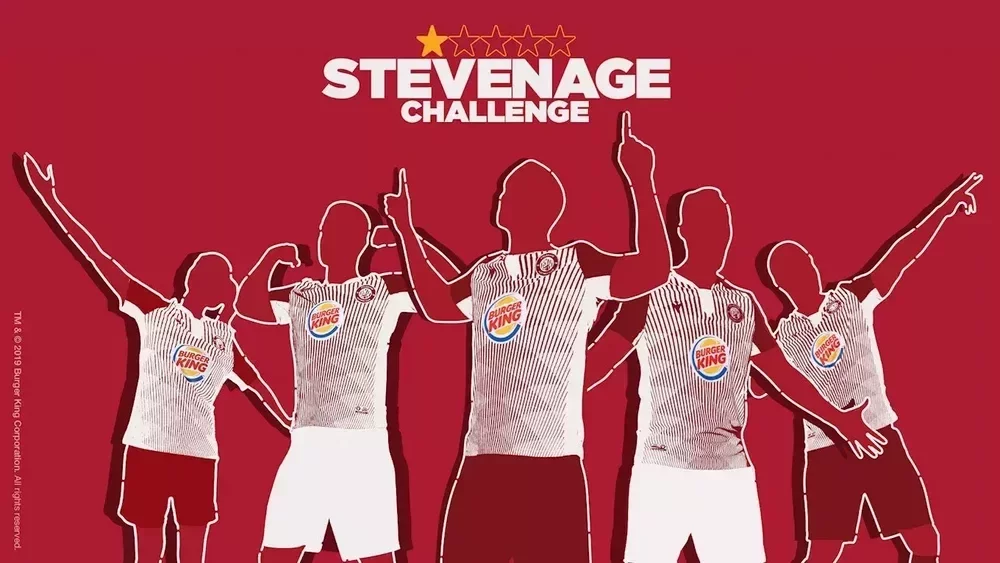 Burger King's Stevenage Challenge has taken home the Grand Prix in the Direct category at the 2021 Cannes Lions.
Burger King earned the top accolade for its 2019 to 2021 sponsorship of Stevenage FC, a football club in one of the lowest divisions of UK professional football. The fast food brand, working with agency David in Madrid and Miami, then hijacked the videogame Fifa 20 to transform Stevenage F.C. into the world's biggest online club.
Gamers were encouraged to play as the squad in their new red and white stripped BK jersey and compete within in-game challenges for prizes such as free Whoppers for a year. Using an in-game mechanic, people were also able to trade for world renowned players from across the globe and dress them in Burger King's Stevenage F.C. kit.
In a previous interview with Contagious about the campaign, global head of brand marketing Marcelo Pascoa said: 'Burger King is bold, confident challenger and that is a fundamental part of our brand personality. We rely on the creative voltage of our ideas to break through the clutter. That is not a choice but a necessity. In many markets, our main competitor outspends us big time when it comes to overall media investment. In order to stand out, we need to multiply our media dollars with ideas that have the power to become a part of the conversation and reach people beyond what can be expected through paid media alone.'
The Stevenage Challenge also won a Grand Prix in the Social & Influencer category at Cannes this year.
Another Burger King campaign, the Moldy Whopper, also scooped a Grand Prix in the Outdoor category.
Gold Lions winners /
#StillSpeakingUpDeepTruth for Propuesta Cívica and Reporters Sans Frontieres by Publicis, Mexico City
Donation Dollar for The Royal Australian Mint by Saatchi & Saatchi, Melbourne
True Name for Mastercard by McCann New York
Salla 2032 for House of Lapland by Africa DDB São Paulo
Contract for Change for AB InBev's Michelob Ultra Pure Gold by FCB, Chicago
Mother Blanket for Vivir Association and Ambato's Cantonal Human Rights Protection Council by Ogilvy Colombia, Bogota
The Birth of Gaming Tourism for Xbox by McCann, London
That Look From Popeyes for Popeyes Louisiana Kitchen by Gut, Miami
Enjoy Before Returning for Diesel by Publicis Italy Milan
Laundry Night for Procter & Gamble's Tide by Saatchi & Saatchi, New York
Anticorruption Hackathon for Znám Kamaráda by Prague & WMC|GREY, Prague
Buy With Your Time for Ikea by Memac Ogilvy Dubai
Cannes Deconstructed 
/
Want to know about the best work and key trends from this year's Cannes Lions International Festival of Creativity? Book a Contagious Cannes Deconstructed briefing for your team and we'll deliver a week's worth of festival insights in one hour. These can be delivered in person (depending on Covid restrictions) or virtually. Contact [email protected] for more information.
Contagious thinking delivered to your inbox 
/
Subscribe to the Contagious weekly newsletter and stay up to date with creative news, marketing trends and cutting-edge research.