Campaign of the Week
15 July 2019
Consumer complaints body creates Google Translate for legal jargon 
/
Consumer champion Reclame Aqui creates AI tool to help Brazilians decipher contracts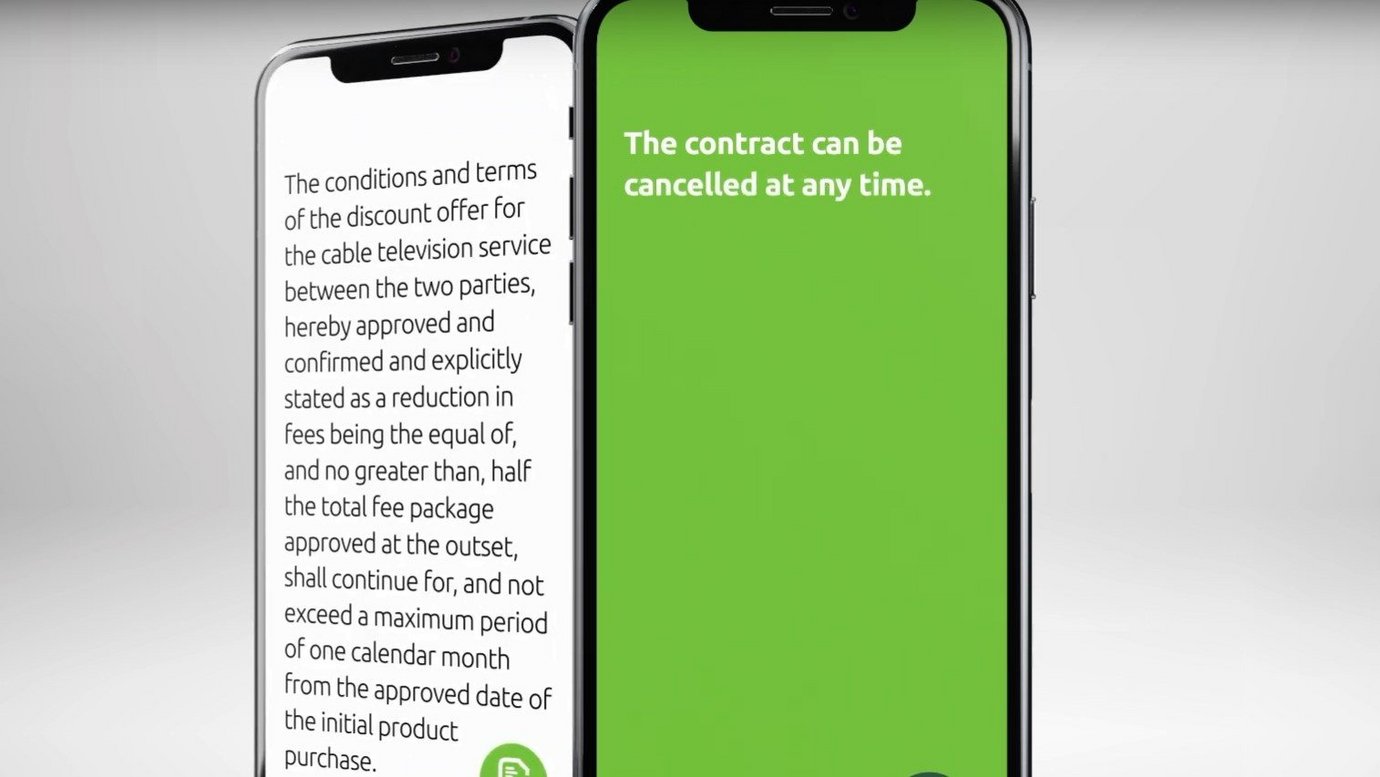 This story originally appeared on Contagious I/O, our online intelligence tool. To find out more click here.
Every year, Brazilian consumer complaints body Reclame Aqui receives 400,000 complaints from consumers who have been confused or misled by contracts that are written using complex legal language.
The brand worked with Grey Brazil to create The Contract Translator, an AI-driven tool that interprets legalese and translates it into colloquial language. The AI was trained to recognise over 500,000 legal terms, from which it identifies and extracts key information. Using term patterns, the tool matches up legal constructions to their colloquial counterparts, offering instant 'translations'. The neural network on which the tool operates was implemented with MIT's Open NMT (neural machine translation) initiative and PyTorch software and was coded on Python.
The Contract Translator can be used by photographing a text, manually typing in text or uploading a file directly into the app, which includes a feature that purports to alert users of any risks, such as fines or long-term commitments. The app was first launched for 800,000 consumers who had complained about misleading contracts, whose positive feedback led to Reclame Aqui releasing it on Google Play and the App Store.
Update 18.7.19 / Contagious has since been informed that the jury for the Mobile category at the 2019 Cannes Lions International Festival of Creativity tested the app during their deliberations and concluded that it did not work as promised.
Adriano Matos, chief creative officer at Grey Brasil, who was also on the jury (but left the room during deliberations, as per the protocol), responded: 'A juror told me that the Contract Translator was tested and [most of the time], it worked well (it's an early stage technology based on machine learning. The more it's used, the better it gets, like Google Translate in the early days). It impressed the jury so much so that the project split the room and forced the president to give a decisive vote.'
Contagious Insight 
/
Answering customer pain points / Most of us will at some point have encountered the wordy legal jargon that renders simple information complex and unintelligible, which gives The Contract Translator a universal appeal. By framing legalese and colloquial language as binary opposites, Reclame Aqui empathises with and highlights the plight of the average consumer who struggles to make sense of documents written in legal language. But rather than just acknowledging the problem, the brand makes use of the data at its disposal (in this case, consumer complaints about misleading contracts) and responds with a practical solution.
Lots of apps, from Google Translate to Word Lens, already exist to make it possible to translate language in real time from images. But by demystifying legal jargon, rather than just offering the Spanish for 'two beers, please' Reclame Aqui democratises the consumer-corporation relationship. Beyond ingratiating itself with consumers this tool positions the organisation as an accessible and authoritative source of reliable information and solutions.
Staying on brand / This initiative makes sense for a brand like Reclame Aqui, which has a history of challenging the status quo, whether it's campaigning for politicians to surrender their spare air miles to taxpayers, highlighting corruption or protesting poor customer service. As a consumer complaints body, it's important for Reclame Aqui to live up to its reputation as an accountable and impartial organisation that upholds the values of its consumers. While past initiatives have taken a more direct approach (publicly calling out politicians or campaigning for legislative changes), The Contract Translator is less explicit in its efforts to democratise and educate. Described in the case study video as 'a weapon against big corporations', the app equips users with the tools to decipher complicated legal language and levels the playing field between consumers and big corporations. By reducing a 10 page document into a single page of simple terms, Reclame Aqui neatly exposes legalese for what it really is: an unnecessarily wordy, indirect and technical form of legal language that corporations can (and do) use to both distance and protect themselves from their customers.
This story originally appeared on Contagious I/O, our online intelligence tool. To find out more click here.
Contagious thinking delivered to your inbox 
/
Subscribe to the Contagious weekly newsletter and stay up to date with creative news, marketing trends and cutting-edge research.