Campaign of the Week
Contagious I/O
/
14 April 2020
Open Table offers supermarket booking amid coronavirus pandemic 
/
Restaurant booking platform develops feature for reserving shopping times in supermarkets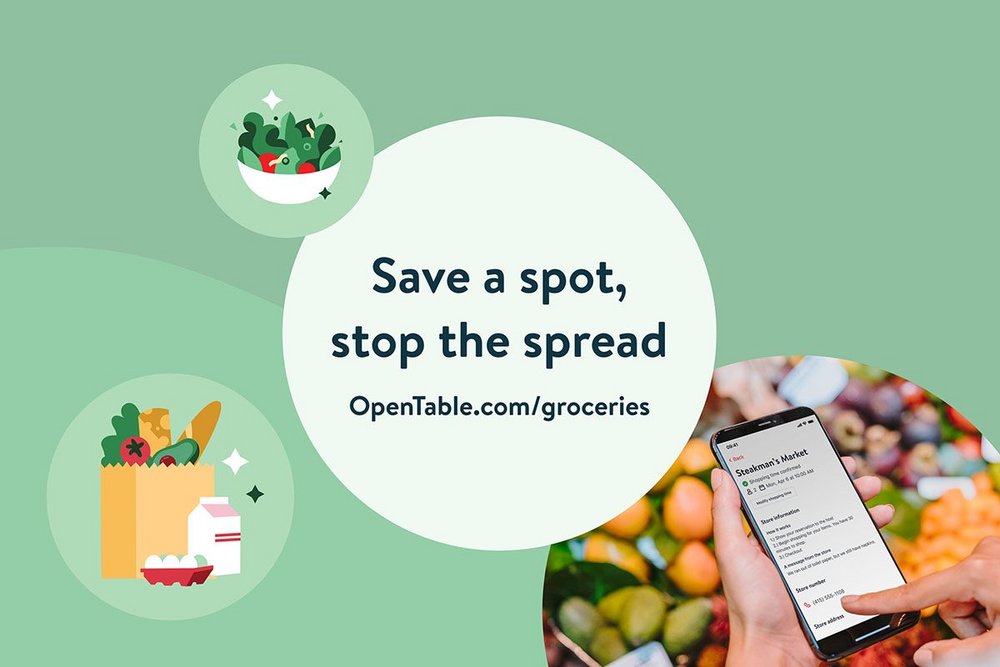 This article was first published on Contagious I/O, our online intelligence tool. To find out more click here.
OpenTable, a popular restaurant reservation platform, has expanded its service to let users reserve timeslots for shopping at participating grocery and retail stores in the US.
This tool was developed to support consumers during the coronavirus outbreak. While restaurants have been shut down to avoid spreading the illness, people face overcrowded supermarkets where maintaining social distancing measures is a challenge.
Through this new feature, grocery stores and supermarkets can limit the number of people who enter at a time while reducing crowds and waiting times for shoppers. Party sizes and reservation slots will vary depending on the retailer.
Leveraging the same mechanism as restaurant booking, it works in two ways:
1. Reserved shopping times: Just like reserving a table at a restaurant, you can reserve a time to enter a store.
2. Online waitlists: If you haven't pre-reserved, instead of standing in a physical line to get into a store, simply enter a code on your phone to join an online waitlist. Then wait for the notification in a car or down the street away from any crowds.
This feature launched in San Francisco and Los Angeles on 31 March 2020, and is currently rolling out across the US. People can check their city through the groceries page in the OpenTable app or website.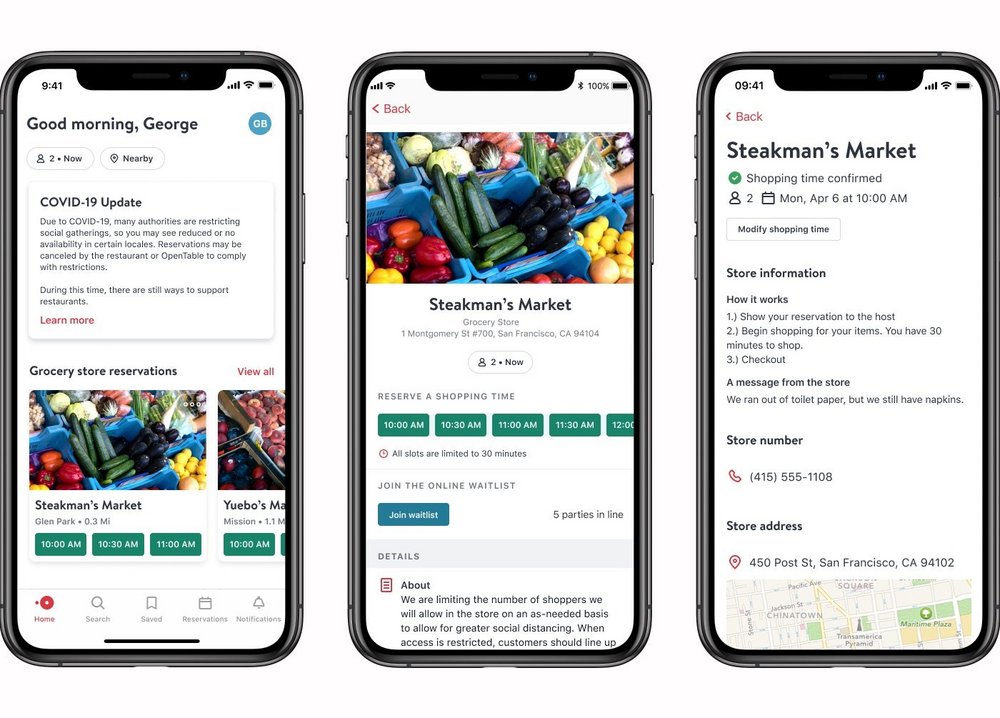 Contagious Insight 
/
Adapt to avoid obsolescence / As with many businesses, the closure of restaurants for the foreseeable future has rendered OpenTable's core service obsolete. Leveraging its own data, OpenTable found that since the end of March, the volume of seated diners at restaurants on the OpenTable network is -100% vs the previous year. However, the company has reacted quickly to how people's needs and norms are changing through adapting and innovating on its core product.
OpenTable's first response to the crisis was to encourage people to continue to support restaurants by opting for home delivery and to purchase restaurant gift cards to help with cashflow. While the early response helped support OpenTable's restaurant partners, this new feature focuses on the needs of consumers.
According to OpenTable's chief technology officer, Joseph Essas, 'We put a team of engineers together and built this in less than a week.' This agile mentality will help the company continue to adapt as consumers needs evolve throughout the course of this pandemic.
Stay true to what you do / As companies look to remain relevant and useful at a time when our behaviours and priorities have shifted, they must remember to let their north star guide them. At Contagious, we talk about businesses' organising principles helping guide their actions and decisions, which is particularly important at this turbulent time when brands may not only be accused of behaving in a way that is out of step with their core offering but could even risk being seen as profiteering.
Looking at this more positively, co-founder of Uncommon, Lucy Jameson, told us 'Working out what you sell is urgent. And figuring out how to pivot your business around that is critical. The gyms who think they sell a space to work out are currently closed, the ones who realised they sell motivation and belonging are finding new audiences and revenue online, which may help them stay afloat.'
We also recently reported on Time Out's latest Time In campaign, which embraces Jameson's above philosophy and successfully flexes its core offering to maintain relevance during this time of social distancing.
Age appropriate? / While this new tool is helpful in managing crowd control in stores in a contactless way, its ability to support the most vulnerable may be limited. One of the key at-risk groups is people over the age of 70, who have so far been catered to predominantly through special shopping hours for seniors. While OpenTable's initiative will be useful in overall store management, this platform is likely not the most appropriate for this age group in terms of accessibility given that, in the US, 80% of over 70s have not heard of OpenTable.
This article was first published on Contagious I/O, our online intelligence tool. To find out more click here.
Want more Contagious thinking? 
/
Subscribe to the Contagious newsletter to receive a weekly dispatch of campaigns, opinions and research, curated for strategists, creatives and marketers.
Contagious thinking delivered to your inbox 
/
Subscribe to the Contagious weekly newsletter and stay up to date with creative news, marketing trends and cutting-edge research.