Article
James Swift
/
2 December 2020
The Most Contagious Campaigns of 2020: part 3 
/
The 25 best campaigns of the year, according to the Contagious team.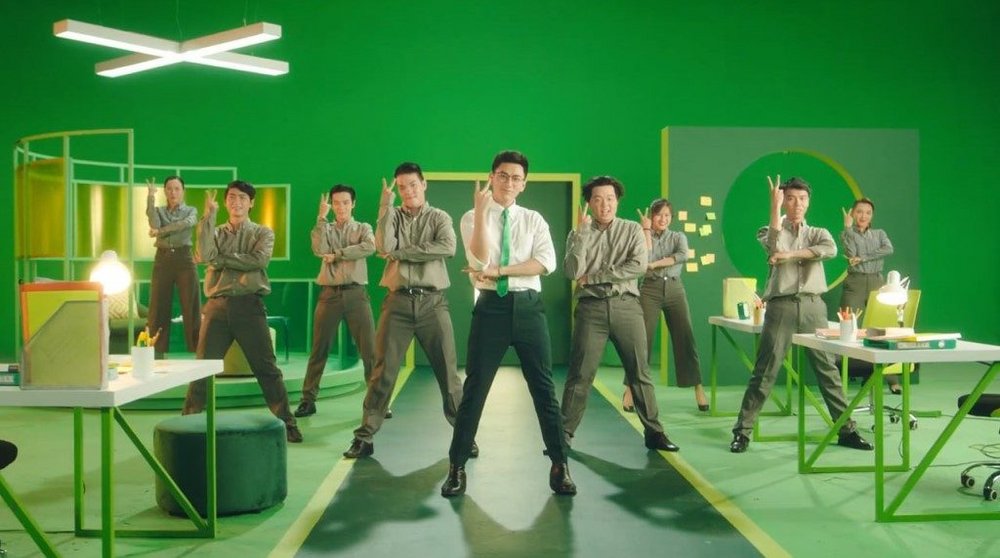 The end of the year is in sight so we're celebrating the best ads of 2020.
The Contagious team sifts through tens of thousands of campaigns every year but only a small percentage are selected for our I/O platform.
This list represents the best of the best. It's the 25 campaigns that we've judged to be the most creative, most effective or just the most impossible to ignore.
Here is part three (of five) of The Most Contagious Campaigns of 2020.
Bodyform, Womb Stories (AMV BBDO, London)  
/
Leave it to Bodyform to end the culture of silence around women's reproductive organs. In a graduation from the all-singing, all-dancing celebration of female anatomy that was Viva La Vulva, Bodyform's Womb Stories tackled the stigma surrounding many unspoken experiences, such as IVF, miscarriage, endometriosis and menopause.
It's the type of boundary-pushing work we've come to expect from the feminine hygiene brand, but that doesn't make it any less powerful. From the heartbreak of a miscarriage to a woman plucking a hair from her nipple, there's not a whiff of euphemism or sugar-coating; as a brand with a mission to 'live fearless', Bodyform doesn't have time for that. Womb Stories not only pushes the conversation forward, it starts new ones. And for that, it deserves a spot on the list.
By Phoebe O'Connell, writer
Tesco, No Naughty List (BBH, London)  
/
The Christmas brief this year was not an easy one to judge. To tug extra hard at the heartstrings or provide escape from the gloom with something absurd? To be fair, brands showed you could succeed with either approach. John Lewis produced a beautifully crafted ode to random acts of kindness, for instance. And paper towel brand Plenty won us over with its excessively gross sermon on festive mess.
But for us, a strong idea always wins the day, and on that criteria, Tesco is our pick of the bunch.
The supermarket's declaration that this year there is no naughty list was witty, memorable and relatable, and it was firmly anchored to a business goal – to get people to treat themselves at Tesco.
You could quibble that the execution wasn't as slick as other brands' festive efforts, but if we had to bet on the hardest-working Christmas ad of 2020, this one would get our money.
By James Swift, online editor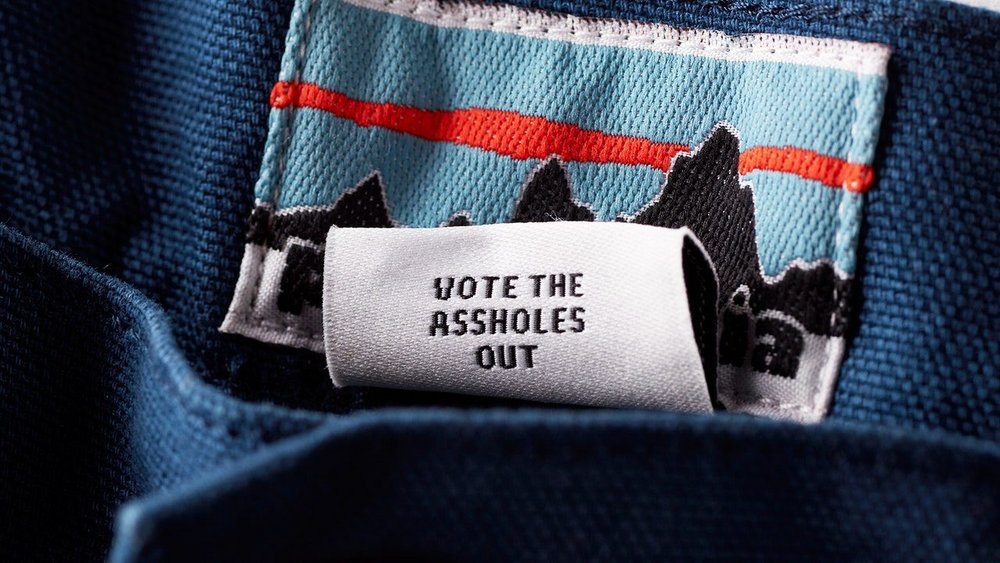 Vote the Assholes Out, Patagonia 
/
As media placements go, the reverse side of a clothing label inside a pair of shorts is hardly a Times Square takeover, but Patagonia's hidden message encouraging people to vote arguably had far greater impact. Photos of the tag went viral first through shock and intrigue ('Is it real?'), and then through global media coverage, with everyone from Vogue to CNN confirming its existence. The phrase, coined by Patagonia founder Yvon Chouinard, aimed to create a specific action: voting climate-change deniers out of office in the United States.
When we asked Patagonia's European marketing director, Alex Weller, about whether all brands should follow Patagonia's rabble-rousing example, he said, 'There should be no excuse. The reality is that all businesses must work out how to prioritize the health of the planet within their business model'. Oh, and the shorts with the tag sold out, too.
By Alex Jenkins, editorial director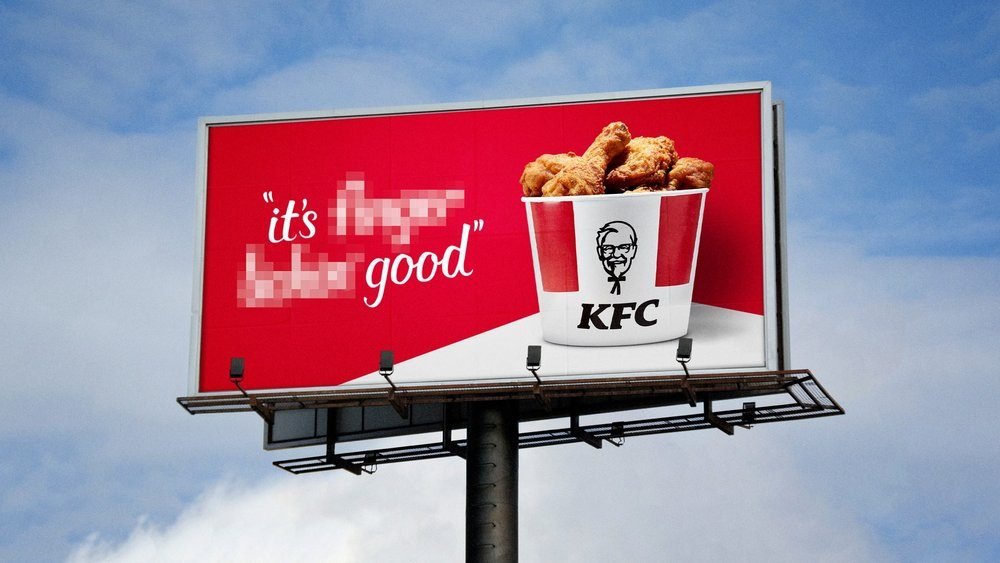 KFC, Finger Lickin' Good* (Mother, London) 
/
KFC knows a thing or two about how to handle bad press, and in the UK it found itself on the receiving end again as the Covid-19 crisis made its TV spot of customers gleefully licking their fingers the subject of much outrage. Celebrating finger lickin' could not have been more inappropriate. Time to duck and cover? Or maybe time to launch the brand's first ever global campaign instead. Yes, that's more KFC's style.
Working with Mother London, the fast food brand tackled the slogan head on with Finger Lickin' Good* (note the asterisk), releasing posters, giant billboards and packaging with the tagline blurred and pixelated around the world. The brand also released a global TV spot on the biggest prime time spots declaring, 'That thing we always say? Ignore it, for now,' before ending with a censored version of the tagline. The move whipped up headlines around the world, amassing a deluge of earned media. 'When everybody else runs away from a problem, we just walk straight into it, and just learn how to do it,' said Mother creative partner Hermeti Balarin.
By Adam Richmond, sub editor
Berocca, Get Supercharged at 2pm (Carnival, Ho Chi Minh City)  
/
Berocca in Vietnam was the market-leading multivitamin, but people only bought the product when they felt ill. In a bid to increase consumption, the Bayer-owned brand re-introduced itself as the solution to the mid-afternoon slump, in a bid to capture a slice of the lucrative energy-drink market.
For its repositioning campaign, Berocca used three celebrities to create a music video with upbeat dance moves and catchy lyrics, to tell people to use Berocca when they felt tired in the afternoon. People were then challenged to replicate the dance on TikTok. In the wake of the campaign, online sales increased by 675% and offline sales by 115% compared with the previous three months. And by harnessing TikTok's popularity, the brand got people (quite literally) singing about its new positioning.
By Bethan Ashman, writer/researcher
Want more Contagious thinking? 
/
Subscribe to the Contagious newsletter to receive a weekly dispatch of campaigns, opinions and research, curated for strategists, creatives and marketers.
Contagious thinking delivered to your inbox 
/
Subscribe to the Contagious weekly newsletter and stay up to date with creative news, marketing trends and cutting-edge research.