Insight & strategy
9 May 2022
The strategy behind Butterkist's Downing Street 'Partygate' stunt 
/
How popcorn brand Butterkist hijacked a topical news event and made headlines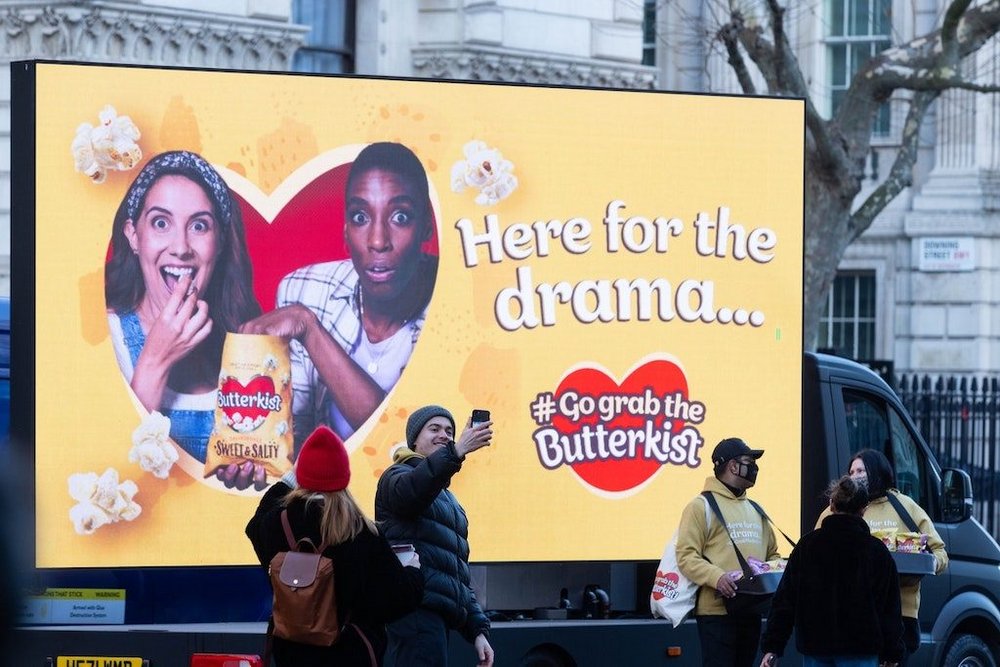 On 21 January, Butterkist popcorn drove a digital billboard that read 'Here for the drama' to Downing Street amid a scandal over parties at the UK prime minister's offices during lockdown.
At the time, the UK was awaiting the release of a report by senior civil servant Sue Gray into the alleged rule breaking.
Butterkist worked with London agency St Luke's and PR firm Red Consultancy to organise the stunt. The billboard featured the hashtag #GoGrabTheButterkist, as well as an image of two people eating popcorn – a reference to a well-known meme featuring Michael Jackson. Alongside the billboard, packets of sweet-and-salty Butterkist popcorn were handed to passersby, and the stunt was promoted on social media.
To get to the heart of the idea and how it relates back to Butterkist's positioning, we sat down with St Luke's planning director Emma Banks and executive creative director Richard Denney.
Tell me about Butterkist and where it sits in the market.
Richard Denney: Butterkist sits within the KP portfolio. So we've got Popchips, Tyrrells, KP nuts, and then we pitched for Butterkist last year. It's over 100 years old, it's the nation's favourite popcorn and so it's classed as one of KP's heritage brands, it's a classic. But with this sort of brand, you're not going to get huge budgets on TV and all the bells and whistles, so you've got to be clever. And also you have a lot of other popcorn brands coming into the fall, like Metcalfe's. So even though Butterkist is already the nation's favourite popcorn, it's about keeping them right at the heart and up to date with modern marketing.
Emma Banks: It's far and away the market leader and they had an amazing couple of years during the pandemic as you can imagine, in lockdown, with everyone buying Butterkist for their movie nights in with the family – rocketing sales. But in the meantime, there have been lots of new entrants in the category, there's lots of innovation and there was a risk of that depositioning Butterkist as this old-school, sticky, cinema popcorn. Butterkist's ambition is to maintain its market-leading status and maintain the throne. But they also want to go after other shared snacking moments. During the pandemic, we were eating popcorn, but we were also eating crisps and chocolate and inviting our friends round for sports nights or dinner parties. They want to expand their relevance beyond just the movie moment, so we needed to find a way to punch above our weight, and really land ourselves into other occasions.
Denney: The other thing as well is obviously innovation and new product development. You want marketing and language and a brand world that will put you at the heart of those moments, but also you need to drop new things in when they come along.
We're constantly looking out for opportunities to own unmissable moments in culture. That's the brief
Emma Banks, St Luke's
Did this idea come out of an ongoing brief then?
Banks: Yeah, we've built this platform of 'Go grab the Butterkist' and the overarching ambition is to replace 'Go grab the popcorn' with 'Go grab the Butterkist' – we want to be the iconic popcorn in culture. We've got a constant newsroom mentality, as opposed to traditional campaigns. We've got this ongoing conversation with our client and with Red PR and we're constantly looking out for opportunities to own unmissable moments in culture. That's the brief.
Denney: To build on that, you don't necessarily need big marketing budgets to play on TV, I think you want to actually break away from that – you want an idea that's flexible, that can work in television and cinema, but the brief is to be always on, having a modern tone of voice. 'Go grab the Butterkist' was meant to be a line that could be socially reactive, that hopefully becomes part of the vernacular. Especially with popcorn memes, from Michael Jackson to SpongeBob SquarePants – there are so many of them now and we were right at the heart of that.
So that line was absolutely written with the intention to be able to join a conversation. So when something's kicking off on social media, a bit of entertainment between some celebrities, or a nail-biting VAR moment at the World Cup, you can literally just drop the hashtag #GoGrabTheButterkist, or a meme. We've designed one using the heart on the packaging. If you think about all these moments that are happening, one post can be socially reactive and all of a sudden everyone's resharing it and becoming part of the conversation.
Straight away, you're owning that, and to Emma's point, 'Go grab the popcorn' becomes 'Go grab the Butterkist', which is what we want long term. That gives you modern marketing. If you think about 'Should have gone to Specsavers' – classic retail high street brand, just like popcorn. Even if you don't eat popcorn, or even if you don't wear glasses, phrases like that become part of the vernacular. Marmite is another one. And that's what we wanted with popcorn because it is all about enjoyment and fun. 'Unmissable moments' was our build on it.
Whatever we join has to be as unmissable as the product itself. So then people are excited and waiting for the next time Butterkist drops into something, whether that is a tweet or turning up outside parliament, it's about disruption and doing things differently, reinventing it every time. That way you keep Butterkist at the forefront and make it as entertaining as the moment that we're joining.
You're more likely to get more eyeballs doing something when no one else is shouting and trying to get attention
Richard Denney, St Luke's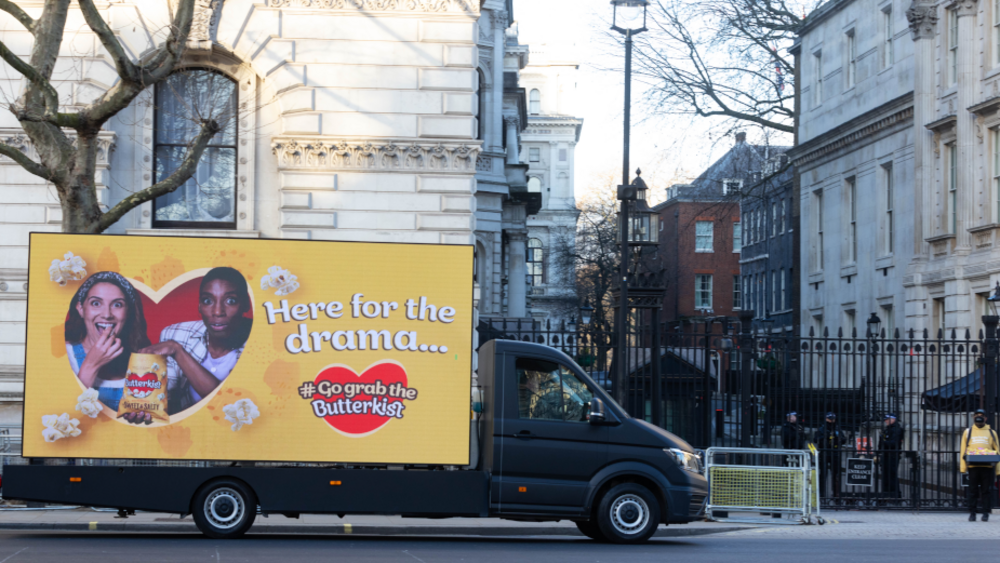 What other kinds of conversations has Butterkist joined before now?
Banks: We've just started to build up our social following and respond in our signature, cheeky tone of voice in unmissable entertainment moments, entering the conversation. But I suppose this is about creating a conversation. We wanted to go further and rather than just comment on the unmissable moment, create one in and of itself. That was the logic behind the ad van – rather than just tweet about it, let's send a truly unmissable thing driving around Westminster. There was already a captive audience there waiting for Sue Gray report, with paparazzi and journalists ready to take the shot. It felt like a really great opportunity to really elevate the thinking.
Denney: As a team, we have a calendar of events, and you can have all the classics like the Jubilee and International Women's Day and World Earth Day, but what other things are coming up? So we're on a WhatsApp group, and that's not just for St Luke's, that's for the client, Red PR. We're looking for moments where we're all in agreement that us joining is going to be funny. So we're always looking and sharing and finding moments when no one else is doing it. You're more likely to get more eyeballs doing something when no one else is shouting and trying to get attention.
We've got really clear guardrails around what is and isn't a Butterkist moment
Emma Banks, St Luke's
What made the Sue Gray report such an 'unmissable moment'?
It's timing and everyone wanting to feel a bit of light-heartedness. We're not going political, we're going out there and saying, it's all about drama. It was the right thing to do at the right time. We knew we had to go out before anyone else did, so we went out on that Friday. Do we wait for the report? No, let's just get out there.
And from one picture, by one of the Sky journalists there, it went so quickly. And on a Friday, as we learned from Red PR, a photo story is quite unprecedented. It's usually a Monday for that type of story. But it absolutely worked. It was so quick. We were glued to it. We had the Red PR team seeing how people interacted and we had our internal cameraman down there to capture stuff so we could then build it into TikTok and different formats, to start playing with the audience as they were engaging with Butterkist. Butterkist doesn't have a huge following, but they're getting there now because the social feed is a form of entertainment.
Do you remember during lockdown, the 'Rate my KFC' campaign? I never followed KFC before – I follow them now because the writer in that team is fucking genius. People were sending in their pictures [of homemade KFC] and [the brand] was quite brutal. It's so funny. That's the ambition. If you're entertaining, you're going to get more followers, people are going to wait to see where you appear next. So we did [the van stunt] and then asked people to share some of their favourite memes for a chance to get some popcorn and start a discussion. It absolutely worked a treat.
It's an entertainment moment, you're watching something unfold, you're not commentating on [Boris Johnson's] actions, you're commentating on the circus around it
Richard Denney, St Luke's
It's all the more impressive that it was a simple, low-tech idea. With such a sensitive topic at hand, did you have any conversations about tone?
Banks: We've got really clear guardrails around what is and isn't a Butterkist moment. We wouldn't weigh in on either side of the debate, we were just there for the drama. We worked really closely with Red PR, who are real experts in this, and they really helped make sure that we approached it sensitively. Given there was already so much showbiz and chatter around it already, and people were already using the popcorn memes to talk about Partygate, it felt like we were pushing on an open door. It had 98% positive sentiment – so only 2% negative sentiment, which we think is probably Boris Johnson.
Denney: When I first saw it, I burst into laughter. And like you say, it isn't really that technical. The power of a poster, it's a cultural moment, it's splashed everywhere. As Emma said, people were already creating their memes, people were already having a laugh with it. And although it is a political thing, what everyone did first was burst into laughter. It's interesting when you evaluate stuff on a human level – we all laughed. It's a popcorn moment. There's just a light side to it, it was the right thing to do. Something like what happened at the Oscars [when Will Smith assaulted host Chris Rock during the ceremony], we're not joining a joke when it's about violence, whereas 'I partied, I didn't party' was just getting funny. It's an entertainment moment, you're watching something unfold, you're not commentating on [Boris Johnson's] actions, you're commentating on the circus around it.
The nature of the idea is about capturing entertainment and making it fun and enjoyable, it's what the brand is all about
Richard Denney, St Luke's
The quick turnaround speaks to the trust between you and the client.
Banks: That is really the key to all this. We've got such a trusting, strong relationship with the client, they've got really big ambitions for the brand. Their one-line brief to us was 'Make Butterkist the iconic popcorn brand, get us into culture', so we're in constant conversation, which makes those turnarounds really quick and easy. They make time for us, they made time to sell it to their bosses. And we were also pulling up our sleeves, ringing around, getting the van ourselves – it all happened in about two days. It was all hands on deck, a scrappy, entrepreneurial spirit, everyone getting involved. We had clients and interns handing out popcorn.
Denney: Yeah [our intern] Alex said, well, if we're going to hand out popcorn, we need jumpers. He went on Asos and bought a load of yellow jumpers and within 24 hours we had our 'Go grab the Butterkist' heart on the back and 'Here for the drama' on the front. Everyone was putting these hoodies on and they were all down there handing out popcorn. The nature of the idea is about capturing entertainment and making it fun and enjoyable, it's what the brand is all about.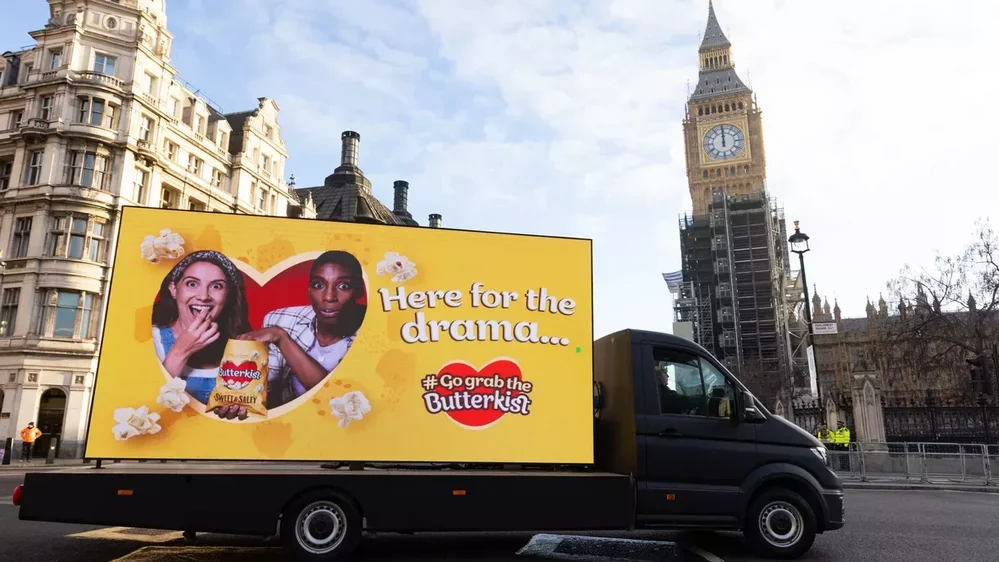 How was the media plan tailored to extend the lifespan of the ad van?
Denney: Amplification is important. You're joining a moment when there are paparazzi, and journalists milling around, and MPs are going in. So we took a camera crew and photographers so that we could capture stuff, which was sent back to us straight away. We were looking at that, picking a shot, 'That's good, cut that bit' – this was all happening on WhatsApp. Copy was being written, some of it preempted, but it was really newsroom. This is where Red came in, pushing and amplifying, seeing how people are engaging and going, let's play with them, let's ask them about their favourite memes and stuff. And people were sharing their responses. It was kept quite raw, rather than it feeling inauthentic. It's fast, you're onto the next thing within two or three hours. Something else has come along. So we refreshed a couple of articles, added new headlines and then put it back out there, repurposing people's comments and sharing them.
Banks: The TikTok stuff was filmed on a phone so it's really native to the platform, we used the sounds within the platform that are associated with drama and entertainment. It was in the language of unmissable moments. And as Rich touched on, we went one to one speaking to people who were sharing the story or talking about Partygate, getting them to share their memes to be in with a chance to go down there and win free popcorn, driving people to the site on the day. It was scrappy but really fun, and we managed to produce a lot of content in a day.
Any moment in culture is fair game as long as you've got a really strong reason to be there
Emma Banks, St Luke's
What results have you seen so far?
Denney: Ten national titles on a Friday, from one photo story, is pretty unheard of. The word Butterkist appeared in 8 million tweets in 48 hours. And we had combined reach of 86 million people. All from one poster. And it was about that poster – the handing out of the popcorn was just an added bonus, a bit of fun. It wasn't there as a sampling moment.
Banks: We had a small media budget on social just to boost a few posts, but all those numbers have come just from a great shot taken by a press photographer.
What did you learn from creating this campaign?
Denney: I didn't realise that people are not as engaged on a Friday as they would be maybe on a Monday. I just wanted to get it out on the Friday. So that's something – timing is really important if you haven't got a big budget. I've worked on pro bono work before for things like International Women's Day where you're flooded by everyone else. So you go out later, or you go out in the lead-up.
Banks: My one would be that politics is a bit of a risky space to play in, but I think any moment in culture is fair game as long as you've got a really strong reason to be there. What we've built with the 'Go grab the Butterkist' platform gives us a really strong sense of what a Butterkist moment is. We had kind of a strong reason to be there. It's that saying, fortune favours the brave.
Get Contagious Membership 
/
This article was taken from Contagious Online, a constantly updated and fully searchable platform filled with advertising case studies, in-depth strategy interviews and other resources. To find out more about Contagious Online or to arrange a free trial, click here.
Contagious thinking delivered to your inbox 
/
Subscribe to the Contagious weekly newsletter and stay up to date with creative news, marketing trends and cutting-edge research.