Most Contagious 2019: what happened 
/
The insights, highlights and soundbites from Most Contagious 2019
Every year at Most Contagious we make the case for creative bravery.
We do this because we believe brands that encourage and implement risky ideas beat those that play it safe.
This is the foundation of Contagious' business model and it is the lens through which we analyse advertising, and so we tend to talk about it a lot.
But at Most Contagious 2019 our notions of creative bravery were put in their place by two speakers who demonstrated nerve beyond the call of marketing duty.
Matt Rivitz, who co-founded Sleeping Giants to deprive extreme right-wing news outlets of advertising revenue, talked about continuing his work even after The Daily Caller doxxed him, leaving him open to antisemitic abuse and death threats.
And Pankaj Bhalla, Procter & Gamble's VP of shave care, described standing behind Gillette's The Best Men Can Be ad, even after online trolls published pictures of his son and posted his walking route to school.
Similarly, Black & Abroad co-founder Eric Martin talked about his brand's Go Back To Africa campaign, which turned the racial slur on its head to promote tourism to the continent, and the crisis management expert who told him 'under no circumstances should you run this campaign'.
There were plenty of reasons to despair within these anecdotes: the parlous state of political discourse, the unwieldy rage fueling the culture wars, and the hateful online abuse that is as pervasive and toxic as smog.
But there is also at least one good thing you can salvage from their stories. Rivitz and Bhalla were harassed because their work mattered enough to register with trolls and other bad actors. We're not saying it's right, or that it's an acceptable cost of doing business, but it is at least evidence that advertising and marketing can make a real difference.
It just might take a bit more bravery than you expect.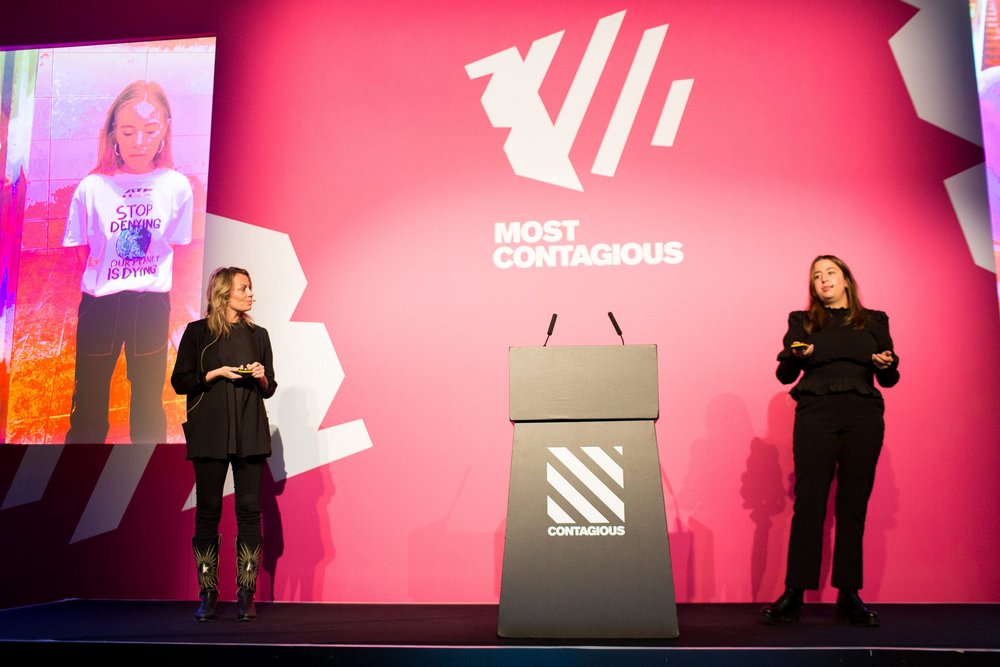 Address The Future 
/
After Bruce Springsteen first performed in Gothenberg wearing Levi's 501 jeans, demand for denim in the Swedish city rocketed, and Carlings became the go-to stockist. The retailer thrived and spread to 200 locations, but it didn't establish an online presence 2018.
To announce its fashionably late arrival to ecommerce, Carlings (working with Virtue Nordic) came up with an idea inspired by the people buying clothes just to wear once in an Instagram snap: a service that digitally edited bold and stylish clothes onto people in photographs. The idea triggered a massive global response from teens and other brands. Shortly after Carlings introduced its service, Nike released a shoe in Fortnite and a pop-up shop appeared in London that offered only digital fashions.
At Most Contagious, Carlings also announced its new idea: an augmented reality t-shirt onto which statements can be added in photos.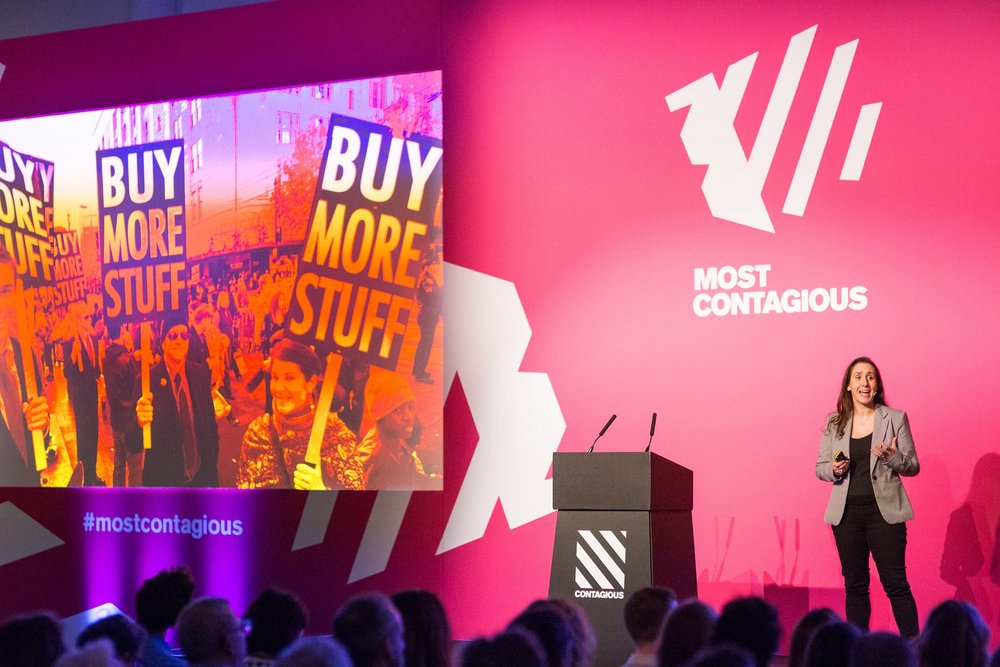 The Consumption Conundrum 
/
The planet needs people to consume less, but marketing is about getting people to buy and use more – that's the consumption conundrum facing marketers and ad agencies, explained Contagious editor Chloe Markowicz.
But the conundrum is not unsolvable. New and more sustainable practices are emerging all the time. Fashion brands like Burberry have partnered with re-sale websites, and car manufacturers like Porsche have experimented with subscription services, demonstrating that recycling and sharing can be luxurious. And Patagonia shows that encouraging responsible consumption is not a slippery path to financial ruin. The year after Patagonia published a Black Friday campaign telling people not to buy its clothes unless necessary its sales increased by 30%. And this is no isolated example. NYU Stern researchers examined US CPG goods between 2013 and 2018 and found those products marketed as sustainable grew 5.6 times faster than those that weren't. The planet needs more responsible consumption, and people are starting to demand it.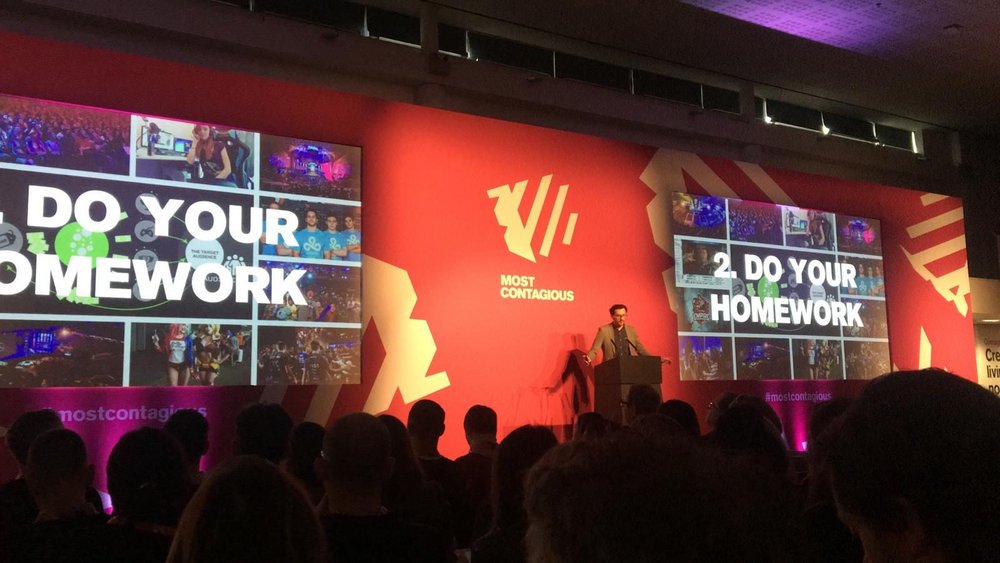 Game Changer 
/
Esports will attract audiences of 454 million and sector revenues will hit $1.1bn this year, according to research from Newzoo. And 82% of investment into the industry comes from advertising, sponsorship and media rights. Contagious staff writer Sunil Bajaj had some words of wisdom for those brands wishing to enter the fray. He advised, among other things, learning the culture and vocabulary of the gaming to avoid being mocked and rejected, and looking not just at ways to bring attention to the brand, but also to bring value to gaming audiences. If how your brand fits with the culture is simply an afterthought, your brand will be, too.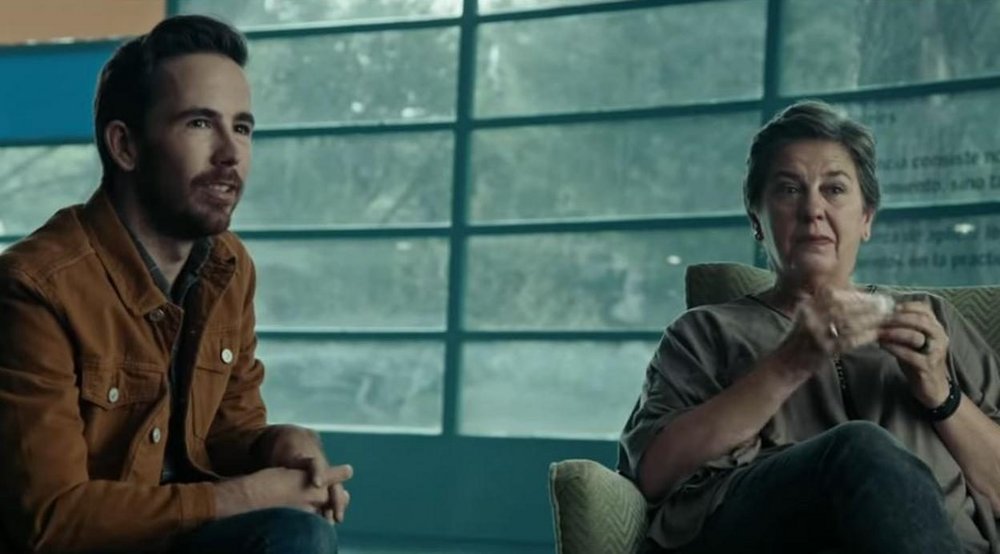 We Have to See More Of Each Other 
/
Spanish liqueur brand Ruavieja wanted to create marketing that reflected its belief that a society where people care about how they bond with each other is a great place to live. Leo Burnett Madrid took that brief and turned it into a health issue, creating a tool that told people exactly how long they will spend with a loved one before, statistically, one of the pair is likely to, well, die. It was exactly the kind of 'stab in the face' needed to tear people away from their screens, said Gaston Guetmonovitch, Juan Frías and Daniel Saenz, all from Leo Burnett Madrid.
They told the client: 'This is the idea, but we don't know what is going to happen'. The client's response? 'Awesome'. Fortunately the video explaining the campaign spread far and wide and quickly, racking up millions of views in a matter of days, making the news and entering into parody. It became the most-watched ad in Spanish history with hardly any media spend and the brand was able to divert the money ring-fenced to promote its message into helping people reunite with their loved ones for real.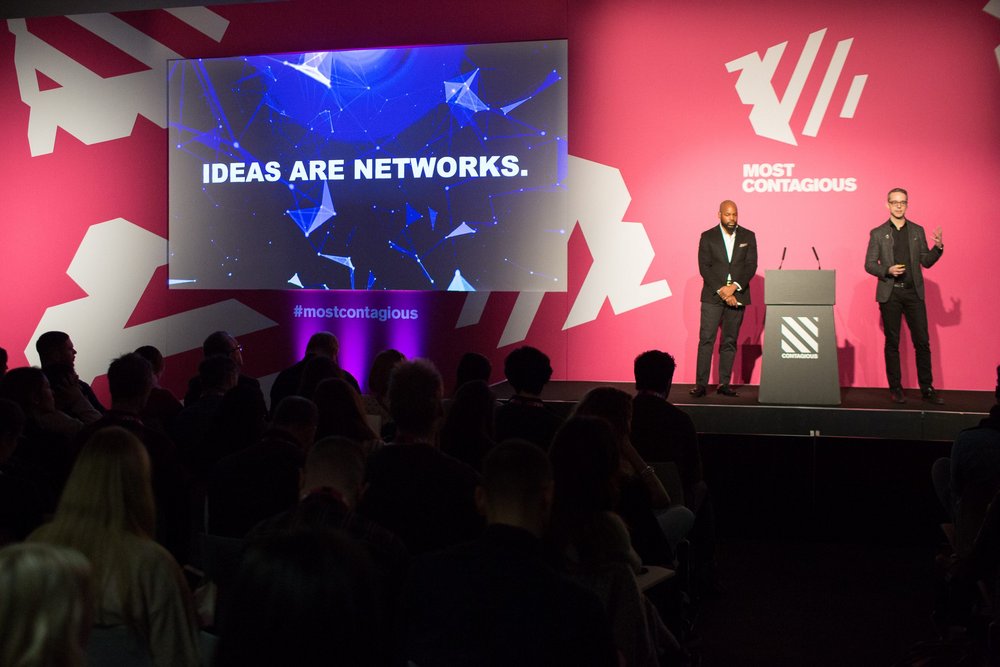 Go Back to Africa 
/
Black & Abroad co-founder Eric Martin and FCB/Six's CCO, Ian Mackenzie, came to Most Contagious to talk about how an ad agency and a client can build a big idea.
This is a topic on which they are well versed, having won the Creative Data Grand Prix at Cannes this year for Go Back To Africa, a campaign that turned the racial slur on its head to promote tourism to the continent,
Martin said he was scared that people would misunderstand the message and he would end up in the 'cross hairs of cancel culture'. That concern was no doubt compounded by the PR advisor who told him 'under no circumstance should you run this campaign'. But Martin said he 'decided to go ahead and invest in that fear'.
'With every good project I've been on,' noted Mackenzie, 'there's been some version of the senior client slamming their fist on the table and saying "we have to do this"'. Great work rarely happens without that commitment, he noted.
Beyond creative bravery, Martin and Mackenzie offered two more tips for building a big idea: the first was that, from Archimedes in the bath to Newton and his apple, stories about ideas are too often simplified in the West. In truth, ideas are complex networks of adjacencies, not singular concepts.
The second tip was that iteration is essential.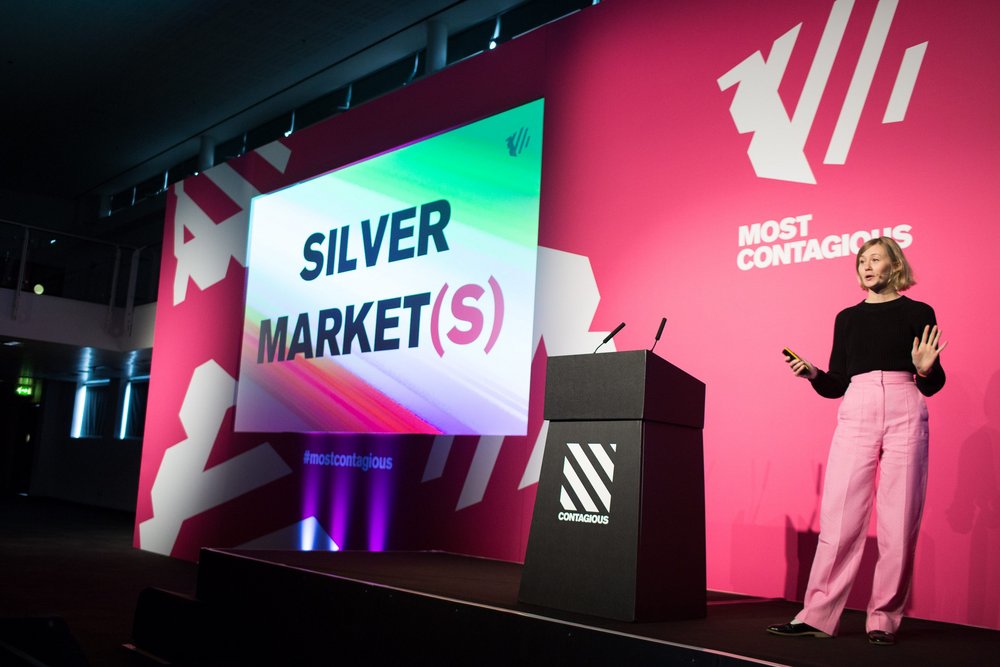 OK, Boomer 
/
Intergenerational tensions have reached a rolling boil, as evidenced by the spread of 'OK Boomer' as an insult.
But as an industry we have been ignoring or mistreating our elders for a long time, argued Contagious strategist Becca Peel.
Around 79% of over-50s believe they are not accurately represented in advertising and that's probably because marketers treat everyone over 50 as one market. As aging expert Dr Florian Kohlbacher told Contagious earlier this year, segmenting by age is a fallacy. Do Robert Downey Junior (54), Samuel L Jackson (70), Jennifer Lopez (50) and Michelle Obama (55) fit the traditional silver markets stereotypes? Obviously not.
Some brands have already made strides in this area, for instance Adidas with it's Billie Jean King Your Shoes campaign and Citroën with its Iris Apfel ads. Meanwhile, L'Oreal has worked with Vogue to create the Non-Issue, a magazine celebrating women over 50 which, according to creative agency McCann was more popular than Vogue's September issue (although by what metric we are not sure).
We also discovered that when you acknowledge older women, not only will you not alienate younger women, they will love you for it. Win win.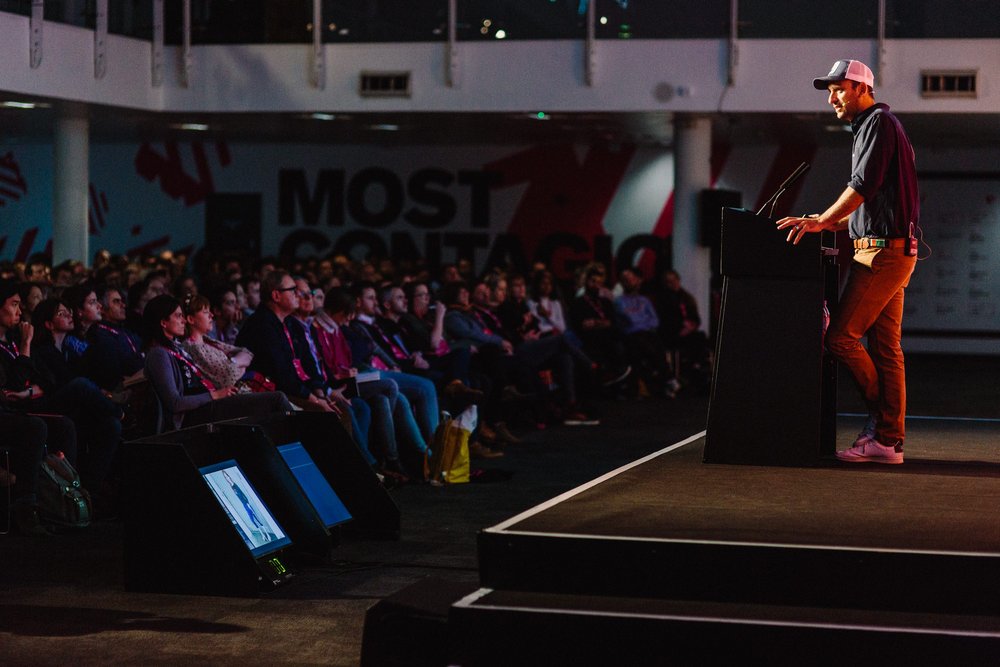 Sleeping Giants 
/
We talk a lot about changing the world in advertising, said Matt Rivitz, whose Sleeping Giants organisation has pressured brands to remove their ads from hateful right-wing media, adding that 'if looked at Cannes you'd think that we'd changed the world 100 times already this year'.
Obviously that's not the case, but Rivitz believes marketers 'have a once-in-a-lifetime' opportunity to change the world right now.
Rivitz created Sleeping Giants in the wake of the 2016 US presidential election and his mission to rob right-wing websites of advertiser funding has seen him grapple with brands, re-targetting systems offered by the likes of Google, and social media networks. It also put him in the cross hairs of right-wing pundits like Fox's Bill O'Reilly and Infowars' Alex Jones.
Through the death threats and abuse he has received for his efforts, he learned 'there's no one better to change the world than us'. Advertising supports the bulk of the internet, where much of the hate is spread. It doesn't take a $20m campaign like those made by Nike to make a difference, all it takes is a little more judgement when it comes to spending media dollars.
'That's why', said Rivitz, 'I don't talk about brand safety, I talk about brand responsibility.'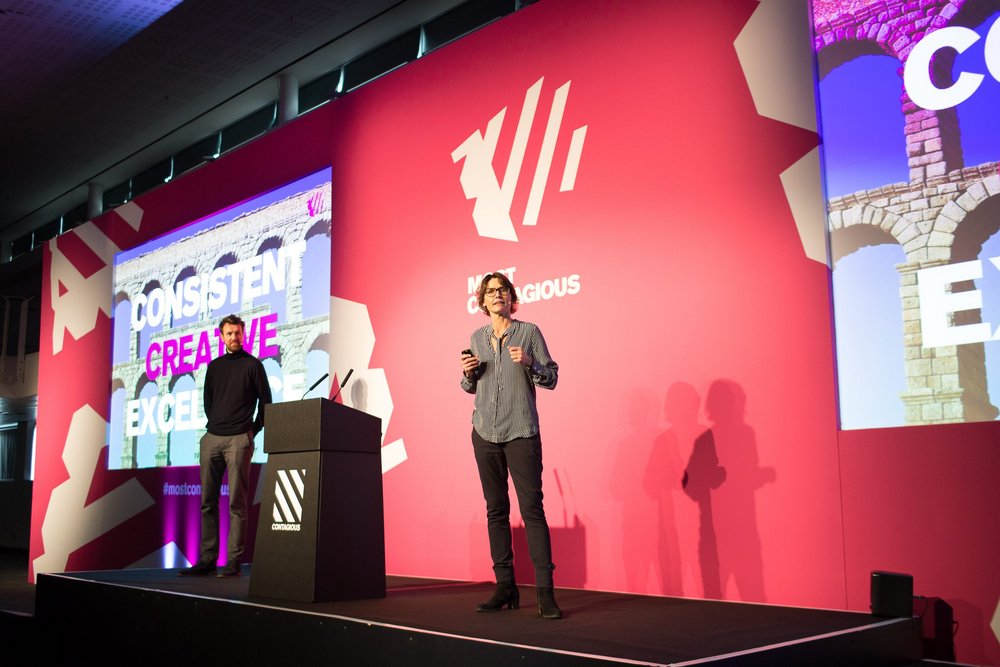 Veni, Vidi, Creativity 
/
Ancient Rome has powerful lessons for today's marketers, argued Contagious strategists Georgia Malden and James Womersley. Whatever you think about the Romans, you can't deny they knew how to grow, how to manage complexity and how to fight off aggressive challengers (see Boudica, etc).
And while many brands achieve one-off success, Rome developed a culture of consistent excellence.
Rome had four tools at its disposal for achieving excellence at scale from which marketers can learn valuable lessons, argued Malden and Womersley. These are Latin (a shared language with which to evaluate creativity), roads (a system that allows for the active pursuit of diversity and inclusion), baths (a physical space where people could meet face to face, with established processes for how to behave and progress) and triumphs (mechanisms to celebrate successes, recognise high achievers and inspire the next generation).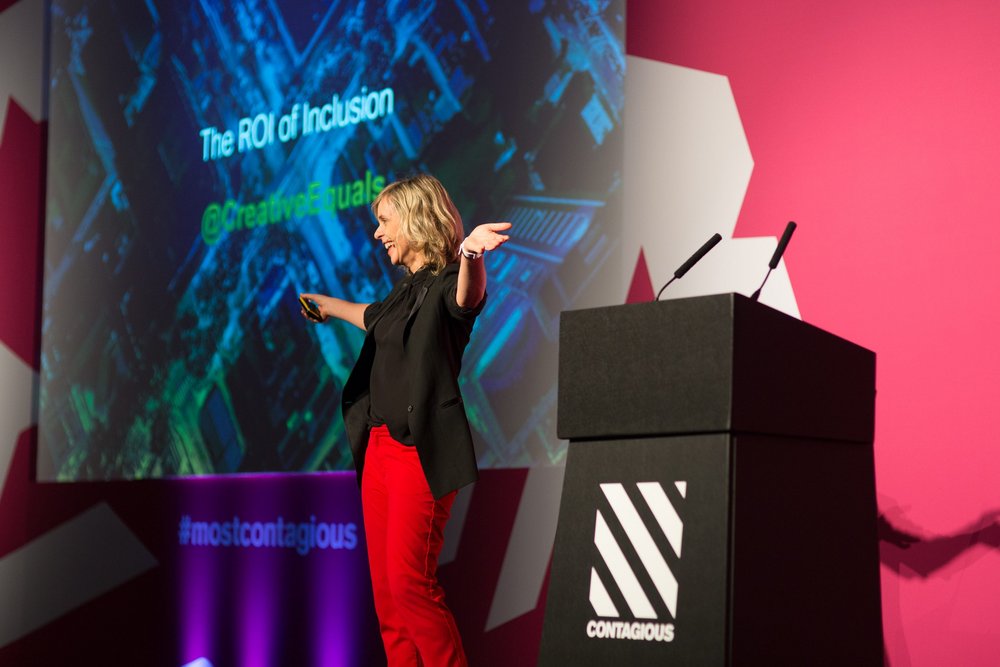 Creative Equals 
/
Eleven Innovation Lions at Cannes this year went to projects with accessability at their heart, said Ali Hanan, CEO and founder of Creative Equals, who was on stage making the case for a more inclusive ad industry. Hanan was a surprise speaker at Most Contagious, a subterfuge deemed necessary to catch unawares exactly the kind of people who usually skip out of sessions that address the industry's lack of representation.
Addressing the need to build diverse teams in order to create more diverse and inclusive work, Hanan said: 'If we believe that our job is to drive purpose when we have some of the world's most non inclusive [political] leaders, if we believe that we're here to change the game, then it's time to peel away those blind spots and speak to everyone, because only then will we be able to unleash a different kind of creativity – and that's what we really need right now.'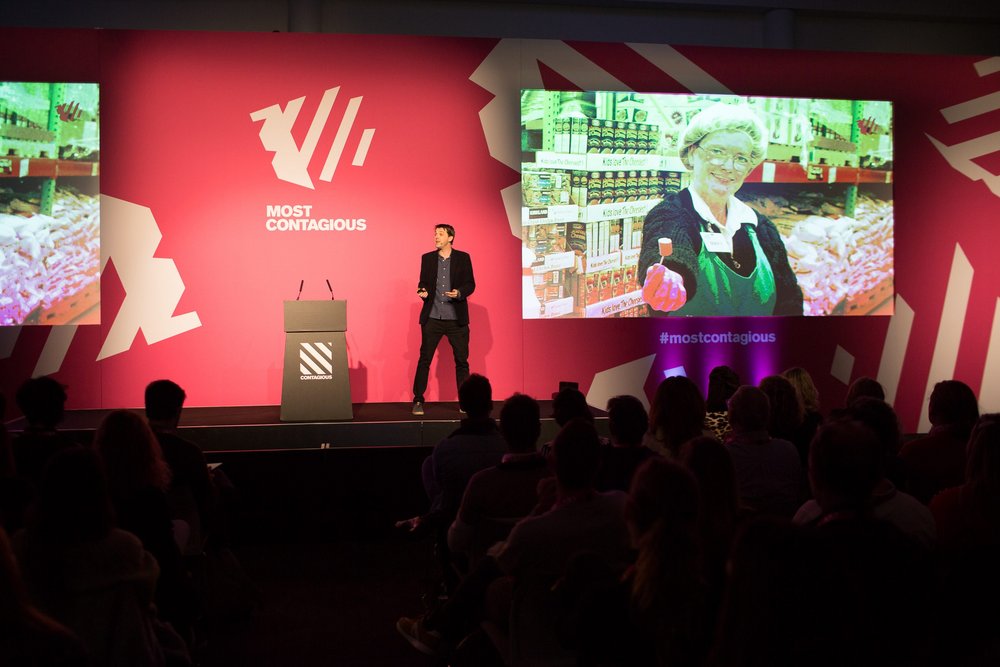 Trial of the Decade 
/
Only 29% of people say their purchases are influenced by product trials, according to Contagious staff writer George Wyndham and, as online shopping become more prevalent, sampling is going to become even more tricky for brands to arrange.
Glade, the air freshener, demonstrated a creative way around this problem earlier this year when it partnered with Walmart.com to inject its scent into the packaging pillows used by the retailer when delivering goods to customers. When those customers popped the packaging pillows they got a waft of Glade in their homes, and there was a QR code to direct them to purchase the product at a discount.
'People like free stuff', concluded Wyndham. 'Find more creative ways to give it to them, because your product won't have a verdict without a trial.'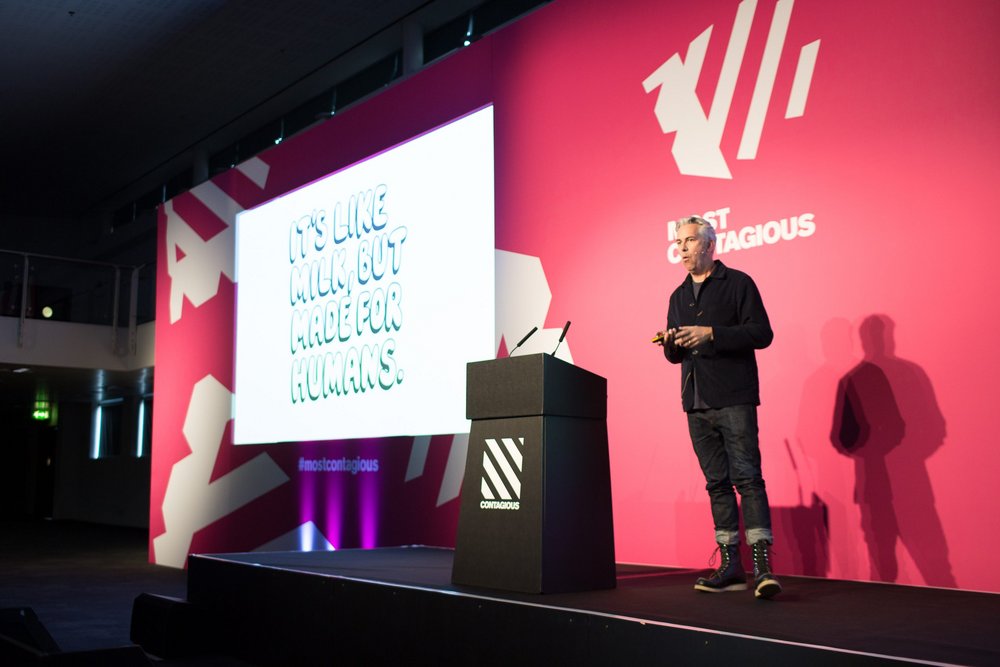 Oatly 
/
John Schoolcraft, Oatly's creative director, was reluctant to join the company but changed his mind when he realised he'd have carte blanche to kill the marketing department. 'I'd been in advertising forever and marketers had ruined all my best work so this was payback,' he joked.
Instead of a traditional marketing department, Schoolcraft plonked a bunch of creatives in the middle of the company and then let them roam free, into any meeting or department they liked.
This removed the need for briefs, removed the need to sell or pitch ideas, and removed the need for approval processes, which resulted in lots of weird and distinctive work. And because creatives tend to be opinionated, they had lots of opinions, which ended up scrawled on Oatly's packaging (they had no budget to put them anywhere else), and people could read them and learn about the values at Oatly, making the company seem more human.
'When you have this setup you stop playing the game,' said Schoolcraft. 'Creatives have an anti-authoritarian nature and I thought you can use this nature for good and challenge all the industry norms and drive societal change.'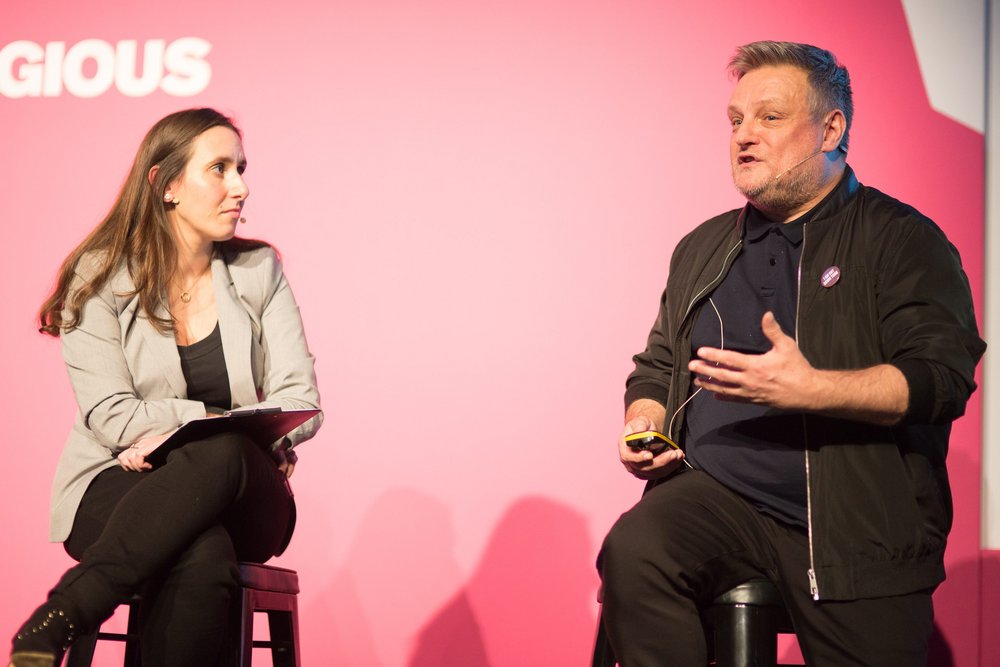 Visual Culture 
/
Contagious editor Chloe Markowicz interviewed on stage at Most Contagious the acclaimed photographer Rankin, who first of all cleared up the reason he went by a mononym – because his surname is Waddle and (as relentless childhood teasing confirmed) that didn't sound as good.
Rankin also went on to talk about how photography is, for all intents and purposes, democratised to the point of death, and how he advises photographers to reinvent themselves as directors (although that's a dying profession, too), publishers or whatever else they can turn their hands to.
'If someone had said to me 10 years ago that I would be at a creative agency, I would've told them to shut up,' said Rankin, 'but I've learnt that what we do in creating three or four pieces of content a day, it's what brands need.'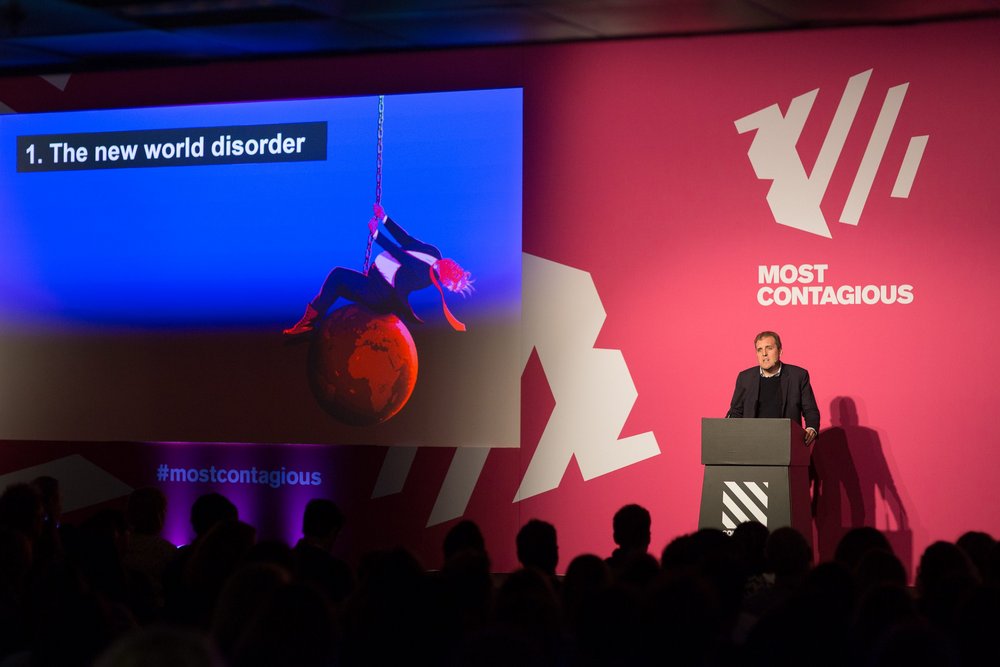 10 Things To Watch Out For In 2020 
/
Tom Standage, editor of The Economist's The World In 2020 report, rattled through his talk at a speed that would leave an auctioneer gasping for breath. His tips for what to watch out for in 2020 included: the new world disorder (thanks to reckless world leaders taking a wrecking ball to international protocols and agreements), a new cold war (this time between the West and China), a trade war (that will contribute to an ugly recession in the US), an intensifying backlash against the tech giants, never-ending Brexit chaos, new probes headed to Mars and the chance that drinking alcohol will become as socially unacceptable as smoking in people's homes. Other than that, everything will be fine.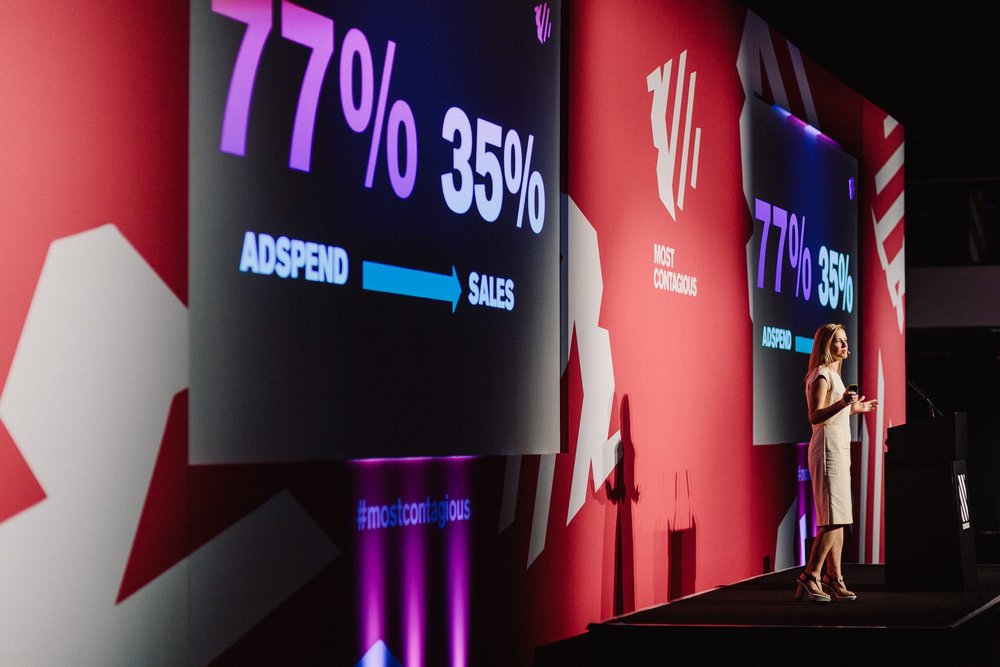 Digital Reboot 
/
Contagious' editor at large Katrina Stirton Dodd used her time on stage to draw attention to the fact that ad tech has over-delivered on all the wrong metrics: shady programmatic practices, privacy concerns and complexity.
This means that our industry has bought into something that's not only demonstrably bad for society, but also looks as though it's not even that great for clients. Marketers at several high-profile brands, including Adidas, this year admitted they had forgotten the value of emotional messages and the broad reach of many traditional media, and spent too much on short-term digital marketing, to the detriment of their businesses.
It's time to think differently about the role of digital media in advertising. There's nothing wrong with digital media, per se. It's just been misused. We'll all get more from digital when we think of it in terms of value creation, rather than cost-cutting, argued Stirton Dodd. Digital might seem cheap, but there's no reason it has to be nasty.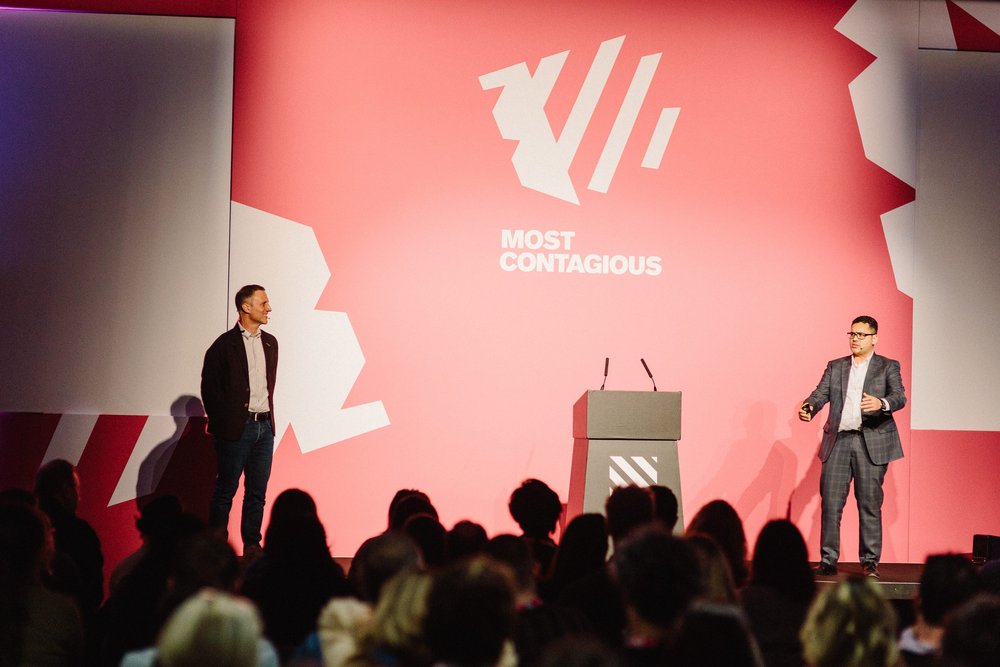 The Best Men Can Be 
/
We all know what happened when Gillette broadcast The Best Men Can Be in January, or at least we think we do. John Patroulis, worldwide chief creative officer at Grey, and Pankaj Bhalla, VP of shave care at Procter & Gamble (which owns Gillette) were at Most Contagious to tell us what happened behind the scenes.
Bhalla admitted that his first though upon waking up to the maelstrom created by the ad, which addressed toxic masculinity, was: 'have I made a Pepsi Kendall Jenner ad?'
But then it emerged that a significant proportion of the hate directed against the ad came from AI-simulated accounts, which could be tracked to a particular Reddit forum where members were agitating to get the ad taken down.
And unfortunately for Gillette, people who liked the ad tended to just tell their friends, but those that didn't like it would leave a comment and tell the world. Frustratingly, research also showed 80% of those who left negative comments about the ad did not even watch more than 12 seconds of it.
Of course, plenty of people just did not like the ad, added Bhalla. But lots of people did like it, and Gillette was fielding calls from schools and universities around the world who wanted to licence the spot for use in gender studies classes. And he made the decision to stand by the commercial and refused to withdraw it even after trolls had sent him death threats and published online images of his son and his walking route to school, along with exhortations to kill him.
'No one spends more on male advertising than Gillette,' said Bhalla. 'If we don't take a stand [against toxic male behaviours], who will?'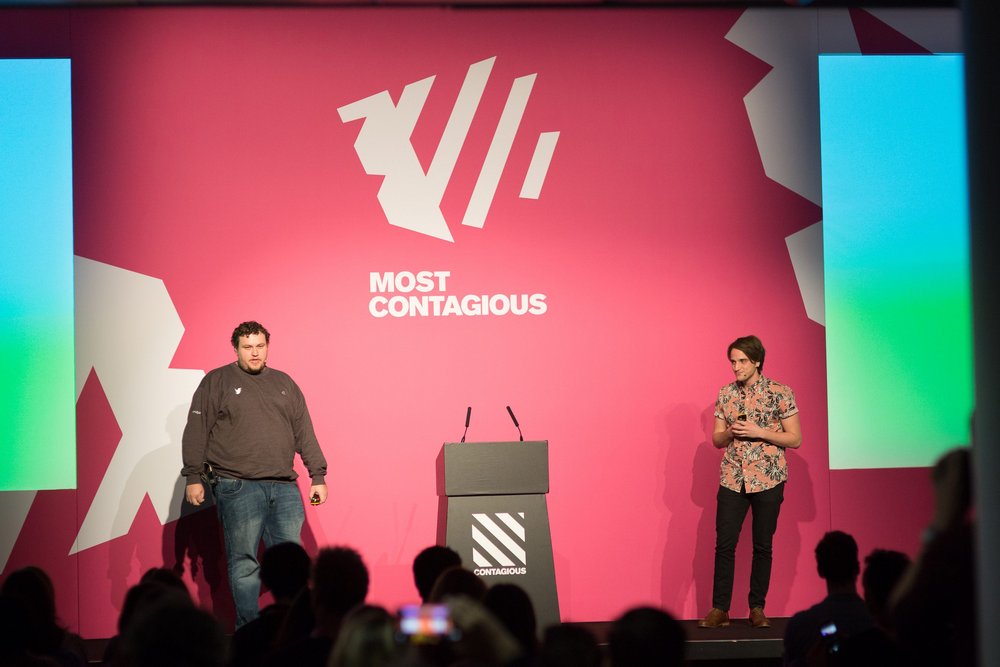 Keeping Fortnite Fresh 
/
Matt Keck, associate director of conversation design and Jeremy Cline, senior analyst, strategy and insights, at VMLY&R were at Most Contagious to talk about their Grand Prix-winning Keeping Fortnite Fresh campaign for Wendy's. This was where the brand live-streamed itself (playing as a character that looked a lot like Wendy's pigtailed mascot) entering a Fortnite tournament and smashing up restaurant freezers, in a bid to ram home Wendy's promise about fresh (never frozen) beef.
'Since we're a social brand that's social everywhere we realised that's how we had to approach gaming,' said Keck.
The whole thing took one week 'from concept to execution' added Cline. 'The reason most of our work can happen that quick is because we have a great relationship. I could call my CMO at any time. I could do it now. He'd probably yell at me, but I could do it.'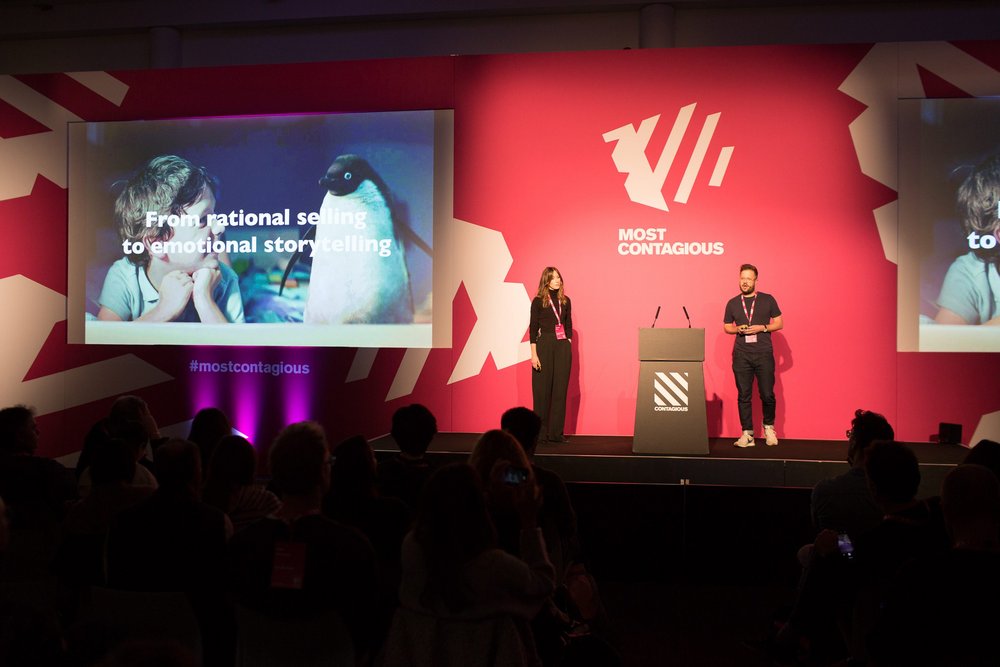 The Christmas Advert 
/
Adam&eveDDB's CSO, Martin Beverley, and its senior planner, Charlotte Wood, offered the Most Contagious audience 10 lessons from their time spent making the John Lewis Christmas ads.
Here's what we learned from what they learned.
Emotion is everything: the retailer is selling the feeling of giving with its Christmas ads, not any particular product.
John Lewis makes 40% of its profit at Christmas but the brand is calm and understated at a time of festive glitz: it appeals to affluent customers who are almost competitive about giving the best gifts.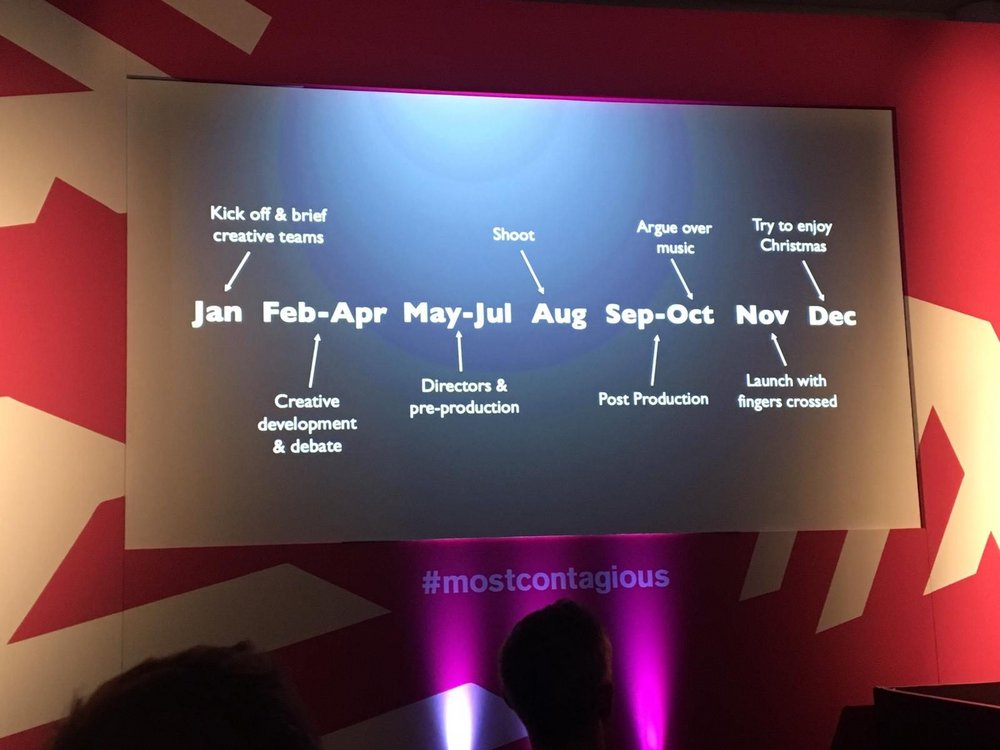 Vignettes rarely work, so John Lewis ads have one emotional narrative.
The John Lewis ad is simultaneously like Coldplay and like James Bond movies: it has mass appeal and it sticks to a set formula that it knows works.
Rules are made to be broken: there's no logo in the first few seconds of a John Lewis Christmas ad because it stops people being drawn into the story.
Adam&eveDDB also refuse any testing while they're creating the ad, preferring econometric modelling after it is released to assess its performance.
Finally, the merchandise made and sold for the campaign goes a long way to paying for the ad itself.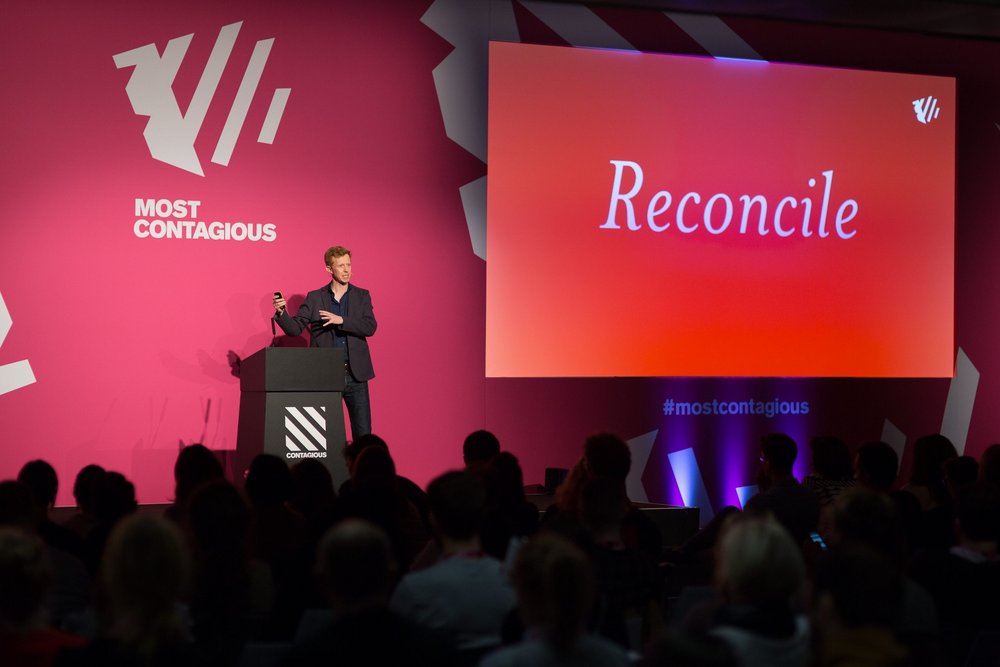 Advice for the next decade 
/
Future-gazing is a fool's game, said Alex Jenkins, Contagious' editorial director. Professor Philip Tetlock is an expert on forecasting and he says that his research demonstrates that experts are basically guessing when they try to predict anything that will happen in more than five years times. And it's a safe bet that most people in advertising are not expert forecasters, so you decide for yourself how much weight to give their predictions.
But knowing or predicting what's going to change isn't that important. What is important is reconciling what will change with what will not. Many campaigns that were successful this year would not have been possible with the technology available five years ago but they all still win attention by doing something surprising, entertaining or relevant for their audience.
Use what is changing to deliver on what will not. And remember to create campaigns that are for people. That's the hallmark of great work. That's what we call Contagious.
Want more Contagious thinking? 
/
Subscribe to the Contagious newsletter to receive a weekly dispatch of campaigns, opinions and research, curated for strategists, creatives and marketers.
Contagious thinking delivered to your inbox 
/
Subscribe to the Contagious weekly newsletter and stay up to date with creative news, marketing trends and cutting-edge research.