Cannes Deconstructed  
/
This one-hour presentation will help you understand the biggest marketing shifts that are shaping the world of advertising today.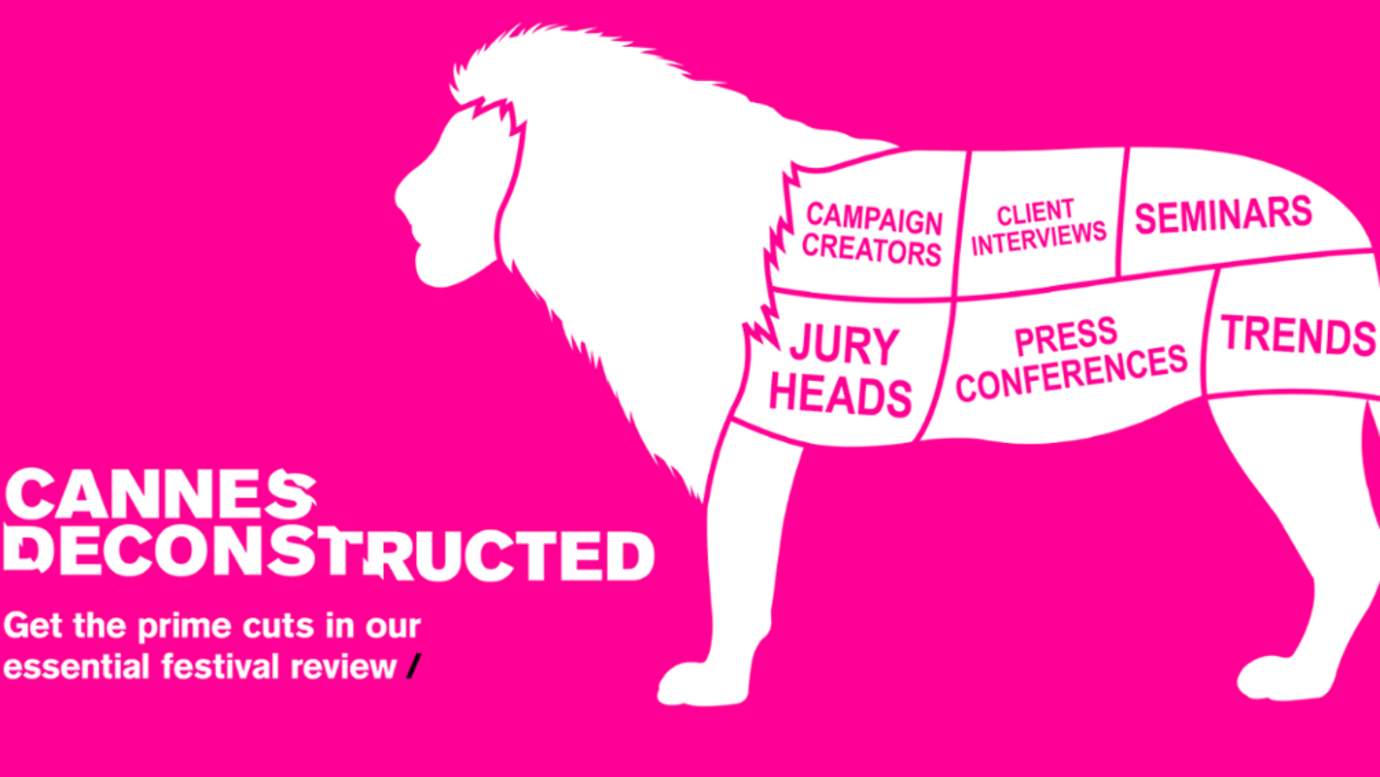 The session is based on a week of attending press conferences, sitting in seminars, interviewing jury presidents, and quizzing the planners, creatives and clients behind the award-winning campaigns to discover the insights and strategies that shaped them.
This year's presentation includes:
CANNES IN CONTEXT /
Whether you're a Cannes veteran or a Lions rookie, in this section we'll give you an overview of the festival, its significance within the marketing industry, how it's evolved since last year and what those changes mean.
DIVISIVE VALUES /
Purpose – like it or not – plays well on the Croisette. But in a year that saw two environment-themed campaigns take home the lions' share of Grands Prix, a more interesting shift was also observed. A brace of brands is pushing beyond the bland, feel good purpose-with-platitudes and taking a values-based stand that might actually lose them customers – betting that the potential rewards will outweigh the risk.
Cannes Deconstructed was highly inspirational, informative, smart and beautifully presented. It is the beginning of our Cannes journey and there was no better way to kick start it.
Michelle Whelan, CEO, Geometry Global UK
AUDIO EVOLVED /
As audio moved beyond the constraints of the traditional Radio category, we saw a significant development in the role of sound within marketing. It's still early days, but technology is beginning to reframe audio in ways that create interesting new opportunities for marketers, and there are some clear signals for the future that make this an essential part of the post-Cannes conversation.
RETURN ON CREATIVITY /
Cannes may be a festival of creativity, but the commercial imperative that underlies that is coming into sharper focus with every passing year. In this section we'll look at the award-winning work that measured its success in sales first and Lions second.
POWER OF PARTICIPATION /
Communication is one thing, but when marketing translates into actions taken, its impact increases dramatically. Our final section highlights the campaigns that amplified their efficacy through interaction, and unpicks the insights that drove their success.
What you'll get out of this session:
An understanding of Cannes Lions key trends
Objective analysis of the award-winning work, supplemented with exclusive insights from the people who created it
Interviews with jury presidents and judges
Takeouts from the press conferences
An overview of the highlights of the festival, including the Palais talks
Unique Contagious perspective
An unbiased, forensic and inspiring look at what is really going on at Cannes, warts and all. Not only will you learn what drove the work, you'll learn what's driving the whole industry.
John Treacy, Executive Creative Director, Proximity London
Pricing /
For more information, pricing outside of the UK, or to book this briefing, please register your interest.
Register your interest now /
Want more Contagious thinking? 
/
Subscribe to the Contagious newsletter to receive a weekly dispatch of campaigns, opinions and research, curated for strategists, creatives and marketers.
Contagious thinking delivered to your inbox 
/
Subscribe to the Contagious weekly newsletter and stay up to date with creative news, marketing trends and cutting-edge research.