Tech
Becca Peel
/
25 March 2020
How the Cookiepocalypse could bring sanity and context to online ads 
/
Contagious attended the inaugural Attention Council event earlier this month and heard experts air their views on how a digital landscape without third-party cookies might give premium websites a chance to shine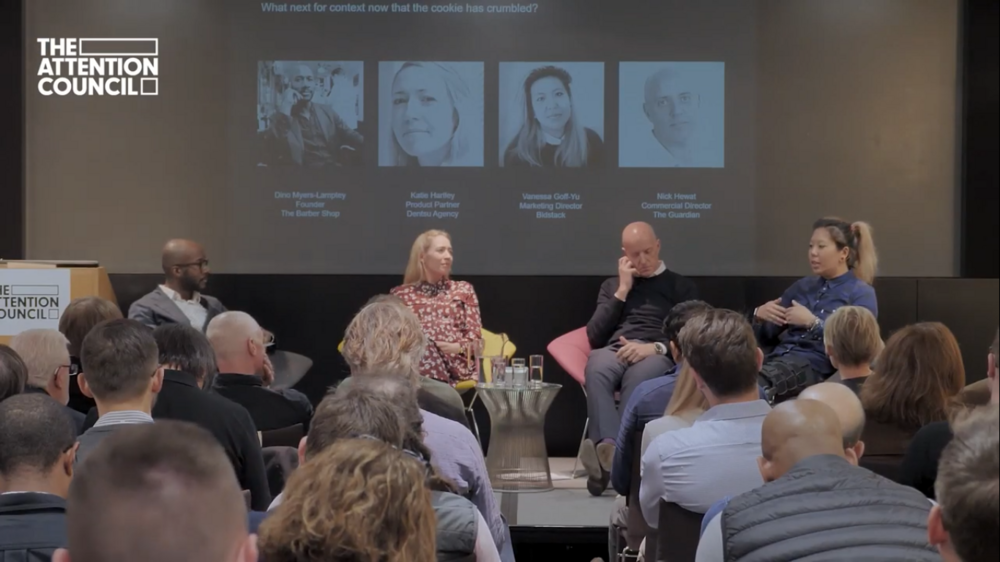 The demise of third-party tracking cookies could restore sanity to digital advertising, according to a panel of experts at the Attention Council's inaugural event.
The Attention Council was launched in November 2019 as a loose confederation of companies (the founding members are Lumen, Amplified Intelligence, TVision, Adelaide and Avocet) promoting the use of attention as a metric for understanding and trading media.
At the Council's inaugural event in London on 11 March, a panel of experts comprising Katie Hartley of Dentsu, Vanessa Goff-Yu of Bidstack and Nick Hewat of the Guardian, and moderated by Dino Myers-Lamptey, one of the founders of The Barber Shop, convened to discuss the discuss the impact of a post-cookie world on digital advertising measurement.
Four imperatives emerged from the discussion: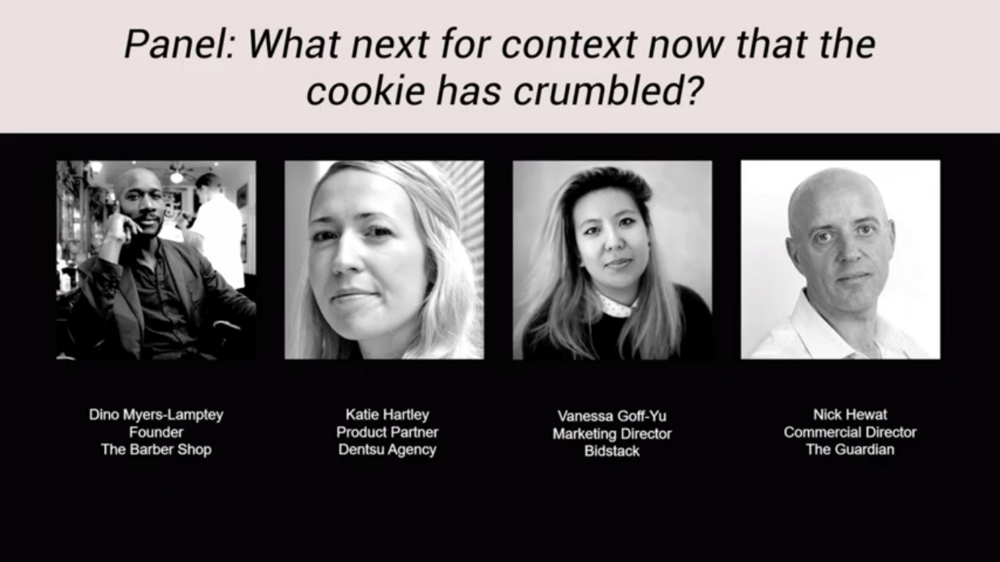 Standards need a sanity check 
/
At the heart of this discussion was the acceptance that viewability, the most common approach to measuring digital advertising, has been misused, with Hartley affirming: 'Viewability is not a proxy for attention'.
She was backed up by Hewat who pointed out that while everyone knows and understands that context (in terms of where ads appear online) is important, there is a bizarre dissonance between what we know and how we act.
The Commercial Director of the Guardian pointed out the ludicrousness that all sites are measured in the same way, meaning the value of an ad placed on the Guardian is no different from one placed on Gumtree. His hope is that, with the help of The Attention Council and the goodwill of the industry to reach a better measurement, 'maybe we'll return to something more sane' and ultimately more reflective of true value.
'You have to give a shit about the user'
Vanessa Goff-Yu, Bidstack
Reductionist mindsets cause trouble 
/
The vast majority of people refer to digital advertising as performance-driving. It's seen as a heavy lifting channel and often used to close sales. But different contexts engender different behaviours. For example, people scrolling through bite-size content on a Facebook feed are likely more inclined to click away than those engrossed in a long-form article.
Depending on the objective of a campaign, different placement types are necessary, but by grouping them all together, our industry not only underestimates the value of certain publications, it also underestimates the overall competencies of digital advertising executions. Crucially, this punishes high quality publishers that offer the opportunity to go beyond audience relevance (which is what most programmatic does) into context-, content- and intent-driven relevance.
Value premium as well as efficiency 
/
Currently, our industry's strength lies in measuring efficiencies, but we struggle to demonstrate quality. As a result, we need to not only change the value system, but also integrate it into the planning process.
Several publishers have attempted to draw attention to the quality placements their platforms offer, from the Economist and the FT measuring 'cost per hour' to the Guardian's tool analysing scroll rates, or its 'fewer, better' initiative from a few years back, which reduced the number of ads shown per page to create less noise for consumers and give brands a greater chance at standing out. However, key adtech algorithms used to determine value do not recognise or reward these initiatives, so we need not only to introduce new metrics but shake up the system more broadly.
Nurture respectful relationships 
/
Measuring attention instead of OTS (opportunity to see), impressions, or viewability is expected to lead to more respectful relationships with consumers. Bidstack's Goff-Yu made clear that 'you have to give a shit about the user' in order to earn their attention.
As a conduit between advertisers and the highly-sensitive gaming community, Goff-Yu is intimately acquainted with the need for the quality of an ad placement to be valued over quantity, and said that if people are choosing to spend time with a platform, the advertisers seeking to earn their attention should be enhancing the experience, not disrupting it.
Videos of all the talks are available on The Attention Council's medium post here.
Like what we do here? We're dedicated to providing our members with creative and strategic intelligence to help them work smarter and faster. Find out more about Contagious membership, here.
Like this article? Share with your network:
Want more Contagious thinking? 
/
Subscribe to the Contagious newsletter to receive a weekly dispatch of campaigns, opinions and research, curated for strategists, creatives and marketers.
Get our weekly newsletter 
/
Subscribe to the Contagious newsletter and stay up to date with creative news, marketing trends and cutting-edge research.