Contagious Pioneers 2016: the best and bravest agencies on the planet 
/
Our ranking of the agencies that consistently set the standard for excellence in marketing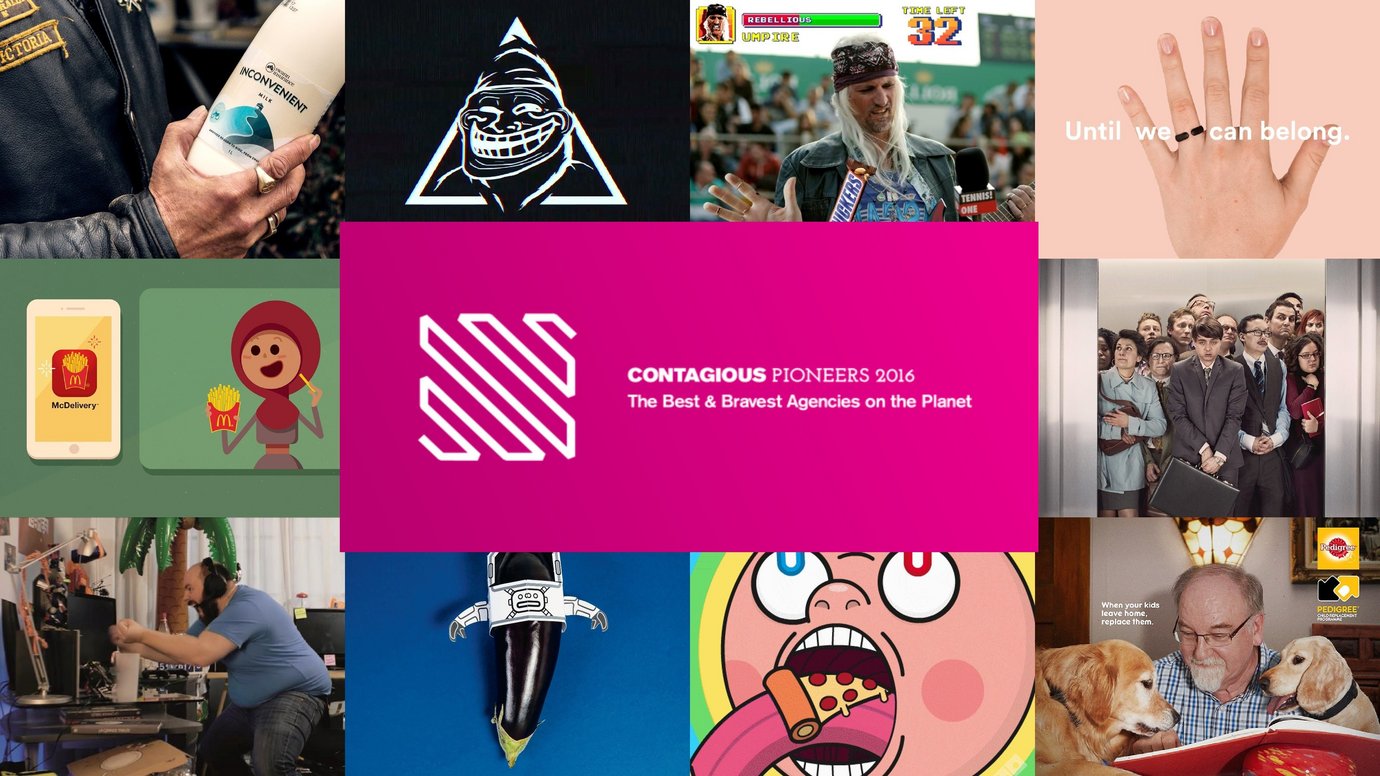 Contagious is pleased to announce the Contagious Pioneers 2016 – our ranking of the agencies from around the globe that consistently set the standard for excellence and innovation in marketing. This list follows an analysis of the campaigns featured on the Contagious I/O research and intelligence platform during 2015.
As in previous years, the list is compiled from an analysis of the Contagious I/O intelligence platform – a database of the most innovative and effective marketing in the world.
In order, the winners are:
Colenso BBDO, Auckland
Forsman & Bodenfors, Stockholm
Marcel, Paris
Droga5, New York
R/GA, New York
CP+B, Boulder
Grey, London
Prime Weber Shandwick, Stockholm
Grey, New York
JOINT: Leo Burnett, Beirut / FP7 DXB, Dubai
Robert/Boisen & Like-minded, Copenhagen
BETC, Paris

Methodology
We analysed the quantity of campaigns created by individual agencies featured on Contagious I/O during 2015, applying a weighted score to each campaign depending on whether it was featured as a regular article, an Editor's Pick or an Insight & Strategy interview (the latter being the highest-scoring). We then applied a further weighting for consistency based on the ratio of campaigns created to number of clients. So, for example, an agency received a higher-weighted overall score for creating a number of campaigns for a range of clients compared to an agency creating the same number of campaigns for a single client.
'The great thing about the Contagious ranking is that you can't game the system,' explained Alex Jenkins, Contagious editor. 'You can't spend more on award submissions. You can't shout louder on a jury for your agency's work. All you can do is consistently produce exceptional work for your clients.
'Our editorial team sets its bar unashamedly high. Having a campaign featured on Contagious I/O is hard enough – especially against competition from every agency in the world. To be creating work that is regularly featured on the platform is genuinely impressive and testament to a level of innovation, creativity and excellence that is worthy of recognition.'
Jenkins added: 'It's also interesting to note that the work created by the top agencies spanned product sectors from dog food to retail, automotive to soft drinks. There is no one category that "owns" future-facing marketing.'
Paul Kemp-Robertson, Contagious co-founder and editorial director, said: 'Our aim for the Contagious Pioneers rankings is to highlight those agencies that are setting the agenda for our industry and delivering future-facing, contagious work for their clients. I/O focuses on the top 1% of world-class creativity, so to be ranked as a Contagious Pioneer is testament to the agencies' strengths as creative and technological innovators. This elite group is genuinely helping to map out the immediate future of the marketing industry by blazing a trail for new kinds of thinking.'
Like this article? Share with your network:
Sign up to our weekly newsletter