Contagious Pioneers 2018: The best and bravest agencies on the planet 
/
Our global ranking of the agencies that consistently set the standard for excellence in marketing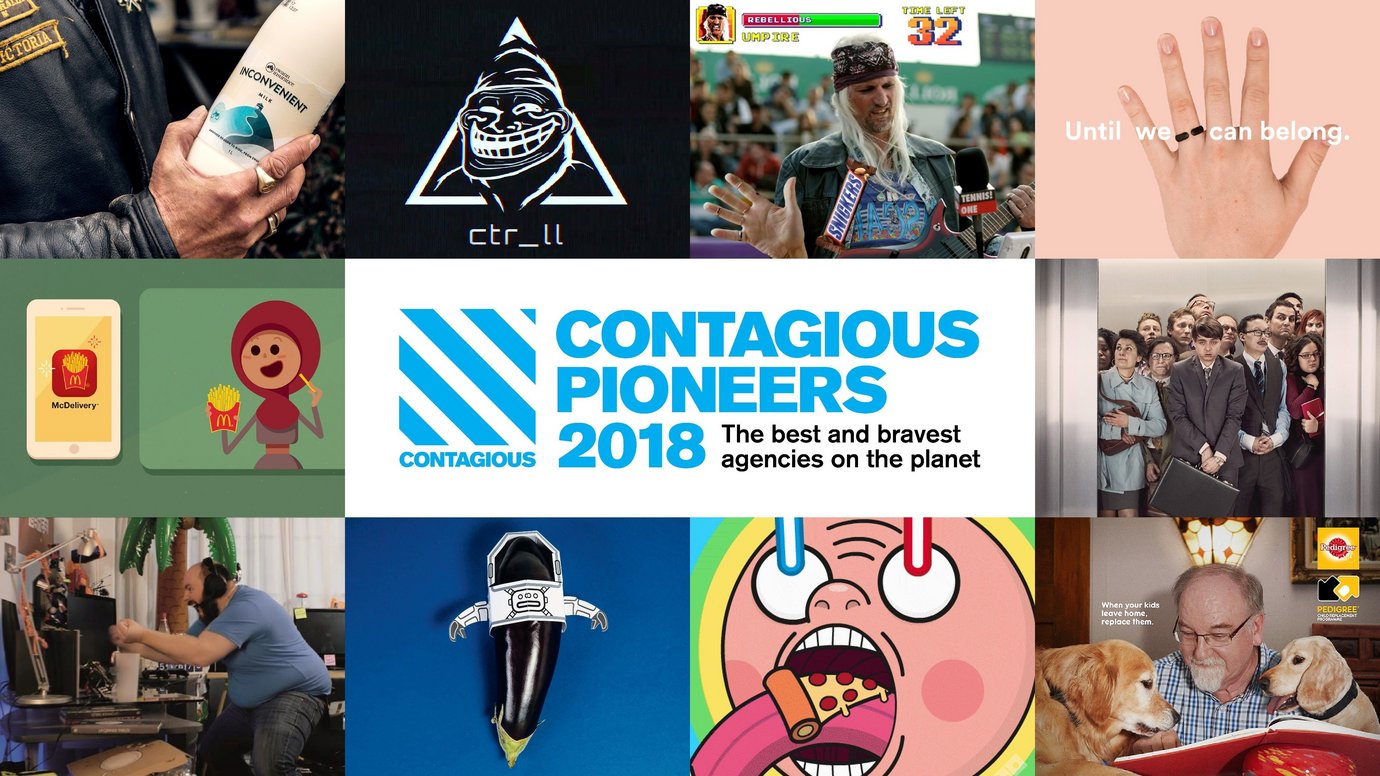 Contagious is delighted to announce the Contagious Pioneers 2018 – our global ranking of the agencies that consistently set the standard for creativity, innovation and excellence in marketing.
In order, the 2018 winners are:
1 Saatchi & Saatchi, London
2 McCann, Bucharest
3 Clemenger BBDO, Melbourne
4 CHE Proximity
5 Colenso BBDO, Auckland
6 Iris, London
7 HumanSeven, Paris [previously Les Gaulois]
8 TBWA\RAAD, Dubai
9 Impact BBDO, Dubai
10 Marcel, Paris
The Contagious Pioneers list is based on an analysis of the Contagious I/O intelligence tool. Only campaigns that demonstrate the highest levels of creativity and strategic thinking are chosen for inclusion on I/O.
Contagious editorial director, Alex Jenkins, said, 'Contagious has a reputation for setting an exceptionally high bar for creativity and innovation, but those are just table stakes for being featured on I/O. It's the quality of the strategic thinking behind their campaigns that propelled these agencies into this year's Pioneers list.'
'What you have here is a list of agencies that are giving their clients a competitive edge through work that is both intelligent and creative; innovative and effective.'
Paul Kemp-Robertson, co-founder of Contagious, further commented, 'Producing work of this calibre is hard enough, but to consistently deliver that quality across multiple clients demonstrates a deeper, systematic ability to produce exceptional marketing. That's what the Contagious Pioneers list recognises; the best and the bravest agencies on the planet.'
How the ranking is calculated
Agencies are ranked on the quantity of work they produced that was featured on Contagious I/O during 2017. Individual campaigns are then weighted based on whether they were chosen for their creativity, their strategic excellence, or both. Each agency's total score is further weighted to take into account the consistency of its output – i.e. the ratio of campaigns created to the number of clients they were created for.
Contagious thinking delivered to your inbox 
/
Subscribe to the Contagious weekly newsletter and stay up to date with creative news, marketing trends and cutting-edge research.